A giver lives many lives
Organ donation pioneer Sarah shows the way forward for others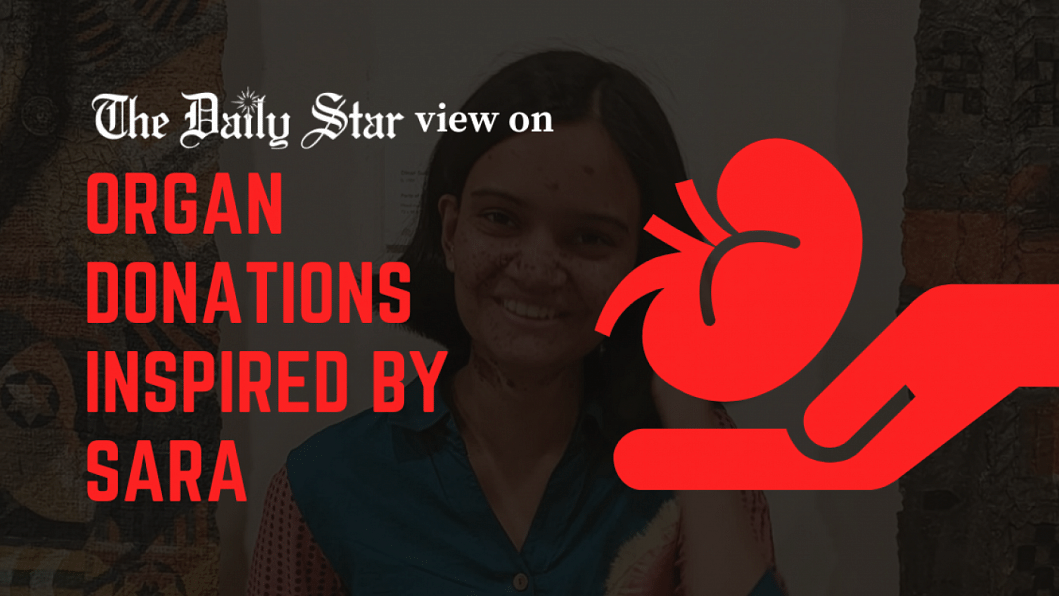 Modernity has robbed us of many of our virtues and introduced many vices. Individualism has driven us to a level where we think of the well-being of others only as an afterthought. While we still hear many talk the talk of compassion and kindness, we rarely see anyone walking the walk. In a world so driven by cruelty and self-interest, a 20-year-old gave us all pause with her act of kindness, even in her death. 
On January 18 this year, the country's first successful brain-dead organ transplants took place thanks to Sarah Islam's decision to donate her organs after her death, giving new life to four people – two with fully destroyed kidneys and two without eyesight – in the country's first successful brain-dead organ donation. Sarah's contribution was so powerful that MP Mahbubul Alam Hanif even proposed that she be given state honour – a sentiment we laud and support. These kinds of generosity should be promoted by the state because such actions are not just good for the direct beneficiaries, but for the society at large.
It seems her brave decision has reminded us of our dormant humanity. She has inspired seven people, including Prof Sharfuddin Ahmed, vice-chancellor of Bangabandhu Sheikh Mujib Medical University (BSMMU), to also donate their organs. We applaud these selfless people who have responded to Sarah's inspiring call for action. We also wholeheartedly welcome the inauguration of the "Sarah Islam Cadaveric Transplant Cell" at BSMMU, which will facilitate the process of donation, benefitting, we hope, countless others in the future. 
Sarah's act is especially courageous because various stigmas still exist in our society about organ donation, which discourage people from helping those in desperate need. For example, against an annual need of 20,000-25,000 corneas, Bangladesh's lone eye bank, Sandhani Eye Hospital, is only able to collect 25 to 30 corneas. The demand and supply ratio for kidneys and other organs is similar. More than 20 million people in Bangladesh suffer from some form of renal disease, with an estimated 40,000 dying from kidney failure each year. More than 20,000 of them die because they cannot afford the constant dialysis required to keep living. 
Sarah's act of kindness – and that of the seven new donors – should move us all to reflect about the roles we play, as individuals, within a collective. Are we really doing our part for this society, or becoming more and more self-centred in our relentless quest for a better life, all the while forgetting that such a pursuit is counter-productive for us all in the long run? It is high time that we confront our internal biases and hypocrisy and take part in acts of kindness that can actually save lives. We hope that the recent organ donations and the inauguration of the aforementioned facility will inspire a new culture of posthumous organ transplantation in the country.