Sara's gift to humanity should inspire us
Popularising posthumous organ donation can save many lives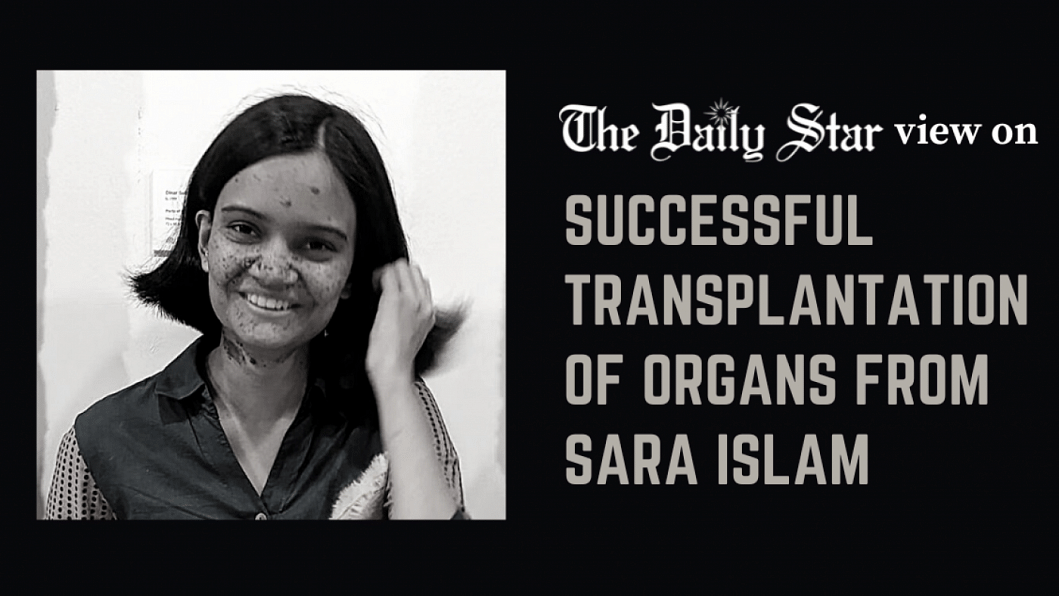 A 20-year-old woman has shown us how generosity can go beyond a person's death. By giving instructions to donate her organs after her passing, Sara Islam, who was suffering from a debilitating disease, has saved the lives of two people with kidney failure and may have given back the sight of two other individuals. For Bangladesh, this is the first successful transplant of organs from a brain-dead person, thanks to an amended law that allows collection of organs from clinically dead individuals with the consent of relatives. In Sara's case, it was her mother who helped to fulfil her daughter's noble wishes.
The significance of this selfless act cannot be emphasised enough. In Bangladesh, there are more than 20 million people suffering from some type of kidney disease, with about 40,000 estimated to suffer from kidney failure every year. More than 20,000 of them die as they cannot afford the continuous dialysis that they need to stay alive. The plight of those struggling with the high cost of treatment has recently come to the fore after patients and relatives protested a hike in kidney dialysis fees in Chattogram. Against this backdrop, Sara has given hope to many individuals who face death or years of painful dialysis that comes with risks.
Kidney transplants have taken place since 1982, but until 2018, when the organ donation law was amended, it was illegal to take kidneys from a clinically dead person. While living-donor kidney transplants do occur in the country, the law states that it has to be from a relative. The costs of kidney transplants are also very daunting and beyond the financial capacity of most patients. The law was passed after reports of desperate people selling kidneys for money. This means many patients have to wait indefinitely or give up their chance to get a kidney.
The two persons who have received Sara's corneas are recovering in hospital, and doctors are hopeful that their eyesight will be restored. With such miraculous consequences, why is organ donation so scarce? While cornea donation has gained certain acceptance, the practice of donating other organs has not caught on. Religion and cultural taboos have made people reluctant about organ donation. But as other countries have shown, thousands can have a second lease on life through this practice. Just as successful campaigning has made blood donation popular among people, the concept of organ donation after death has to be made acceptable and well-received. We commend BSMMU, National Kidney Foundation and Sandhani Eye Hospital for the success in these life-changing transplants, and for making Sara's wishes come true.
We express our heartfelt condolences to Sara's family for losing such a remarkable young member. But we also applaud Sara and her mother for their love of humanity. May their example inspire others to donate similarly so that many lives can be saved.