Museum on wheels dedicated to Bangabandhu
PM opens Bangabandhu Sheikh Mujib Mobile Museum
Prime Minister Sheikh Hasina today inaugurated "Bangabandhu Sheikh Mujib Mobile Museum" and 30 meter gauge (MG) and 16 broad gauge (BG) locomotives of Bangladesh Railway.
One MG and one BG carriages were turned into museums to inform people about Bangabandhu's life and his works.
PM inaugurated the museums through video conference while Railways Minister Nurul Islam Sujan, among others, joined the programme from Kamalapur Railway Station.
During inauguration, the prime minister said her government is taking all measures to make the country's economic activities more vibrant and dynamic through improving communication and transportation system, BSS reports.
"We're taking steps to expedite and develop the country's economic activities through easing the communication system for people's movement all over the country," she was quoted as saying.
"The big issue is how much the government organisations have been able to provide services to people. What services did the people get? And to what extent did people's lives improve...," she said regarding the profit-loss of the state-owned BRTC and Bangladesh Railway.
'BANGLADESH RAILWAY NOW A PROFITABLE ORGANISATION'
Sheikh Hasina said the government has made Bangladesh Road Transport Corporation (BRTC) and Bangladesh Railway (BR) profitable organisations, BSS said.
She added that BR today has established itself as a profitable organisation and it would be profitable further when more employees could be recruited alongside expansion of rail track and induction of the new track which is being installed currently.
The premier also appreciated the employees and workers of BR for their sincere effort to ensure quality of services, according to the report.
Separate video documentary on Bangabandhu Sheikh Mujib Mobile Rail Museum and Bangladesh Railway's rolling stock was screened.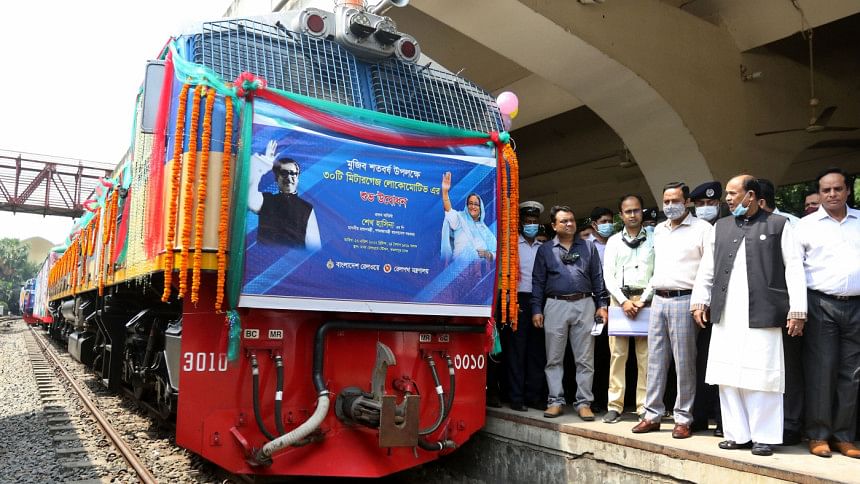 The museum will travel to all railway stations across the country so that people from all walks of life can visit it and know different aspects of Bangabandhu's life.
The metre-gauge and broad-gauge locomotives have been procured from Hyundai Rotem of South Korea and Progress Rail of the United States as part of the modernisation of Bangladesh Railway.
The prime minister inaugurated the museum and locomotives by blowing flute and waving flag.