Locomotive workshop facing worker, fund shortages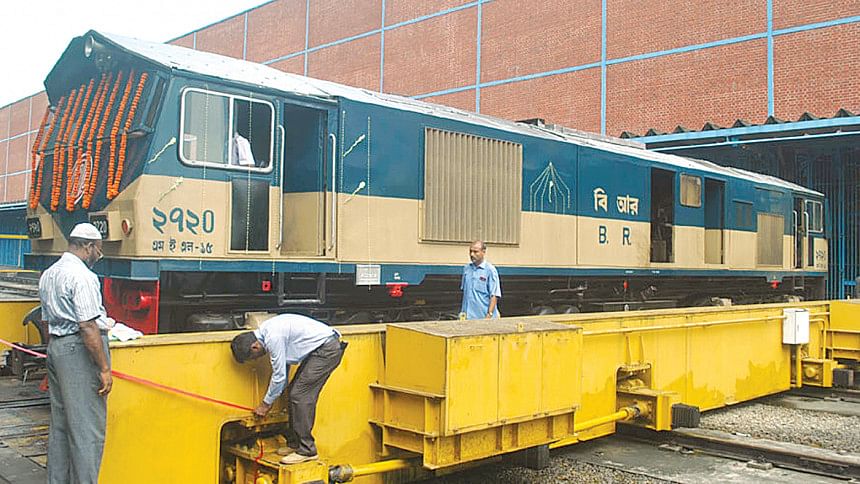 Although Bangladesh Railway has expanded its efforts to provide rail transport in more areas of the country, its central locomotive workshop in Parbatipur upazila of Dinajpur is unable to operate at full force owing to a shortage of workers and funds.
Previously, a large number of locomotives would undergo maintenance and overhauling at workshop, which is the biggest of its kind in Bangladesh.
Now though, the fund and manpower shortage are restricting the number of locomotives being brought in and as a result, many engines are being operated without the required servicing, according to an official seeking anonymity.
Besides, most of the machinery used at the workshop has become obsolete for overuse, he said.
The dearth of workers and funds comes at a time when Bangladesh Railway has been increasing the number of railroads to expand its transport capacity.
In fiscal 2012-13, the combined length of railroads in the country added up to 2,877 kilometres while it is 3,093 kilometres at present.
The government listed rail transport as a priority sector in its 8th Five-Year Plan, 2nd Perspective Plan and Vision 2021 while also allocating more budget for the development of railways in the current fiscal compared to previous years, as per the Bangladesh Economic Review-2022.
In addition, around 287 railroads have been converted into dual gauge tracks while 74 locomotives and 20 diesel multiple unit (DMU) trains were procured.
The central locomotive workshop has been providing its services with just 33 per cent of its full workforce, railway officials say.
The erstwhile government of Hossain Mohammad Ershad had taken the initiative to set up the workshop, known as Keloka, at Rampur Union of Parbatipur.
After acquiring around 111 acres of land in the region, it was finally set up in 1992 next to the Parbatipur-Saidpur highway at a cost of Tk 203 crore.
At present, there are around 294 locomotives operating across Bangladesh, of which 108 are broad gauge while 186 are metre gauge.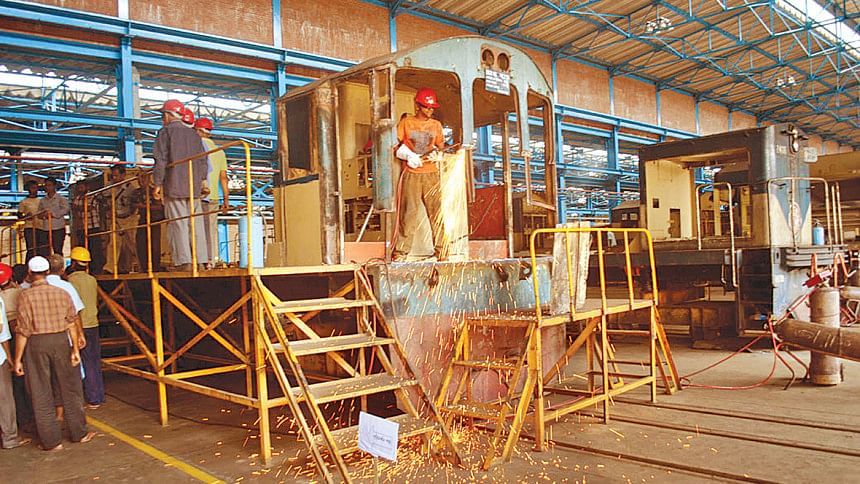 Lasting for about 20 years, 119 of these locomotives, including 55 broad gauge and 64 metre gauge engines, have already exceeded their lifespan.
In fact, six of them are around 67 years old but are still able to operate on different routes thanks to routine maintenance and overhauling every six years at the central locomotive workshop.
Now though, their survival has come into question as service station lacks the required workforce and funds.
"It has been left in a seriously neglected condition," an official said.
Echoing the same, an engineer at Keloka said it has become very difficult to overhaul or conduct general servicing on an engine amid the current situation.
The workshop is comprised of 11 departments that collectively provide some 559 posts, of which around 67 per cent are vacant for now.
Officials say the reluctance of Bangladesh Railway to recruit fresh workers alongside the retirement of older ones is increasing the number of empty posts each year.
On condition of anonymity, an expert mechanic at the workshop said recruiting new workers would solve the problem almost instantly.
It currently takes from six months to a year to overhaul each engine with the current workforce but the problem does not stop there, he added.
Most machinery used at Keloka, including spare parts, are no longer in usable condition, forcing mechanics to implement makeshift solutions.
If it is no possible to manufacture spares locally, then the parts need to be imported.
However, the shortage of funds is delaying the import process, officials say.
This year, Keloka got a fund allocation of Tk 6 crore while it was Tk 63 crore in fiscal 2021-22 against a demand of Tk 85 crore.
Last year, Keloka had a target to overhaul around 22 engines and conduct general maintenance on another 53, but only 19 were given the services.
"We can currently overhaul around 20 engines each year but the number would double if the empty posts are filled," a mechanic said.
Rafiqul Islam, chief executive of the central locomotive workshop, said the last time workers were recruited was back in 2013.
However, diploma holding engineers of different educational institutions, including the Bangladesh University of Engineering Technology, are completing their internships at the factory, he added.
Islam went on to say that Bangladesh Railway has plans to set up a similar factory elsewhere in the country.
Other than Keloka, there are two more engineering department operated by Bangladesh Railway -- the Syedpur Railway Factory in Nilphmari and Pahartoli Carrage and Wagon Factory in Chattogram.
Both factories are working with around 40 per cent of their full workforce.
Experts at Keloka successfully repaired a DMU train at the end of last year, helping Bangladesh Railway save huge funds after the supplier company of China demanded a repair charge equal to the purchase price.