Govt won't allow sit-ins, blockades
AL to hold programmes regularly from now on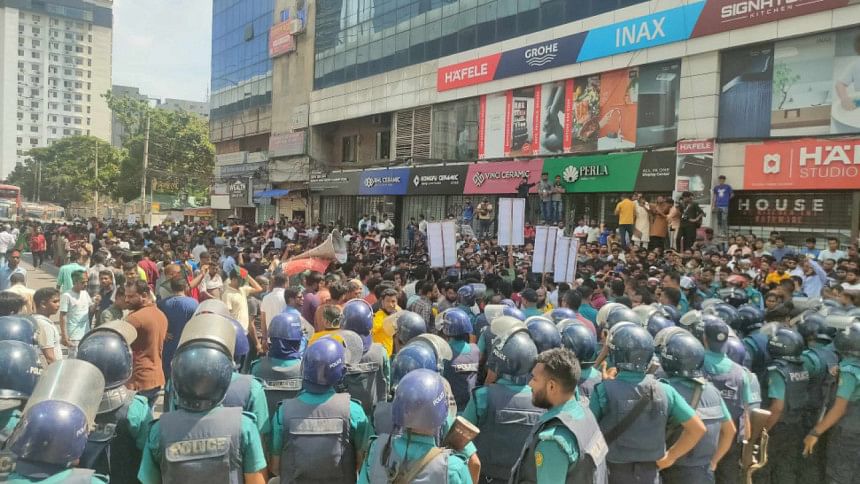 The government will allow BNP to hold programmes like rallies and processions but won't permit blockades or sit-ins that might lead to violence.
It is also thinking about imposing a ban on political programmes on weekdays, citing public sufferings.
Police sources said they learnt a lesson on Saturday and would be more alert in tackling political programmes in the coming days. The law enforcers will increase the deployment of forces and monitoring by intelligence agencies centring political programmes in future.
They will also conduct special drives to apprehend "troublemakers" and will not allow any illegal gathering on the streets, said officials, adding that there will be checkpoints in every key area of the capital.
Following clashes between police and BNP activists in the capital on Saturday, Awami League has decided to keep a tight grip on the streets and hold programmes regularly.
It, however, will not declare programmes to counter the BNP like it has been doing since December.
Party sources said AL will keep its activists ready to resist any BNP attempts to deteriorate law and order.
Speaking at a programme at Shilpakala Academy, Home Minister Asaduzzaman Khan Kamal said law enforcers will not stand idle if anyone causes trouble in the name of agitation or assembly.
There is no problem with peaceful political programmes, but police will not allow blocking of roads, he added.
"We will allow BNP to conduct its peaceful political programme. But we will resist them if they want to create an anarchic situation and get involved in violence," AL Joint General Secretary AFM Bahauddin Nasim told The Daily Star.
He said, "We will take action according to the situation. If the BNP holds peaceful programmes, we will go slow. But if the BNP wants an unwanted situation to resist the election, it will be dealt with an iron fist."
He said AL will hold programmes like discussions, rallies, publicising of the government's achievements, mass contact, and run election campaigns regularly until the election.
According to party sources, AL in August will hold discussions and rallies in which it will describe the BNP-led four-party government's misrule.
In September, it will focus fully on campaigning.
Ruling party leaders think BNP's Saturday's programme is nothing but the party returning to the arson attacks it carried out in 2013-14.
"Like in the past, all terrorist activities and anarchies by BNP will be dealt with an iron fist," AL Joint General Secretary Mahbubul Alam Hanif told The Daily Star.
He said BNP on Saturday hinted that it was taking the same path it took in 2013 and 2014. "But they will not be allowed to do it again," he said.
Sheikh Bazlur Rahman, president of Dhaka city unit (north) AL, told this paper that his unit will hold several programmes until the election.
In a recent programme, DMP Commissioner Khandaker Golam Faruq said they may be compelled to impose a ban on political programmes if those result in public sufferings.
Asked about imposing any restrictions on the political programmes during weekdays, Faruq told The Daily Star yesterday, "We are discussing how to handle the programmes."
Harun Or Rashid, additional commissioner (detective branch) of Dhaka Metropolitan Police, said they would increase deployment and intelligence surveillance to avert any unwanted situation.