As everything opens up, Dhaka traffic back in full force
Dhaka city residents were stuck on the road today as traffic came to standstill for the second consecutive day.  
The Daily Star correspondents reported heavy traffic and long tailbacks in Dhanmondi, Gabtoli, Motijheel, Mugda, Mirpur, Uttara and several other parts of Dhaka.
Situation turned unbearable in the morning. School, college, university students and office-goers suffered the worst.
Jahid Karim boarded a bus around 11:00am at Mirpur-1 to go to Kalabagan. Around 1:00pm, he was seen sleeping in the bus as it was stuck in traffic jam in Asad Gate area.
"I was sleeping as I realised it will take much longer than I anticipated to reach my destination," he told our photojournalist Prabir Das. 
Bus conductor Faruk was visibly irritated when he was asked about the traffic situation.
"It has been terrible since yesterday -- since all the schools have opened," he said.   
Enam Hossain usually drives from his Mugda home to his office in Farmgate.
Considering yesterday's experience, he first took a bus and later changed transport twice, and then walked too for a while to reach his office today.   
Many parents of school students were seen getting out of their cars and taking rickshaws to bring their children back from schools.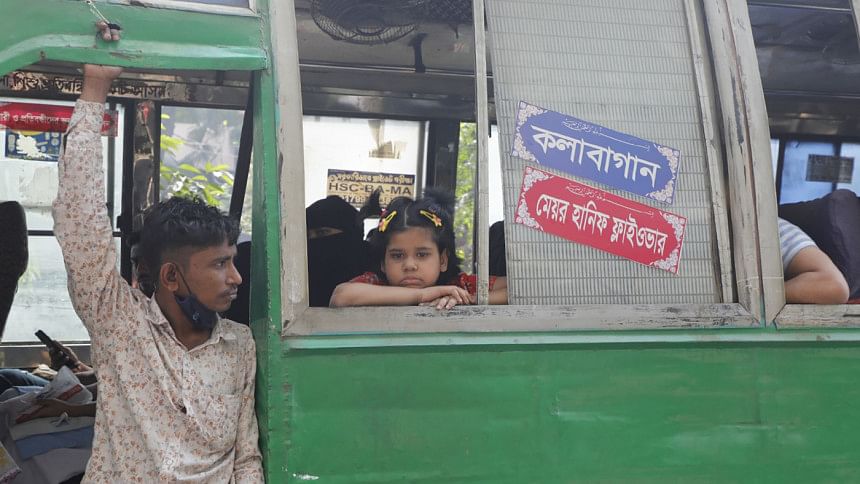 Facebook group Traffic Alert saw several posts on the long tailbacks in Mohakhali, Khilkhet, Uttara and Kalyanpur.
Several Dhakaiites, on their Facebook, posted about how they had been stuck at the same place for about half an hour.
Many netizens urged the authorities to come up with a solution -- terming the Dhaka traffic situation "unbearable".