Traffic jam in Dhaka eats up 3.2m working hrs everyday: WB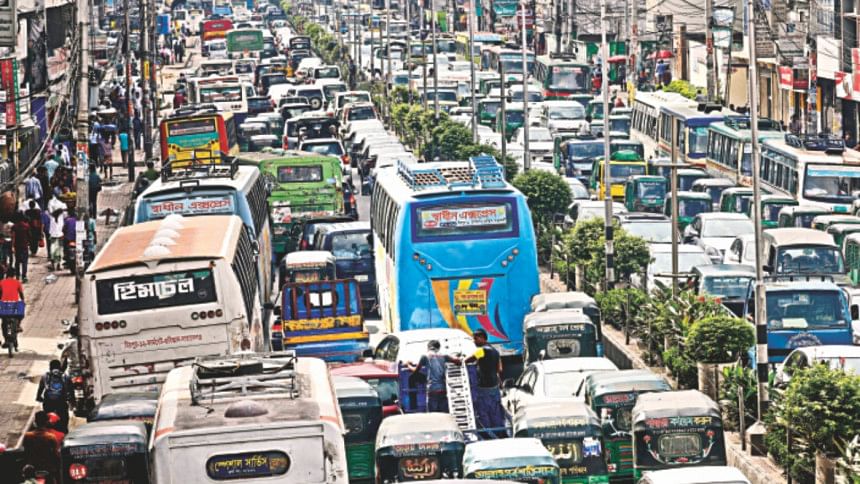 Many residents in Dhaka often lack access to basic services and in the last 10 years, average traffic speed has dropped from 21 km to 7 km (hour), only slightly above the average walking speed, said a new World Bank (WB) analysis.
"Congestion in Dhaka eats up 3.2 million working hours per day," said the analysis shared at a high-level international conference here today.
It said Dhaka's urban development has not kept up with the city's rapid growth, resulting in a messy and uneven urbanization process and lack of adequate planning has led to poor livability and vulnerability to floods and earthquakes.
Speaking at the opening session of the conference, LGRD and cooperatives minister Khandaker Mosharraf Hossain said Dhaka will gradually be built as a capital of middle income country by 2021 and a developed country by 2041.
Highlighting the Dhaka's economic potential, he said the area of Dhaka is only one percent of the country's total area but its contribution to GDP is 36 percent and it has created 44 percent of the country's total employment.
Mosharraf Hossain said population in Dhaka is increasing fast and it will have more than 30 million people by 2030. The government has taken up a plan to reorganize all service providing organizations to meet the increasing civic amenities in the future, he added.
The WB organized the conference titled "Towards Great Dhaka: International Conference on Development Options for Dhaka Towards 2035". WB country director Qimiao Fan made opening remarks while chief economist of WB's South Asia presented the keynote paper at the conference.
Mayor of Dhaka North City Corporation (DNCC) Annisul Haque and Mayor of Dhaka South City Corporation (DSCC) Sayeed Khokan also spoke at the session.
Former chief minister of Delhi, India Sheila Dikshit, former vice mayor of Shanghai, former dean of Pudong Planning and Design Institute shared their experiences of transformation of their respective cities.
Principal secretary to the Prime Minister's Office (PMO) Kamal Abu Naser Chowdhury, chairman of Power and Participation Research Centre Dr Hossain Zillur Rahman and senior secretary of the planning commission Prof Shamsul Alam chaired the panel discussions.
Mayor Annisul Haque said there was no big plan for the development of Dhaka in the past. Managing the increasing population and poor drainage system are among the major challenges of Dhaka city, he said, adding that proper planning is now underway for the development of this big city.
Sayeed Khokan said a city government is needed for the proper development of Dhaka city. There is lack of coordination among the organizations responsible for looking after the city's different issues, he said and added that crisis of fund for development is also a major problem.
According to the WB analysis said 36 percent of the country's urban population live in greater Dhaka which has become one of the world's most densely populated cities. To achieve its vision of becoming an upper-middle income country by its 50th birthday, Bangladesh must manage Dhaka's urban growth, it said.
"This includes taking full advantage of East Dhaka - where there is ample availability of land near the core of the city - to increase the city's economic opportunities and livability," says a new World Bank analysis shared today at a high-level international conference.
"Based on current trends, Dhaka will have more than 35 million people by 2035. A productive and livable city of this scale can make enormous contributions to its citizens and the economy," said WB's country director Qimiao Fan.
"However, Dhaka must seize the opportunity to properly plan, coordinate, and invest for the future to achieve its full potential. As Bangladesh's long-term development partner, the World Bank looks forward to supporting the city's ambitious transformation," he added.
With proper planning and implementation, East Dhaka can become a vibrant pole of activities with higher value added, while helping ease density and congestion in the rest of the city, it said, adding that however, if not managed properly, the rapid and unplanned urbanization of East Dhaka will make congestion and livability worse and expose more people to risks from floods and earthquakes.
"Examples from around the world such as Eastern Shanghai's Pudong District and others demonstrate that proper planning and execution can encourage economic vibrancy, improve livability, and ease congestion," said WB's chief economist Martin Rama.
Sheila Dikshit, former Chief Minister of Delhi, India, and Qizheng Zhao, former Vice Mayor of Shanghai, China shared their experiences on transformations in Delhi and in Eastern Shanghai's Pudong district, respectively. Both cities gained greatly from public-private partnerships as well as coordination efforts from multiple ministries and agencies.
Professor Anthony Venables of Oxford University presented four simulation scenarios for Dhaka's development towards 2035.