Dhaka-Mawa-Bhanga Expressway: Traffic condition improves as 3 more toll booths opened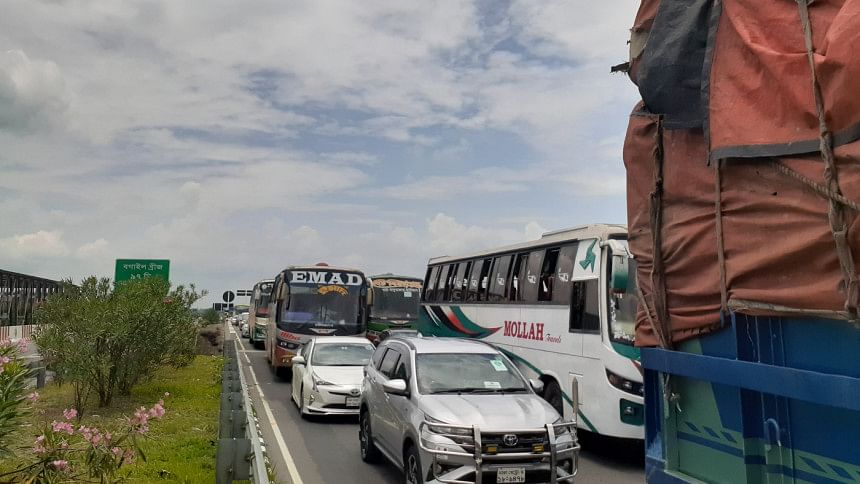 The 55km-long Dhaka-Mawa-Bhanga Expressway today (July 1, 2022) witnessed slowdown of traffic on the first day of toll collection as all the booths of the toll plaza could not be opened.
Following the toll collection by four out of 10 booths, a long traffic jam was created in Bhanga of Faridpur this morning, causing immense suffering to drivers and passengers, reports our Faridpur correspondent.
The speed of toll collection increased from 11am after three more booths were opened, which reduced traffic congestion.
Abu Hossain Zakaria, in-charge (administration) of the toll plaza, said the traffic pressure has reduced with the opening of three new booths.
While visiting the area this morning, this correspondent found a four-kilometre long tailback on the expressway for Bhanga-bound vehicles from Dhaka in Bogail toll plaza area and more than one kilometre for Dhaka-bound vehicles from Bhanga from 6am to 11am when tolls were collected at four booths.
Authorities said it is not possible to collect toll from the remaining three booths out of the total 10 as those are under-construction.
Korean Expressway Corporation started collecting toll from vehicles on the Dhaka-Mawa-Bhanga expressway from midnight.
"Tailback at the toll plaza has dropped a bit. We reached the toll booth within 30 minutes," said Md Mehedi Hasan, a private car driver.
Zubair Sheikh (44), driver of a Jhenaidah-bound truck, said he was stuck two kilometres away from the toll plaza and it took him 50 minutes to get to the toll plaza.