Toll on Dhaka-Mawa-Bhanga Expressway from July 1
Tk 10 per km set as base toll for interim period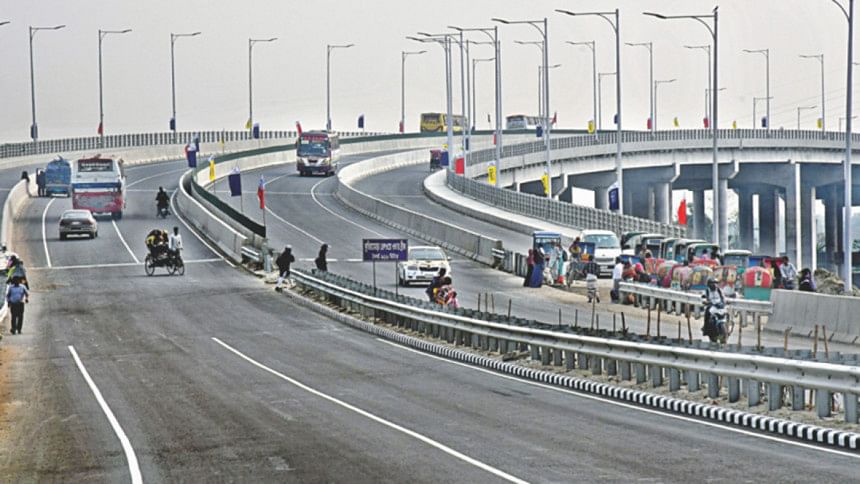 The government is going to impose toll on vehicles for using the Dhaka-Mawa-Bhanga Expressway from July 1, a move that will push up transport costs.
As per the interim rate of Tk 10 per km as the base toll, a medium-sized truck would have to pay Tk 550 for using the 55km expressway, aside from paying a separate toll for using the Padma Bridge.
The Road, Transport, and Highway Division issued a circular in this regard yesterday (June 26, 2022) which was uploaded on its website today.
However, once the authorities start collecting toll from the expressway, they will not collect tolls from three bridges – Buriganga Bridge-1, Dhaleshwari Bridge and Arialkha Bridge, sources said.
As per the circular signed by Fahmida Hoque Khan, a deputy secretary of the division, Tk 10 per km has been fixed as the base toll for the interim period following the approval of the Finance Division.
Later, the authorities will fix the final rate based on the Toll Policy-2014.
As per the interim rate, the toll for a bus would be Tk 495 (90 percent of the base toll), for a car (sedan) Tk 138 (25 percent), and for a bike Tk 28 (5 percent). Tolls of other vehicles would be set accordingly.
Currently, a medium-sized truck has to pay Tk 2,100 for using the Padma Bridge while it is Tk 2,400 for a bus, Tk 750 for a car, and Tk 100 for a motorcycle.
Therefore, a truck has to pay Tk 2,650 for using both the expressway and Padma Bridge while a car has to pay a total of Tk 888, and a bike Tk 155. However, Bangladesh Bridge Authority yesterday banned motorbikes on Padma Bridge till further notice.
Prime Minister Sheikh Hasina on Saturday (June 25, 2022) inaugurated the Padma Bridge and the authorities opened the bridge for traffic yesterday.
The PM in March 2020 opened the 55km expressway, formally named "Jatir Pita Bangabandhu Sheikh Mujibur Rahman Highway" – implemented at a cost of Tk 11,003 crore, making it the most expensive road (considering per km expenditure) in the country.