Discover new dessert delights with these 4 delectable marshmallow recipes
Soft, spongy, cloudy pillows of sweetness with a delectable gooey bite — what comes first into your mind following this description? Marshmallow, that's right!
Marshmallow may be a simple candy but it is possible to produce a wealth of scrumptious delights using this basic ingredient. Munch on them as they are or toast them, use them as a topping over drinks and desserts, or keep them as the core ingredient if you will. There are just as many ways you can use marshmallows as there is variety to them, coming in a bounty of shapes, sizes, colours, and flavours. 
Having marshmallows in your pantry makes it possible to confect some delightful sweet treats, and that too in no time at all. Thus, here are some scrumptious desserts to devour, made with marshmallows being the shining ingredient.                 
FLUFFY MARSHMALLOW CHEESECAKE
If you are a fan of dense, baked cheesecakes, then this recipe just might change your mind. Layered with a decadent chocolate base and a light, fluffy marshmallow and cream cheese mixture atop, this marshmallow cheesecake is the ultimate showstopper dessert.  
Ingredients
For the cookie base –
20 chocolate sandwich cookies
¼ cup melted butter
For the cheesecake filling –
25-30 large marshmallows
½ cup milk
1 tsp gelatine
400g cream cheese
1 tsp vanilla essence
½ cup whipping cream
3 tbsp caster sugar
5-6 chocolate sandwich cookies
Method
For the chocolate base, finely crush chocolate cookies and drizzle melted butter over them. Combine them until it reaches a sandy consistency and drop this in a baking paper-lined round spring-form pan. Press the mixture hard to create a packed biscuit crust and let it set in the refrigerator while you make the cheesecake mixture.
Firstly, bloom the gelatine with required amount of cold water and leave it aside. In in a pan over low heat, melt marshmallows and milk. Once completely molten, drop in the bloomed gelatine and stir for a minute. Remove this from heat and allow it to come to room temperature.  
Next, whip chilled cream and sugar in a large bowl until stiff peaks form. Meanwhile, in another bowl, beat the cream cheese and vanilla together and then add in molten marshmallows. Carefully fold in the whipped cream into this and combine all the elements together.
Break up some more chocolate sandwich cookies into chunks and add them to the mixture before pouring it into the prepared pan. Allow it to set in the refrigerator for a couple of hours before slicing in.   
FUDGY MARSHMALLOW COOKIES
You have tried the heavenly combination of crispy cookies, chewy marshmallows, and silky chocolate in s'mores, but have you tried another contending version with fudgy, chewy chocolate cookies instead? Well, here it is!  
Ingredients
½ cup cocoa powder
1/3 cup chocolate powder
2 cups flour
120g butter
½ cup brown sugar
1 tsp vanilla essence 
2 eggs
1/3 cup chocolate chips
10 marshmallows halved
20 chocolate squares
Method
Sift together the dry ingredients, including cocoa powder, chocolate powder, and flour. In another bowl, beat butter and sugar before adding in eggs and vanilla essence. Add in the dry ingredients, along with chocolate chips and mix everything together to form a dough; freeze this for 10 minutes.
Take out the dough and form little balls for cookies. Create a dent in the centre of each, using your thumb. Bake them in a preheated oven at 180°C for 8 minutes. Take them out, place one-half of a marshmallow on each, and return them to the oven to bake for another four minutes. Once fully baked, immediately place a chocolate square over each cookie for a molten finish.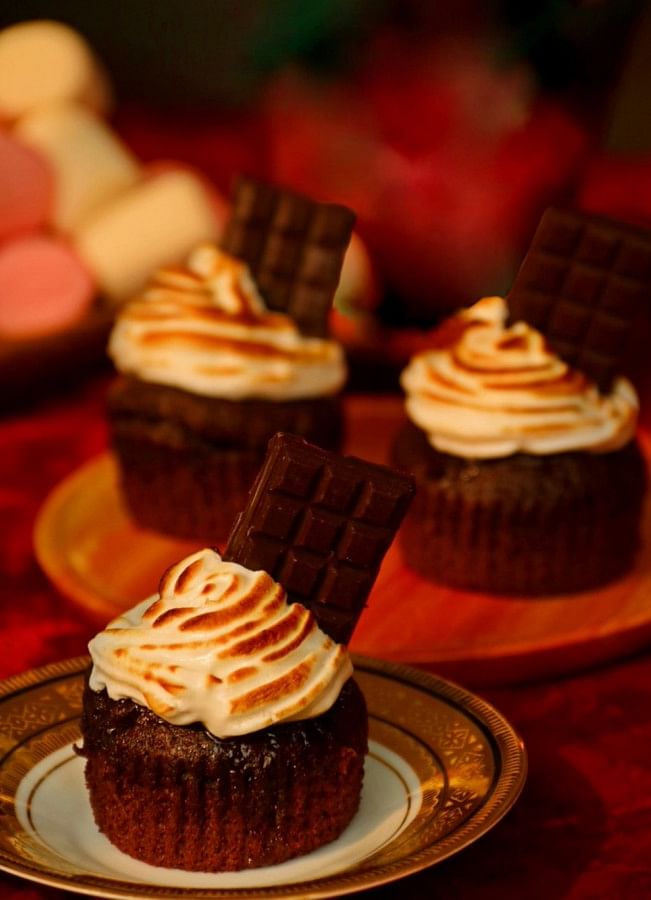 GOOEY MARSHMALLOW CUPCAKES
We love savouring the little, joyous moments in life, such as being met with an explosion of molten chocolate after slicing into a dessert. Bite into this cupcake and you will experience the same sensation, but in the form of marshmallows — a true dessert delight.  
Ingredients
For the cupcakes –
1½ cup flour
¾ cup sugar
½ cup cocoa powder
1 tsp baking powder
1 tsp baking soda
1 egg
1 tsp instant coffee
1 cup warm water
1/3 cup vegetable oil
1 tbsp white vinegar
1 tsp vanilla extract
12 marshmallows
For the marshmallow fluff –
1/3 cup water
¾ cup sugar
¾ cup corn syrup
3 egg whites
½ tsp cream of tartar
1 tsp vanilla extract  
Method
Sift together flour, sugar, cocoa powder, baking powder, and baking soda. Separately, stir in coffee to warm water and beat in the egg; add oil, vinegar and vanilla extract as well. Then, combine the wet and dry ingredients to form a homogenous mixture.
Fill in a dozen cupcake liners three-quarter of the way with this mixture. Pop one marshmallow into each and coat it completely with the batter. Bake the cupcakes in a preheated oven at 160°C for 20-25 minutes.   
To make the marshmallow fluff, beat egg whites and cream of tartar on high speed until soft peaks form. In a saucepan over low heat, combine corn syrup, water, and sugar and stir until the sugar is completely dissolved. Wait for the temperature to reach 120°C before taking it off the heat. Once there, gradually pour this into the egg whites in a steady stream on medium speed.
Once all the liquid is incorporated, whip for a few more minutes on high until it becomes a fluffy, glossy, and voluptuous concoction. Drop in vanilla extract during the last minute of whipping. When the cupcakes are baked, let them cool slightly and pipe over this marshmallow fluff. Toast them slightly using a blowtorch or broiler before serving.           
MARSHMALLOW FRENCH TOAST ROLL-UPS
With its molten marshmallow centre encased in toasted bread, kids in the house will soon be hounding you to make this inventive breakfast more frequently! A contemporary twist on the conventional French toasts, it also makes for a great snack or tiffin.    
Ingredients
8 slices bread
3 eggs
¼ cup milk
½ tsp vanilla extract
40g butter
4 tbsp fruit jam/chocolate spread of choice
16 marshmallow sticks  
Method
Using a rolling pin, flatten out the bread slices and spread a layer of jam or chocolate spread over them. Place a couple of marshmallow sticks adjacently and roll the bread encasing everything in it. Then, beat together eggs, vanilla extract, and milk and heat butter in a non-stick pan.
Dunk the bread rolls into the egg mixture and toast them on butter until they become crispy and toasty on the outside. Dig in for a delicious ooey-gooey bite!     
Food: Fariha Amber