Celebrate the end of the year with delicious pithas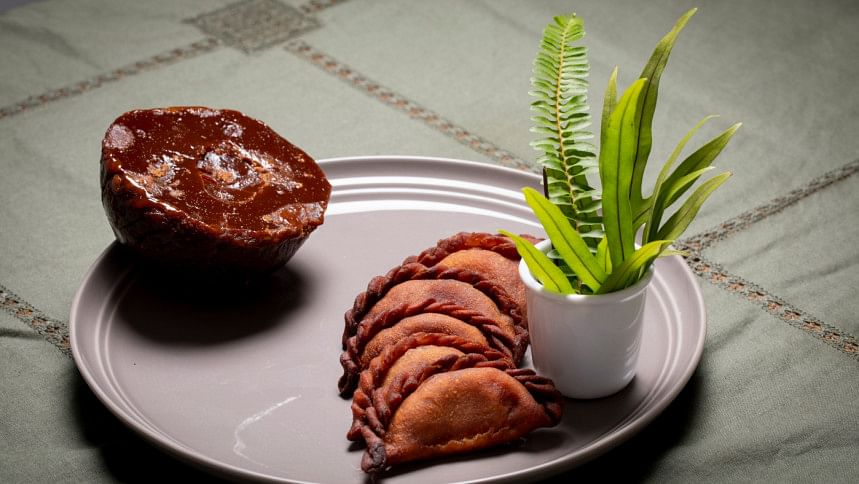 Winter in Bangladesh signifies three things; travelling across the country, badminton tournaments in every neighbourhood, and of course mouth-watering pithas to suit just about every palate. There are at least hundreds of different varieties of pithas. Some are associated with the harvest (Nabanna) in winter while some others are prepared on any grand occasions like weddings, Eid or Puja. Some are crunchy, some steamed and others delightfully soaked in sugar, molasses, milk or date palm syrup. Most of them are sweet, though there are some savoury pithas too for those of you who likes things spicy.
KHEERSHA PULI
Ingredients
1 cup rice flour
1 cup jaggery
1½ cup water
1 cup kheersha
1/8 tsp salt
Oil for deep fry
Method
Boil water in a pan. Add jaggery and salt to it. Add rice flour to boiling water and keep stirring with wooden spoon to form a firm but soft and non-sticky dough. Adjust accordingly. Kneed well for about 3-4 minutes. Take a portion of the dough and roll it out as a thick tortilla. Cut out circles with cookie cutter. Place a small amount of kheersha on each circle. Repeat the process with the remaining dough. Brush the edges with water and seal tightly to form a semi-circle shape. Heat oil in a pan. Fry the kheersha puli in medium heat until the dough is cooked through and golden. Serve warm or at room temperature.
KHEJUR PITHA
Ingredients
1 cup semolina
½ cup flour
1 egg
¼ cup sugar
1 tbsp ghee
¼ tsp baking powder
4 tbsp warm milk
Oil for deep fry
Pinch of salt
Method
Take semolina, flour, sugar, salt, baking powder, and ghee in a large bowl and mix well. Now add the egg and knead the dough. Dough must not be too dry or too soft. Make small balls from the dough. Take one ball and shape it like an egg, then spread it on top of a colander thinly and start to fold from one end and finish it to another end and close it. In the same process, make all the pithas. Now heat oil in a pan. Fry the pithas until golden brown and then take them out from oil to a paper tissue. You can preserve these pithas in an airtight box for 2-3 weeks.
DUDH CHITOI PITHA
Ingredients
1 cup rice flour (parboiled rice)
½ cup white rice flour (atop chaal)
1½ cup luke warm water
Salt to taste
½ cup date jaggery
3ltr milk
Method
Mix the rice flour with lukewarm water and a pinch of salt. The batter should not be thick. It should be thin, but not too thin. Now heat the clay pot or iron wok. It should be very hot. Grease the wok with little oil. Pour some batter and cover the wok. Cook the pitha on low flame for 3 minutes. Cook just one side and loosen the edges around the pitha from the wok with a knife and take them out. Now heat milk in a large pan. Bring to a boil. Add jaggery and when the milk is reduced to half, turn off the stove. Now add the warm pitha into the syrup. Cover it and let the pithas to be soaked at least 4-5 hours, and serve.
ZAFRANI KHEER PATISHAPTA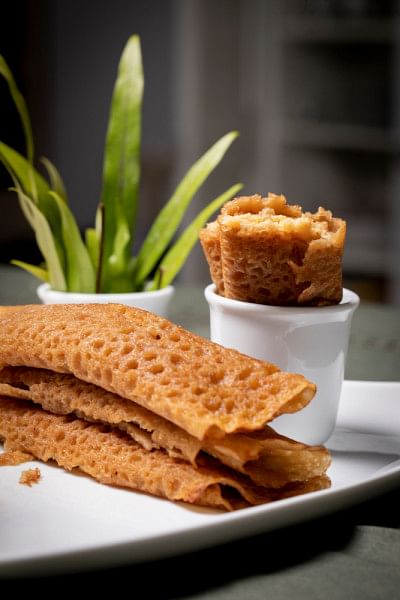 Patishapta is a thin Swedish pancake or crepe style pitha, very special and adored by Bengalis. No special occasion is complete without it, there are many variations. You can use coconut with molasses for the stuffing, and sometimes the kheer or the kheersha can be used. Vegetables, meat or even cooked noodles, can be used as the stuffing. This uses saffron, dry nuts and raisins.
Ingredients
For the batter -
1 cup rice flour
2 tbsp all-purpose flour
½ cup Liquid molasses
1 cup liquid milk
For the stuffing -
2ltr milk
2 tbsp rice flour
Saffron, soaked in milk
Sugar to taste
Chopped dried nuts, pista, almond, walnut and raisins
Method
Make a thin batter with the batter ingredients. The batter should not be too runny or too thin, but rather free flowing. Cover and keep it aside for at least an hour. Make the stuffing. Heat the milk with sugar and keep stirring until it is reduced to half. Soak saffron in another small bowl in milk and add it to the milk. Add sugar and milk mixed with the rice flour. Keep stirring. Soon, the milk will thicken. Add mix nuts and raisins. Mix well. Remove from heat, allow it to cool down. Now heat the non-stick pan and grease a little oil on the surface. Take a small amount of batter at a time and spread on its hot surface in round shapes. Take 2 spoonful of stuffing, place on the side of the pitha and roll into a cylindrical shape. Arrange in a plate and prepare to serve.
PAKON PITHA
Ingredients
2 cups rice flour
2 cups flour
4 cups water
½ tsp salt
4 eggs
¼ cup ghee
For sugar syrup -
10 cups water
4 cup sugar
2 green cardamon
2 pieces cinnamon sticks
Oil for deep fry
Method
Whisk egg in a bowl and keep aside. Melt ghee in another small bowl and keep aside. Mix flour and rice flour in a bowl. Keep aside. In a pan, add sugar, water, cardamon and cinnamon and boil for 3-4 minutes. When sugar syrup is ready, remove from heat, and transfer to big bowl and allow it to cool down. For dough preparation, boil 4 cups of water and salt on medium high heat. Add flour mixture and cook for 5 minutes. Remove from heat and let it cool to room temperature. Once cool, knead, and mix beaten egg and ghee, little by little. Knead well to make a smooth, soft and pliable dough. Divide the dough into 25-30 equal portions. Make round shaped balls. Then turn into your desired shapes. You can use cookie cutter, or any kind of dices, needle, toothpick or knife for design. Now it's ready to be fried. Heat enough oil in a pan on low heat. Fry the pithas until golden brown. Then soak it into sugar syrup overnight. Transfer to a serving plate, pour some sugar syrup, and then serve.
BHAPA PITHA
Bhapa pitha is one of the most popular pithas in Bangladesh, made of rice powder, coconut and jaggery stuffed inside. It is one dessert item that truly represents Bengali cuisine.
Ingredients
2 cups parboiled rice
½ cup liquid milk
Pinch of salt
For the filling -
½ cup grated fresh coconut
1 cup date jaggery
Method
Soak the rice for at least 5-6 hours beforehand. Drain the water out well. Now grind it in a grinder or food processor. Mix some water, but don't take too much. Add salt and sprinkle milk in a way that the rice powder must seem wet, not dry at all. If the flour binds together when you hold some of them in your plan, the flour is ready. Now sieve the flour through the strainer. Take two pieces of clean cotton cloth and two small bowls. In a bowl spread some flour, then add the coconut and jaggery. Cover it with another layer of flour and even it. Cover it with piece of cloth and put in the steamer. Tap the bowl slightly, so that you can remove the bowl easily. Remove the bowl and cover the pitha with the remaining ends of the cloth. Steam for 4-5 minutes. Prepare the same way using the other bowl and cloth. You remove the cooked pitha and place another. Serve hot.
NARIKEL-TIL PITHA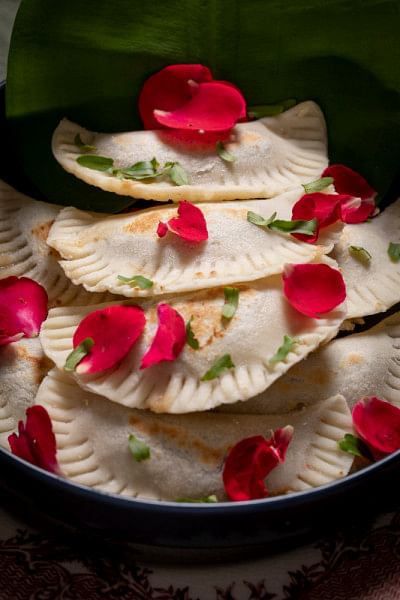 Ingredients
1 cup rice flour
½ cup plain flour
½ cup roasted sesame seeds
½ cup freshly grated coconut
1 cup sugar
1 cup milk
2 tbsp butter
Method
Combine milk, plain flour and rice flour in a bowl and whisk well so that no lumps remain. In another bowl, combine sugar, sesame seeds and coconut. Mix well and keep aside. Heat a non-stick pan and grease with butter. Pour approximately 2 tablespoons of the batter and spread to form a small, round and thin pitha. Cook lightly on both the sides. Spread a little of coconut-sesame mixture on half side and cover with other half to form a semi-circle. Repeat the same to make more pithas using remaining ingredients. Serve immediately.
NOTUN CHAL-ER KHEER
Ingredients
½ cup aromatic rice
2ltr milk
¾ cup date jaggery
¼ cup mix nut
Method
Soak rice in water for half an hour. Let the water drain. Crush the rice with your hand. Heat milk in a pan to boil. When the milk is reduced to half, add rice to it and cook in low heat. As the milk thickens keep on stirring the mixture or it will stick to the bottom of the pan. When the mixture becomes thick, add jaggery and nuts and cook for another 5 minutes. Remove the pan and prepare to serve.
Styling: RBR