5 sandwiches to relish in hot weather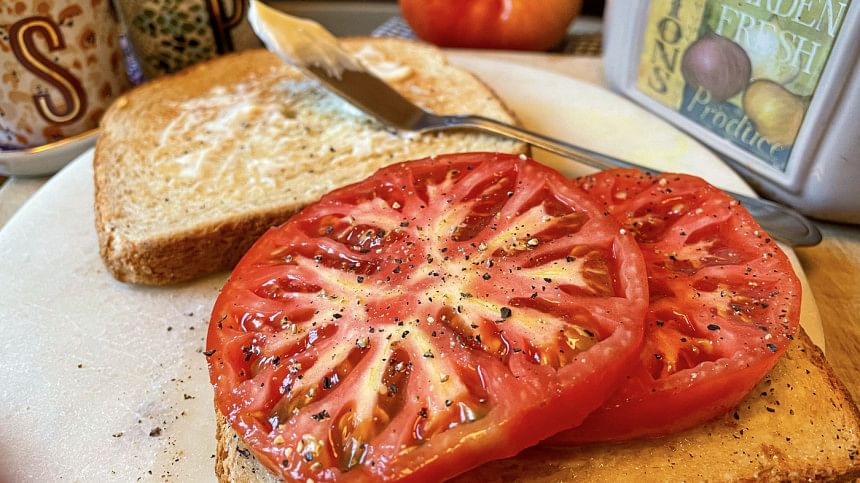 Between two slices of bread, a great number of ingredients can be mixed and matched to create a class favourite, a food that we know by the name sandwich. Sandwiches are insanely easy to prepare and delicious sandwiches can be prepared from simple and readily available ingredients. If you are a fan of sandwich like me, you can put together different kinds of sandwiches throughout the year to treat yourself, and your friends and family.
The days right now are hot and humid, so here are 5 simple but scrumptious sandwich recipes that you can use when you are looking to eat something fresh and light. These sandwiches are also quick, healthy, and budget-friendly.
Tomato sandwich
With its roots in the Southern US, tomato sandwich is a refreshing summertime favourite in America. 
All you need are round slices of tomato (the larger, the better), mayonnaise, salt, pepper, and two slices of bread (toasted or untoasted is your choice).
Tomato sandwich is a simple food that is absolutely invigorating; enjoy one during lunchtime or as an afternoon snack. Tomato sandwich tends to get soggy quickly, so eat it fresh!
Cucumber sandwich
An afternoon tea staple, cucumber sandwich is cool, fresh, light, and super simple to prepare. The sandwich, which originated in the UK, is an afternoon tea party favourite. All you need are sandwich bread, peeled cucumber slices, cream cheese or butter, salt, pepper, and fresh dill.
Spread butter or cream cheese lightly on the bread. Most people cut the crust off their sandwich bread while making cucumber sandwich, but remember that that is a waste of food. Keep the crust on if you do not believe in wasting food, layer cucumber slices on the bread, and sprinkle salt, black pepper, and fresh dill, and voilà — you have a light, airy food that will keep you cool on a sweltering summer day.
Cut your cucumber sandwiches into small squares, triangles, or other fun shapes and serve!
One more thing, if you do not have fresh dill handy, replace dill with mint leaves. If you want to play with taste, add a few drops of lemon juice and chopped green onions to your cucumber sandwich.
Egg salad sandwich
Egg salad sandwich is a simple but all-time favourite food that you and your family can enjoy round the year. For a quick protein-rich egg salad sandwich, you will need hard boiled eggs, mayonnaise, yellow mustard, salt, and pepper.
Chop or mash hard boiled eggs and prepare a creamy egg salad with mayo, yellow mustard, salt, and pepper. Then spread the salad or filling on to bread slices to make a finger-licking sandwich. Could it get any quicker or simpler?
You can store this salad in your refrigerator for up to five days, depending upon how fresh your eggs were. If your children or you yourself are looking to eat something light at any time of the day, just use this salad to make a savoury sandwich.
You can definitely make your egg salad sandwich fancier by adding, for instance, chopped cucumber or green onion to the egg salad. Not just that, you can also layer the bread slice first with lettuce and then spread the egg salad to add a crunch to your sandwich.
Tuna sandwich
To prepare a classic tuna sandwich, you will need canned tuna (drain it before use), chopped hardboiled egg, celery, and red onion, mayonnaise, salt, and pepper. In a bowl, combine all the above-mentioned ingredients, mix well, and chill in the fridge. On to slices of bread, spoon the chilled tuna filling and enjoy a delicious sandwich that your tummy will thank you for.
When it comes to sandwiches, all things are possible. Therefore, you can always add and subtract ingredients to make that perfect sandwich, which will suit your taste buds. You can store this tuna sandwich filling in your fridge for up to three days.
Shrimp sandwich
Another easy-to-prepare yet refreshing sandwich that you and your loved ones will genuinely relish on a sultry day is the shrimp sandwich. For a mouth-watering shrimp sandwich, you will need peeled and deveined shrimp, chopped cucumber, lettuce and green onion, mayonnaise, lemon juice, coriander leaves, salt, and pepper.
Boil the cleaned shrimp in a pot of water until they turn pink. Drain, rinse under cool water for a few seconds, and pat dry. Cut the shrimp into small pieces and combine them with the rest of the ingredients to make a creamy-delicious filling that you can spoon on to sandwich bread, hamburger or hot dog bun.
Like I said before, when it comes to sandwich, everything goes, so instead of cucumber, you can add celery, or instead of coriander leaves, you can use fresh dill. If you don't like green onion, replace it with chopped red onion to add a sharpness to your shrimp sandwich.
Shrimp sandwich is on the heavier side and therefore, it can be eaten as a meal for lunch or dinner.
Sandwich is a versatile food. You can eat one for your breakfast, lunch or dinner. You can also eat one as a snack or on the go. Sandwiches are a delicious, healthy, and easy-to-make food. The best thing about sandwiches is that great many kinds can be put together from whatever is available at home.
Everyone loves a sandwich, young and old alike. Why? Because when it comes to good ol' sandwich, possibilities are limitless; there is always something for everyone.