A lesson not learnt
Dhaka runs risk of waterlogging in monsoon as storm drainage remains ineffective even after last year's horrible experience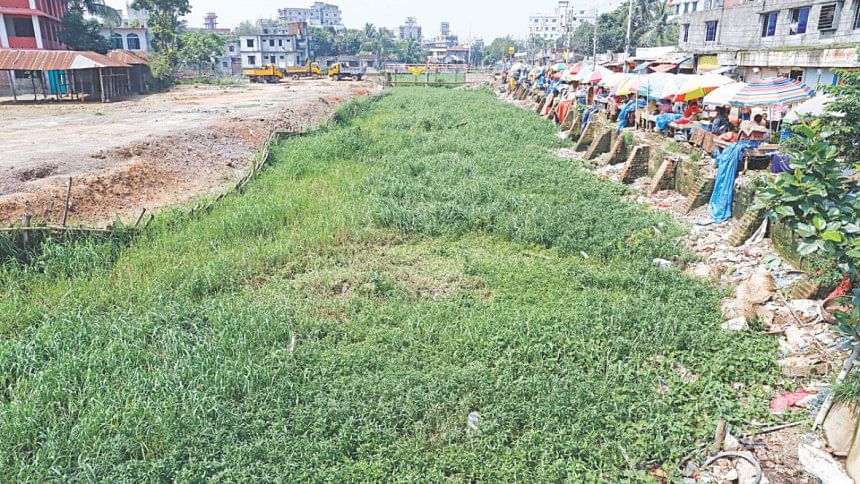 "I promise that you will not see these [waterlogging] from next year."

LGRD and Cooperatives Minister Khandker 

Mosharraf Hossain said on July 26 last year
Dhaka would not get flooded in 2018. Or so the local government minister promised last year. But his words did not translate into action.
A city of over 16 million, Dhaka is almost certain to go under water after a moderate rain. Only late last month, much of the capital was inundated following some little to moderate shower, causing public misery.
The city needs an efficient drainage network, unobstructed canals and free flood zones around it to save it from the perennial waterlogging.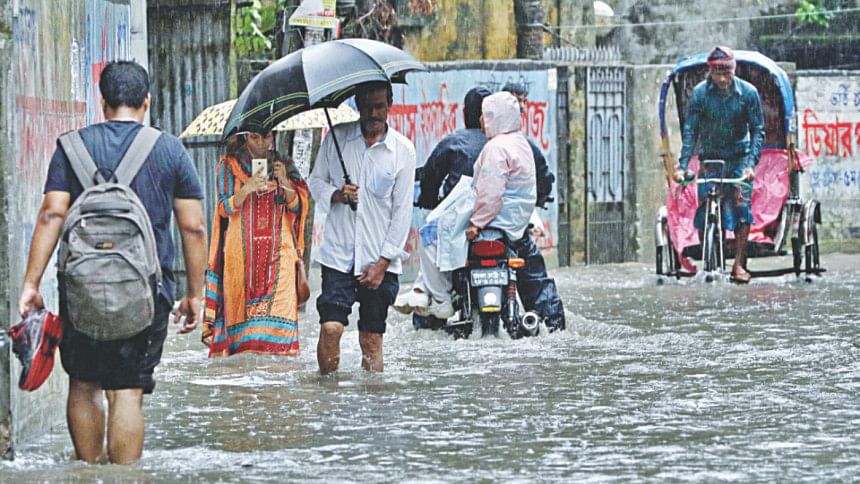 But in the past 10 months since the minister made the promise, the city authorities did some routine clean-up of the scanty drainage network. That too remains half done.
Apart from this, no other initiative has been taken to free canals and floodplains within the city from grabbers.
Multiple development works in different parts of the capital have worsened the situation. The works include road improvement in Uttara, construction of metro rail piers along Rokeya Sarani and relocation of underground utility service lines along Kazi Nazrul Islam Avenue.
On July 26 last year, Local Government, Rural Development and Cooperatives Minister Khandker Mosharraf Hossain said that waterlogging in Dhaka city would not recur in 2018 as the government had learnt a lesson.
Following his promise, Dhaka Water Supply and Sewerage Authority (Wasa) had asked for an additional allocation of Tk 60cr for cleaning up the canals, said Wasa adviser Abul Kashem.  
As there was no response and the current fiscal year is drawing to a close, they revised the amount to Tk40cr. The money is yet to be released.     
ASM Mahbubul Alam, director general of Local Government Division, said they requested the finance ministry for additional allocations.
"We don't exactly know the rationale for the delay," he said. "I think Wasa will get some money."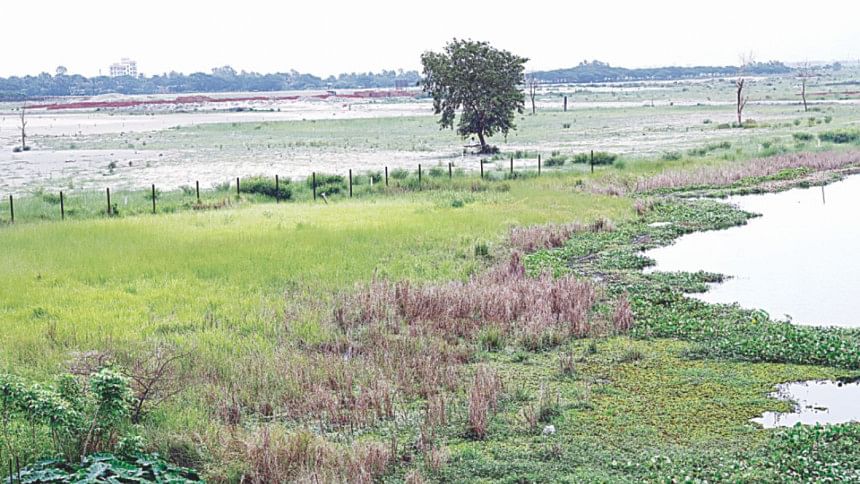 Asked what Wasa would do with the money at the last moment when monsoon is almost here, Alam said, "They will spend as much as they can and return the rest or keep it with them for next year."
Contacted, Wasa Managing Director Taqsem A Khan said, "We are taking some routine, piecemeal measures of cleaning the scanty artificial drainage lines and maintaining pump machines to pump out accumulated rainwater."     
Most of the flood flow zones, canals and low-lying water retention areas, earmarked in the Detailed Area Plan (DAP) for conservation, have been destroyed to make way for real estate business and "development" leading to today's deplorable drainage situation, he said. 
"Dhaka city's storm drainage problem cannot be permanently solved without reclaiming designated flood flow zones and water retention areas," he noted.
On the other hand, ground percolation as a means of rainwater management has also been made difficult as 90 percent of the 400sqkm Wasa area of the city is paved with concrete.
The ministry usually allocates Tk 5.5cr on top of Wasa's own allocation of around Tk 11cr every monsoon. This money is needed only for the routine cleaning and maintenance of Wasa drainage service, he said.
Shahid Uddin, former Wasa chief engineer, who is currently a contractual Wasa director, said they wanted to re-excavate 30km length of 19 canals within this month to enhance water passage capacity. They started the work in some places and hoped for extra allocations.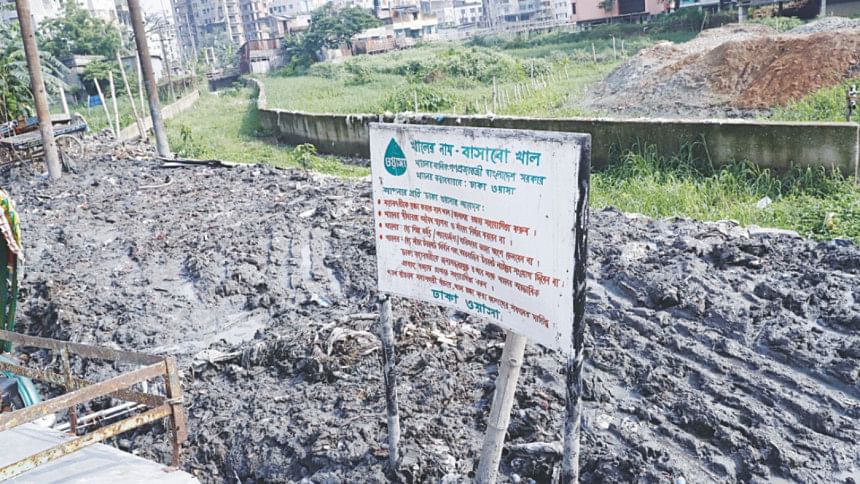 SEVEN AUTHORITIES FOR ONE JOB
Apart from Wasa, six other authorities deal with Dhaka's drainage system on a piecemeal basis without much knowledge about who is doing what.
They are: the two city corporations, the water development board, Rajuk, the cantonment board and big private housing developers like Bashundhara.
As a result, Dhaka plunges into a nightmare of public misery every time there is a normal monsoon shower that instantly floods the city roads, town planners say.
The two city corporations maintain over 2,000km feeder drains (open and small diameter pipes) to drain water from homes and rainwater to take them to canals and wide diameter (Wasa) storm sewer system. 
The government made a storm drainage master plan for Dhaka in 2016 but it could not be implemented as they did not assign any authority for the job, officials said. 
THE PRESENT SCENARIO
Wasa, with 370km storm drainage pipelines of 750mm to 1,830mm diameter, covers only one-fifth of its 400sqkm service area.  
At present, rainfall above 40mm at a time in Dhaka city floods the city with water which takes at least three hours to recede. The available pumping facility can drain out up to 20mm rain, according to officials. 
Rain water is supposed to be carried away instantly to low-lying retention areas by a well-networked storm drainage system. But with the network destroyed and the artificial pipelines clogged with solid wastes, it takes hours for rainwater to pass.
Wasa maintains 26 canals, each 75km long, as part of its storm drainage system. But they mostly remain clogged with uncollected solid wastes. Ten km of the canals have been turned into concrete box culverts to build roads on them, significantly reducing their capacity to carry water.
According to leading urban planners, low-lying wetlands, flood flow zones, storm water retention ponds, ditches and canals have all been filled up in the name of development. All of this has blocked the natural passage of monsoon rainwater.
Time and again, authorities have been warned of grim consequence in urban storm water management but they paid no heed.
According to the Flood Action Plan and DAP, the city should have conserved 5,523 acres of water retention area (which is only 1.57 percent of the 1,528sqkm of Dhaka's master plan), 20,093 acres of canals and rivers (5.7 percent) and 74,598 acres (21 percent) flood flow zones. 
SCHEME TO BUY 'PRIVATE LAND' 
With most of the surviving 26 city canals under illegal occupation, the government has taken up a Tk 607cr project for land acquisition and excavation of five canals to ease the capital's waterlogging problem.
The five canals are Hazaribagh, Baishteki, Sangbadaik Colony, Begunbari and Manda Khal across south and north Dhaka cities.
The canals are public property.   
Over 82 percent of the money will be spent on the acquisition of 30.5 acres of "private land" and the rest on compensation for structures, excavation and bank development.
The Executive Committee of the National Economic Council with the Prime Minister Sheikh Hasina in the chair approved the draft proposal on April 4.
The local government ministry proposed the two-year scheme to be implemented by Dhaka Wasa by December next year.