Embankment protection dam at estuary of 3 rivers breached in Sylhet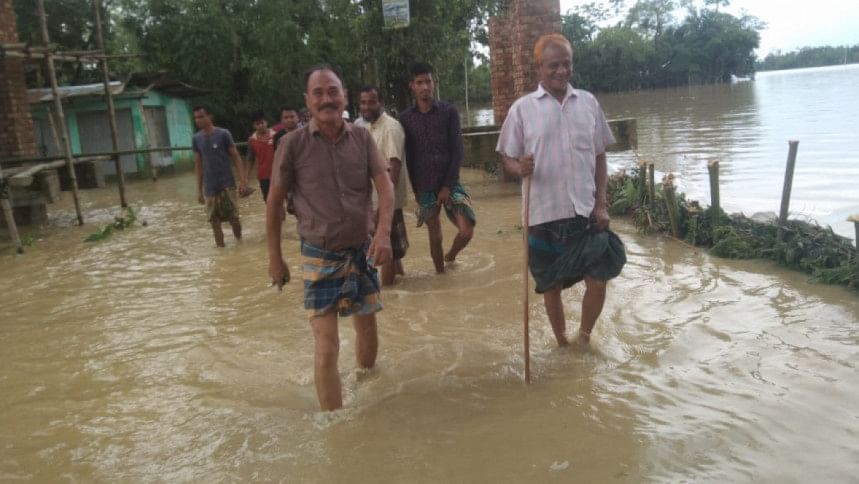 Water level in the Surma and Kushiyara rivers receding at four points provided some relief to people in flood affected areas of Sylhet and Sunamganj but they are afraid of more rain and long-term waterlogging.
Meanwhile, water from India's Barak river entered into Surma and Kushiyara rivers and breached the river protection dam in Amalshid area of Zakiganj upazila in Sylhet around 12 am, which flooded vast areas of the upazila.
According to the Flood Forecasting and Warning Centre, the Surma river was flowing 98cm above the danger level at Kanaighat point at 9am today, 17cm less than yesterday.
At the same time, the Surma river is also flowing 16cm above the danger level at the Sunamganj city point (3cm less than yesterday), and 38cm above the danger level (9 cm less than yesterday) at the Sylhet city point.
Kushiyara river is flowing 169cm above the danger mark at Amalshid area of Zakiganj upazila of Sylhet (6cm less than yesterday).
However, water of this river has increased by one cm at Sheola point of Biyanibazar upazila and flowing 58 cm above the danger level.
Asif Ahmed, executive engineer of Bangladesh Water Development Board Sylhet, told the correspondent that although the water has receded for now, the flood situation depends on the rainfall in upstream India. However, the Meteorological Department said that the rainfall will start decreasing from today. Hopefully, the situation will improve quickly.
Meanwhile, the river protection dam in the estuary of Barak-Surma-Kushiyara rivers at Amalshid in Zakiganj was breached due to excessive water flow from upstream, which flooded three villages of a union of the Zakiganj upazila.
Mahfuzur Rahman Bhuiyan, assistant engineer of Water Development Board Deputy (WDB) in Zakiganj said nearly 30 metres of river protection dam were breached. Water flow is much higher.
At least 20 lakh people in Sylhet and Sunamganj have been directly and indirectly affected by the flood situation since May 12.