Clean up the canals before monsoon
And before waterlogging disrupts city life once again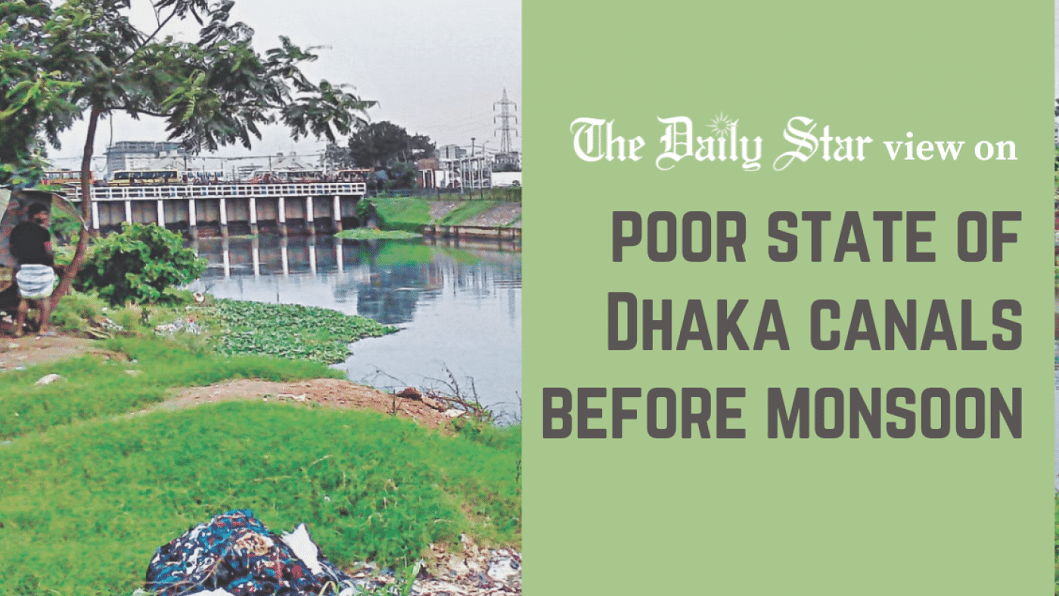 Canals becoming blocked due to encroachment and pollution is hardly surprising news. But it never fails to leave us with a sense of helplessness anyway. It foreshadows the suffering of the residents when the roads stay flooded as a result. The state of four major canals in Dhaka as reported by Prothom Alo – being clogged with garbage, impeding their ability to drain out flood waters – is a case in point.
On paper, the Jirani Khal, for example, is almost 20 feet wide in some places and 50 feet in others. It goes through major points in the city such as Shantinagar, Motijheel, Naya Paltan, Kamalapur and Khilgaon, carrying rain water and eventually pouring into the Balu River. But the reality is, it remains clogged with garbage and vegetation as it has not been dredged since the last rainy season. Three other canals – Manda, Shyampur and Kalunagar – are in the same condition. With these four canals being blocked, major areas under the Dhaka South City Corporation (DSCC) will fail to clear rain water during the upcoming monsoon season.
According to a city corporation official, dredging of these canals will begin within two months. This means, actual dredging will start during the rainy season. But how will that be carried out with the continuous downpour? In 2022, the government approved the project to revive the four canals – the total length of which is 19.78 km – to reduce the city's waterlogging problems. The main aim was to free them from encroachers and pollution. In addition, the project included boundary walls, 36 pedestrian bridges, 10 public toilets, walkways, plazas, bicycle lanes, and so on. It is supposed to be completed by 2024.
But as we know from past experience, many development projects are intended to make life easier for city-dwellers but end up getting unnecessarily delayed because of bureaucratic inertia. The result is continued misery of the people whose everyday lives are hampered, in this case by waterlogging. We have seen on many occasions how mayors have vowed to solve the waterlogging problem. But somehow, after each heavy rain, the roads of many parts of the city become flooded, with water stagnating for hours on end.
We, therefore, urge the government to take all necessary steps to make sure that the two city corporations of Dhaka prioritise dredging and cleaning of clogged canals as soon as possible. Although cleaning up the four canals in question is being prioritised, we hope such activities would be a routine function of the relevant authorities all year round. The government should also ensure that the city corporations have the capacity and resources to carry out such crucial work, and hold them responsible when they fail to do so on time. Awareness campaigns to dissuade people from throwing garbage in the canals also have to be conducted regularly. Keeping our drains, canals, and other water bodies clean and free-flowing is the responsibility of both the government and the city-dwellers.