Who will cover the manholes?
That such a problem can persist in a modern city year after year is unthinkable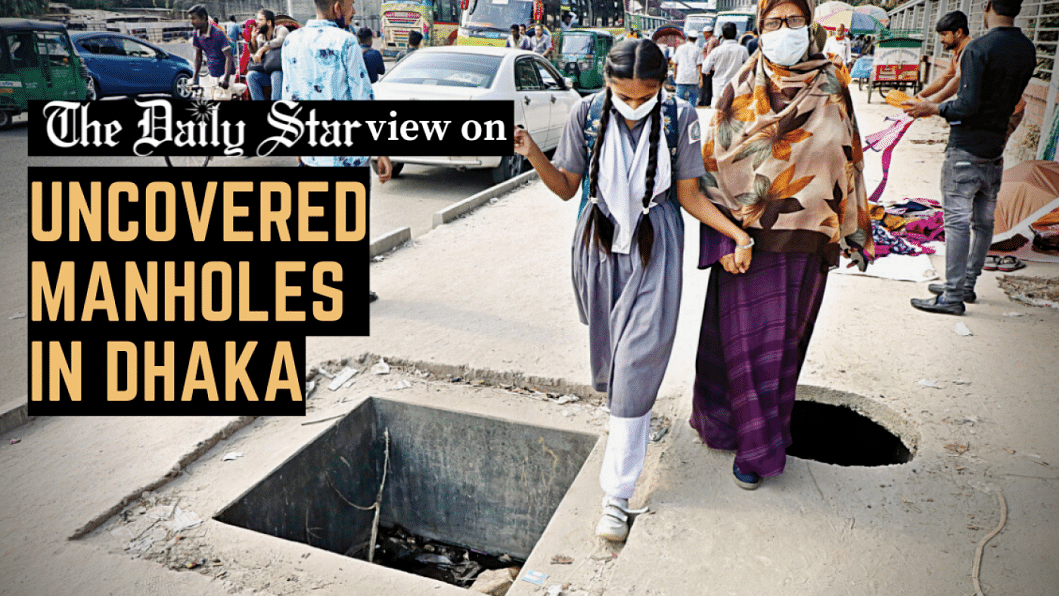 It is quite baffling just how irresponsible city authorities can be when it comes to ensuring basic safety for people. One problem that perfectly captures this is the presence of lidless manholes and open drains in many areas of the capital and other major cities which, often, remain uncovered for weeks on end. No doubt, for the pedestrians and even commuters, this makes navigating our already unplanned networks of footpaths and streets a daunting task. For example, as a report by this daily shows, just within the space of 300 metres between the Shishu Mela footbridge and the National Institute of Ophthalmology and Hospital in Dhaka, 19 manholes (out of 24) have remained uncovered for at least a month. The rest have been marked/covered using bamboo fences and tree branches, which can give a false sense of security but are as dangerous.
And, across the one-kilometre road connecting Shishu Mela with the Department of Archives and Library, there are 80 such manholes, waiting to cause a tragedy anytime. The gravity of the threat is further illustrated by the fact that the road is frequented by visually-impaired individuals, who must crisscross the open manholes. This is totally unacceptable.
The news of people falling to their deaths because of uncovered drains/sewers and lidless manholes is not uncommon in Bangladesh. In September last year, newspapers reported the death of a 19-year-old university student in Chattogram's Agrabad Badamtali area. She slipped and fell into an open drain, to be buried under tonnes of waste before her body was finally recovered five hours later. Reportedly, four others had also died in the same manner within three months before the student's death. What makes this experience more tragic is how, instead of taking responsibility and undertaking preventive measures, responsible departments of the government engage in blame games. As a result, this problem persists, while people continue to suffer preventable injuries and deaths.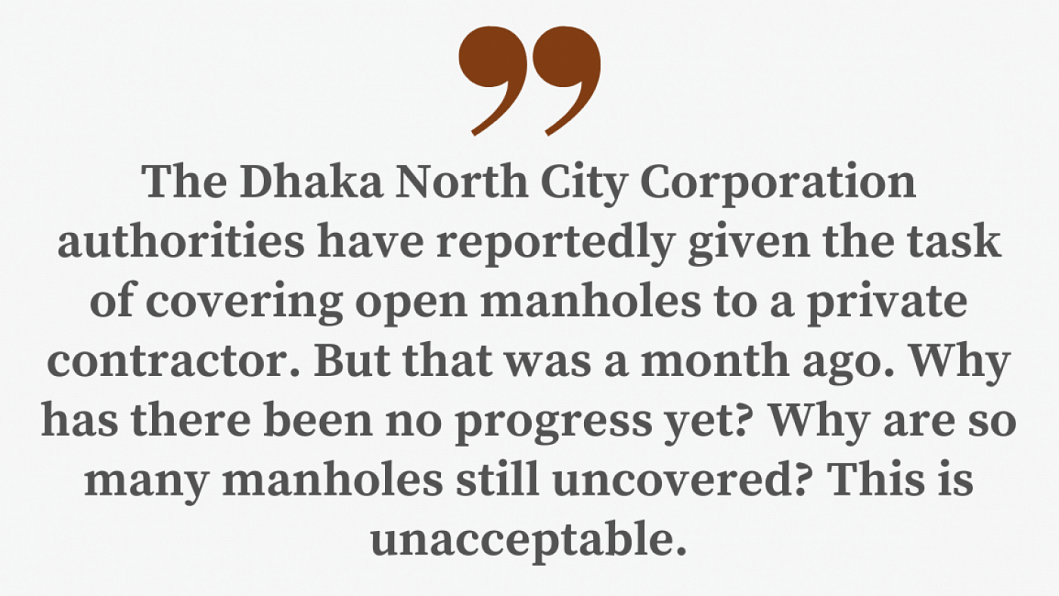 In the case of the open manholes near Shishu Mela, the Dhaka North City Corporation (DNCC) has reportedly given the task of covering them to a private contractor. But that was a month ago. Why has there been no progress? Why are so many manholes still uncovered? And why are the high authorities not intervening to ensure safety on this busy road and all other roads and alleys with similar problems? Ensuring the safety and convenience of residents should be their topmost priority.
City authorities across the country must not allow for such risks to linger along roads. Also, the problem of uncovered manholes is often due to the endless road and underground utility line repair works that occur round the year. This too must be addressed. Bangladesh is investing a lot in building modern infrastructure and improving city services. Modern city management is a need of the hour – and our city fathers must align their priorities with that of the tax-payers.