East Jurain: Saga of a manmade mess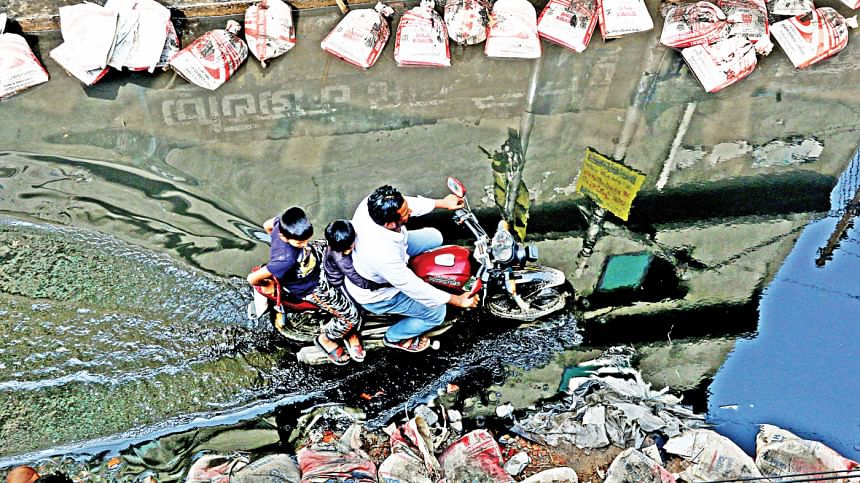 Ward 53 of Dhaka South City Corporation (DSCC) covers most parts of East Jurain's Muradpur area. According to the 2011 census, more than 27,000 people live in this ward which, according to them, has become probably the worst place to live in Dhaka. Round the year waterlogging, unplanned urbanisation, mosquito infestation, severe dust pollution during dry seasons, and lack of open space and waste management have pushed its residents beyond their limit of endurance. Through this report, The Daily Star is presenting the major problems faced by the residents of this ward and what authorities are doing about it.
WATERLOGGING ALL YEAR LONG
Many lanes adjacent to Commissioner Road, Khorshed Ali Sarder Road, Nurani Mosque Road and Mishtir Dokan area of this ward remain submerged under filthy sewage water all over the year without any rain or flooding.
Not only the roads but also many houses along the above-mentioned streets remain flooded. Many of its inhabitants have already abandoned their submerged homes and properties, which have now become an ideal breeding ground for dengue mosquitoes.
According to the inhabitants, unplanned road restoration works and clogged sewerage systems are the main reasons behind such awful waterlogging.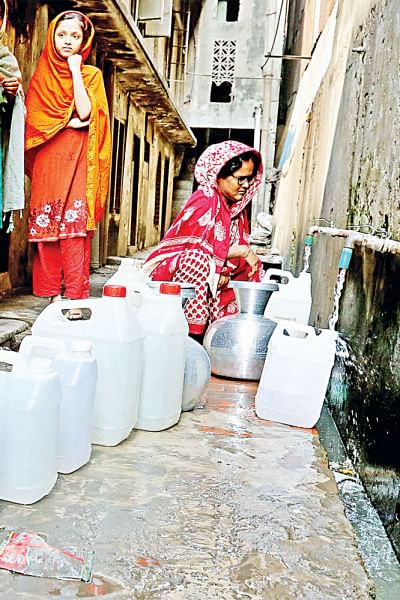 UNPLANNED ROAD RESTORATION WORKS
DSCC has regularly been restoring the roads in this area by increasing their heights, however, without considering the height of the adjacent houses.
In some places such as Commissioner Road, Nurani Mosque Road and Khorshed Ali Sarder Road areas, all the lanes and streets have been heightened up to 10 to 12 feet from their original position.
As a result, many houses and shops have become buried under these roads. Runoff water from these roads regularly floods the houses whether there is rain or no rain.
According to Md Selim Ahmed, a resident of the Nurani Mosque area, "Due to unplanned and inconsiderate road restoration works, many of our houses have become uninhabitable. Many inhabitants have abandoned their neighbourhoods. People like me who have nowhere to go in this city are being compelled to stay in this accursed place."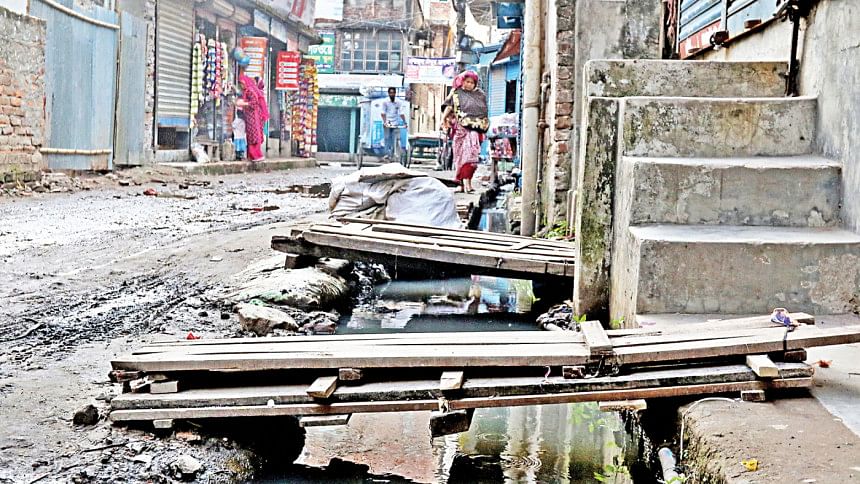 DENGUE OUTBREAK A REGULAR PHENOMENON
Aedes mosquito breeds in millions in the waterlogged streets and abandoned homes and as a consequence dengue fever never leaves the East Jurain neighbourhood.
This time, at least 23 people have died of this disease in East Jurain alone so far although DSCC does not have any exact information about the death toll.
Mizanur Rahman, a resident of the ward, said, "DSCC workers rarely visit this area to kill mosquitoes. When they visit, they spray mosquito repellent with a fogger machine but do not take any step to clean the mosquito breeding grounds. As a result, their mosquito control initiatives are not working here at all."
UNBEARABLE DUST POLLUTION
Due to regular restoration of roads, a huge amount of construction materials are left scattered all over the neighbourhood causing immense dust pollution.
According to Mizanur Rahman, "DSCC never stops restoring these roads and always leaves the construction materials uncovered. The air here is thick with heavy sands and blocks of cement. Children and elderly people in this neighbourhood are becoming sick by inhaling this polluted air."
NO SPACE TO BREATHE
The entire area does not have any open public space where its residents could spend some free time.
There is no playground for children, no open space and greenery here.
Syeda Sharmin, a mother of three children and a resident of the ward, said. "If we have to talk to our neighbours, we have no alternative to standing in the streets which are also very dirty and busy. In the afternoon, our children play in the streets with great risk of road accidents and falling into the uncovered sewerage drains."
RESIDENTS' PLEA FOR SUSTAINABLE SOLUTION
Inhabitants have been appealing to the authorities for immediate solutions to these ever-increasing problems, which are very much linked to each other.
Mizanur Rahman said, "We are paying taxes regularly to the city corporation but hardly getting any service from them. I do now know about any such place in the entire country where people live in such an unbearable conditions. If DSCC does not come up with a sustainable solution, thousands of families will lose their homes and valuable assets in the near future."
WHAT AUTHORITIES SAY
Contacted, Meer Hossain Miru, councillor of ward-53, said, "I also do not support such arbitrary heightening of roads. I have appealed to the city corporation to stop these works. I have also urged them to pump out the clogged waters. They assured me that they will solve this problem of water logging soon."
DSCC, however, blames the residents for the lack of services in ward number 53.
Abu Naser, DSCC spokesperson said, "Most of the inhabitants of this ward are illegal inhabitants as they built their homes covering canals and low lying floodplains adjacent to the DND embankment."
"The entire area lies much lower than the DND main road. This is why we are heightening the local roads up to the level of the main road to prevent runoff from the nearby highways. It is a continuous maintenance work of the city corporation," he added.
DSCC workers regularly visit the area to control mosquitoes and clean the streets. Citizens should also keep their houses clean and free of clogged water, he said.
"We booked many families there for not cleaning clogged water in their homes where we found Aedes larvae. However, if there is any irregularity from our side, the inhabitants can directly contact us through our hotline number and we shall take immediate measures," added Abu Naser.
However, he declined to comment on what lies ahead for the residents of ward-53 if they continue with their road restoration works.
Contacted, Mahfuja Aktar, town planner of Rajuk, said, "It is a fact that the entire east Jurain neighbourhood has developed in what was supposed to be agricultural lands irrigated by the DND project. There were several canals such as Kutubkhali, Shabujbag and Titas to drain out the excess water most of which have also been blocked by the growing settlements."
"At this point, it is not possible to evacuate such densely populated neighbourhoods declaring them illegal inhabitants. Instead, we should go for reactive measures such as restoring the canals to drain out the clogged water, ensuring efficient waste management and maintaining the sewerage line to improve the quality of life in this neighbourhood," added Mahfuja.