Fire service: Ill-fitted for tricky city fires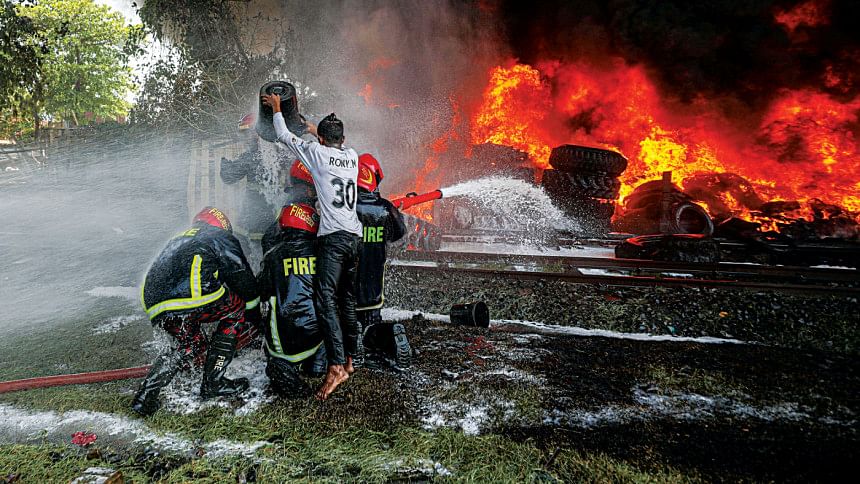 Unplanned urbanisation over the last decade has worsened fire risks in the cities, but firefighters have not been given additional training and proper equipment so they can deal with the heightened threats and the changing nature of fire incidents.
This is also having an impact on the number of casualties and loss of properties in fires and other manmade and natural disasters.
The challenges for firefighters have increased in cities. They have to deal with traffic to get to the scene and often narrow streets make it difficult. Finding water on location has become harder. Almost every time there is a crowd of onlookers, which makes the firemen's job even more difficult. Then there is the unknown – what type of fire they are dealing with.
The chemical-induced fire at the BM Depot in Sitakunda in July last year killed five firefighters. The firemen were not specialised to deal with such fires, said Brig Gen (retd) Ali Ahmed Khan, former director general of Fire Service and Civil Defence (FSCD).
He told The Daily Star that the nature of fires and other disasters is changing and the firefighters must be trained for this.
According to the FSCD, 14 firemen were killed and 225 were injured on duty over the last five years.
There were 12,182 fires in 2009 and this number swelled to 24,102 last year, the FSCD says.
Officials and experts say fires in high-rises and chemical-induced fires are also on the rise.
Brig Gen (retd) Ali Ahmed said firefighters' training remained virtually the same.
Even though the FSCD got some land in Munshiganj for a training academy but its construction work is yet to start.
"Police or Rab have their specialised units like bomb disposal unit or cybercrime unit but for firefighters, there is no specialised units."
Brig Gen Md Main Uddin, director general of the FSCD, said, "We need the academy immediately. If we cannot give the firefighters proper training, then they cannot work efficiently."
He also stressed the need for sending firefighters abroad for advanced training. "Before the pandemic, around 100 firefighting personnel went abroad for training but that number came down to 10 [last year]."
The DG said the rising number of high-rises and new structures like tunnels and metro rail are challenges for firefighters.
Brig Gen (retd) Ali Ahmed said as first responders to a fire, explosion, road crash, landslide, launch capsize, or other calamities, firefighters endure physical and mental trauma. They regularly witness terrible scenes of pain, death, and loss. But there is no psychologist or counsellor for them.
"Firefighters don't even have any insurance benefits. They have a small risk allowance. Their life expectancy is less than that of other professionals," he claimed.
The former fire chief said specialised teams should be formed within the fire department to tackle different situations.
"Police or Rab have their specialised units like bomb disposal unit or cybercrime unit but for firefighters, there are no specialised units," he said.
EXPENDITURE ON FIRE SERVICE
In the current fiscal year, the FSCD got a budget of around Tk 733.57 crore, which translates to around Tk 44 per capita. It is far less than what the Delhi state government spends, around Tk 332, and West Bengal spends, around Tk 65.
Fire officials said that their budget increased since 2009 but they need more.
The fire DG said they need helicopters, drones, a huge number of fire-extinguishing balls and other modern equipment.
Developed countries use simulators to train firemen, which is not available here, he said.
Citing an example to explain equipment shortages, he said there were 116 fires in high-rises last year and to deal with those the FSCD had five tall ladders.
"We need at least two such ladders in every division," he said, adding that high-rises are now seen in every divisional headquarters and their numbers are rising.
MANPOWER CRISIS
In 2009, the FSCD had 6,175 people and now it has 13,347, which fire officials said is not enough.
Ex-DG of the FSCD Ali Ahmed said in any modern city, the ratio of police and firemen is 2:1, which means one firefighter against two policemen. In Bangladesh, there are only 14,000 firefighters against 2.13 lakh of cops.
The fire DG said recruiting people is not the challenge, properly training them is.
Md Maksud Helali, a professor at Buet, said, "No doubt that the number of firefighters is very low. We need to increase the number of real firefighters, not support staff."
City traffic is a serious problem for the FSCD. The ideal response time for the FSCD is eight minutes but Dhaka's traffic and narrow alleys cause delays in reaching the scene.
Officials and experts said setting up satellite stations at various city points could help.
Brig Gen (LPR) Md Sazzad Hossain, another former DG of the FSCD, said the main obstacles for firefighters are reaching the scene, finding sources of water there, and getting the job done amid hundreds of onlookers.
Prof Maksud said it is not possible to deal with fires by placing the responsibility solely on the FSCD. Community engagement is needed. "Fire department needs a good number of volunteers… ."
Experts said that to tackle any disaster, the participation of individuals, neighbourhoods, public-private entities, and the government are required and if one is missing, then the response becomes incomplete.