Gas crisis hits city
Users suffer as supply erratic; low pressure in large parts of city; Titas blames rise in demand during winter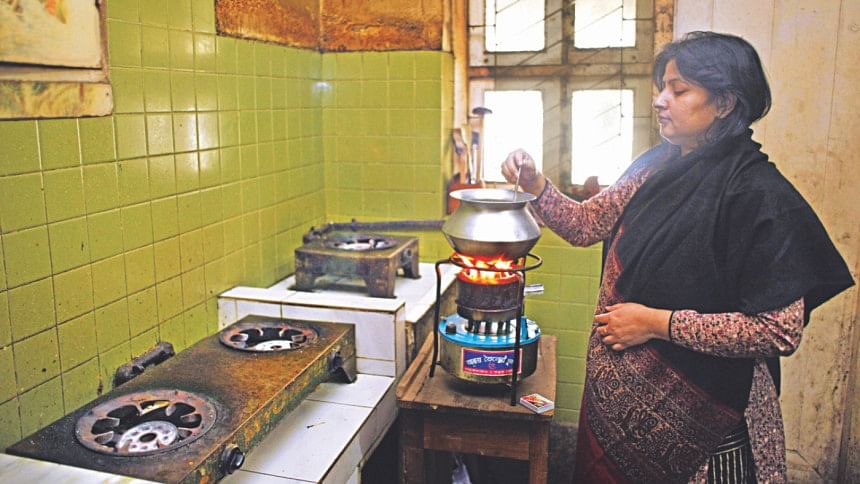 Tahmina Afaz is a schoolteacher and lives at Ulan in the capital's West Rampura. She doesn't start for work until 7:30am, but since winter began, she has been waking up long before sunrise.
"If I get up any later than 5:00am, I cannot finish cooking for my family before I go to work. The gas supply falls after sunrise, so much so that sometimes I cannot even turn the stove on," she says.
"For instance," Tahmina continues, "I couldn't cook anything on Thursday as there was no gas supply from early Thursday to early Friday. We had to depend on the food made on Wednesday."
"I have four-year-old twins and a 13-year-old child. They are not getting fresh meals due to the crisis," she adds.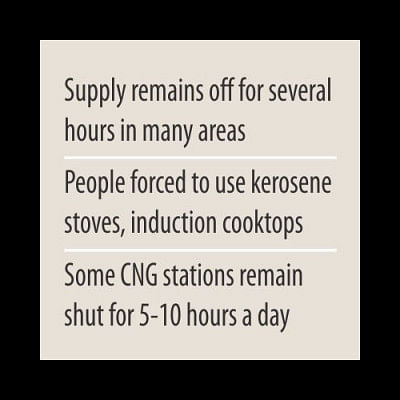 The area has been plagued by such gas crisis for the past one and a half years, particularly during the winter, says Asif Ahmed Porag, another resident of Ulan.
While many of the sufferers, who can afford, buy gas cylinders, kerosene stoves, electric rice-cookers and induction cooktops, the rest have either to wait for hours for the gas supply to reach a "workable level" or to use earthen stoves, "both too much of a hassle in the city life," he said.
Since the winter set in, similar crisis has been reported in many areas of the capital including Mirpur, Pallabi, Shukrabad, Indira Road, Gendaria, Jatrabari, Mirhajirbagh, West Rampura, Rajabazar, Moghbazar, Tejkunipara, Bashundhara Residential Area, Kazipara, Kalabagan North Circular Road, Uttara and Jafrabad.
Production fall, coupled with an increased demand, is adversely affecting the gas supply in the capital, said a Titas official.
"We are suffering a lot. Please, do something for us," Khurshid Alam, a resident of Indira Road area, pleaded with the authorities through this reporter.
His family often makes the next day's breakfast and lunch along with the dinner to save themselves from worrying over the gas supply which becomes normal around 10:00pm, but only for a few hours every day.
To cope with this, Shabnur Sultana of the same area has started using an induction cooktop and an electric rice-cooker. "But this is likely to significantly increase the electricity bill, which may become a financial burden for a middle-income family like ours."
The gas crisis is also hurting the businesses, the city's refuelling stations in particular.
"Our income has been halved by the crisis," said Omar Faruk, manager of Navana Filling Station in Jatrabari.
"Most of the time, the gas supply stops at 7:00am and resumes only around 3:00pm every day. The same happens between 9:00pm and 12:00am."
There are 11 filling stations between Jatrabari and Jurain and all of those have been hit by the crisis.
Insufficient pressure of supply forces the refuelling stations to keep the services shut for as long as five to 10 hours a day.
"Though at least 8 PSI (pounds per square inches) gas supply is required to run the station, we don't get it most of the time," said Md Enamul Kabir, engineer of Sanji CNG Station at Dholaipar in Jatrabari.
"Since the winter began, our daily sale has dropped to Tk 70,000-80,000 from around Tk 1.5 lakh a day."
The government order to keep the gas stations shut from 5:00pm to 9:00pm every day was aggravating their sufferings, said Kabir. "The restriction should be lifted, especially in winter."
There's already a demand-supply gap in the country. The total gas production currently stands at 2,700 million cubic feet per day (mmcfd) against the demand for 3,250mmcfd.
But this has nothing to do with the existing crisis in Dhaka city, claim the authorities of the Titas Gas Transmission and Distribution Company Ltd, which is responsible for supplying gas to the capital.
Rather, HM Ali Ashraf, director (operations) of Titas, blames the crisis on the "seasonal rise" in the demand.
For the capital, they supply 1,800-1,900mmcfd gas which, he claims, is enough to meet the regular demand.
But during the winter, the gas consumption increases by 10 percent which causes the crisis for the city dwellers, he says.
Asked why household gas consumption increases in winter, another Titas official said this happens because city-dwellers widely use their gas stoves to dry clothes and boil water for everyday use.
However, the problem is not so simple, he added.
"The 30-inch-diamtere Siddhirganj-Bakhrabad pipeline has been dysfunctional for about the last 25 days, reducing gas supply by 100-120mmcfd," he said, wishing anonymity.
"However, we are working to solve the problems," he said.
Titas Director Ashraf also gave similar assurance.