The world of Colleen Hoover does not warrant celebration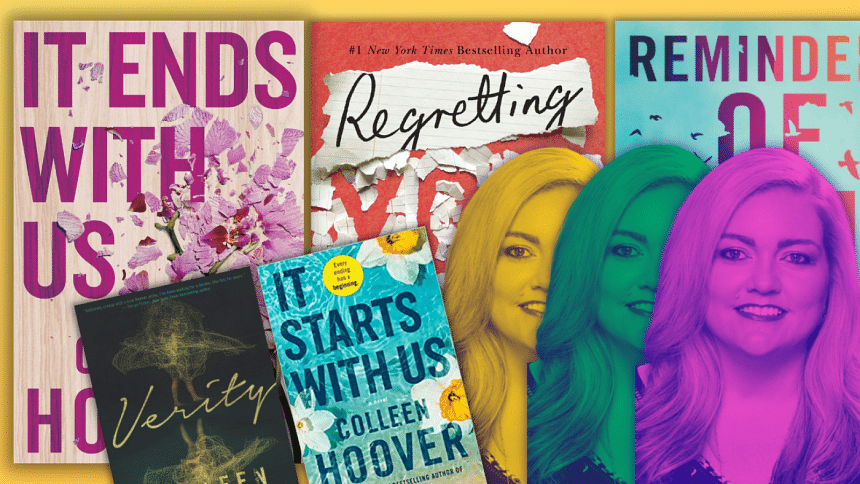 Writer and #BookTok queen Colleen Hoover is quite hard to escape in any bookstore or library these days. The hashtag, #colleenhoover on TikTok, alone has over 560 million views, and that must say something. Hoover's books have been on the top of popular charts throughout the past few years, and she has allegedly sold about 20 million copies of her books as of October 2022. Her fan following has also made its way to Dhaka, where you could be surfing through any bookstore (be it online or offline), and you would find all her books in a neat stack, regardless of its size or location. In order to truly understand the appeal to her books, I decided to take up a book she has written, and thus started a journey I wish I never took.
It Ends With Us (Atria Books, 2016) navigates the world of the protagonist, Lily Bloom, after her college graduation. The novel starts with the death of Lily's father, with whom she had a trauma riddled relationship due to his abusive tendencies. She then falls into an equally troublesome relationship with Ryle Kincaid, a man with whom her relationship flourishes on the basis of creepy encounters. This includes Ryle framing an enlarged version of Lily's photo without her consent, and outbursts of jealousy.
Only after multiple bouts of unnecessarily graphic imagery of domestic violence, a semi-heartfelt speech by a friend/past lover (who is also locked in a world of trauma during his own childhood), and a quasi-surprise pregnancy, does Lily realise she must end this cycle of abuse, and hence comes the title, It Ends With Us.
While I could go on for pages about my personal issues with this story, I want to highlight the issues I think are detrimental to anybody reading these books. 
Firstly, most characters, especially the women, seem to have no agency, and no mind of their own to make clear judgements for themselves. The turning point for Lily in It Ends With Us is the birth of her own daughter, as if her own life, and the abuse delivered to her, had no real value.
Additionally, Colleen Hoover's writing deals with toxic relationships terribly. What is probably meant as foreshadowing in the plot, are clear signs of inappropriate behaviour, harassment, and even abuse. Her characters often fail to recognise these signs, and when they do, they continue to make excuses for those horrible actions.      
"Sometimes an unexpected wave comes along, sucks you up and refuses to spit you back out", Lily says at one point in It Ends With Us. "Ryle is my unexpected tidal wave, and right now I'm skimming the beautiful surface." If I remember correctly, this was part of a monologue by Lily, well after Ryle had already begun hurting her.
This depiction of love in the novel (as well as in Hoover's other stories), are all immersed in abuse and problematic behaviour. Unless it is the "truer" love, which blossoms and is shared through trauma bonding, like the one we discover through letters addressed to Ellen DeGeneres, shared between Lily and Atlas. 
Let us consider the situation where Ryle explains his violent outbursts using the trauma he had suffered as a child, Instead of protecting herself and leaving it for Ryle to get the help he desperately needs, Lily decides to stick by him, perpetuating the extremely problematic narrative of women somehow becoming the rehabilitation program for troubled men to resort to. She is able to leave him only when the life of her child is involved in the mess, as if her own life, the one that already exists, has no value of its own. 
Hoover's reader base largely consists of young teenagers who are notoriously known to be impressionable. Depiction of such problematic forms of 'romance' and relationships surely distort the judgement of readers regarding love and romance. Not only that, Hoover's habit of continually making her characters justify and excuse "lesser" forms of violence–such as kicking a chair or tightly squeezing a hand–does the opposite of spreading awareness regarding the realities and nuances of abuse.
What is truly infuriating is that her stories are usually a cluster of one form of abuse after the other, each layered on top of the other without any attempt by the author to unpack the event itself or its impact. As a result, there is no positive impact on or growth experienced by the characters, or even the plot itself. It seems as if the only thing furthering the plot of her stories are these episodes of assault.
The author has been under immense controversy for her actions in real life as well, with accusations of turning a blind eye to her own son's alleged harassment, and most recently for attempting to publish a colouring book for a novel that depicts graphic scenes of domestic violence and abuse. While it was quickly cancelled in response to the largely negative social media reaction to said announcement, the questions remain as to why such a thoughtless decision would get approved in the first place. 
This article has repetitively mentioned the words assault, trauma, violence and abuse multiple times, and that, precisely, is where my problem lies with Colleen Hoover. With surface level characters, and nothing beyond trauma in her plot, Hoover continues to capitalise on what she calls "telling the reality of abuse", which I would much rather like to call "glorification of trauma" at best. 
Syeda Afrin Tarannum is a sub-editor at SHOUT magazine, The Daily Star.