WORLD MENTAL HEALTH DAY: Mental health issues in young-adult books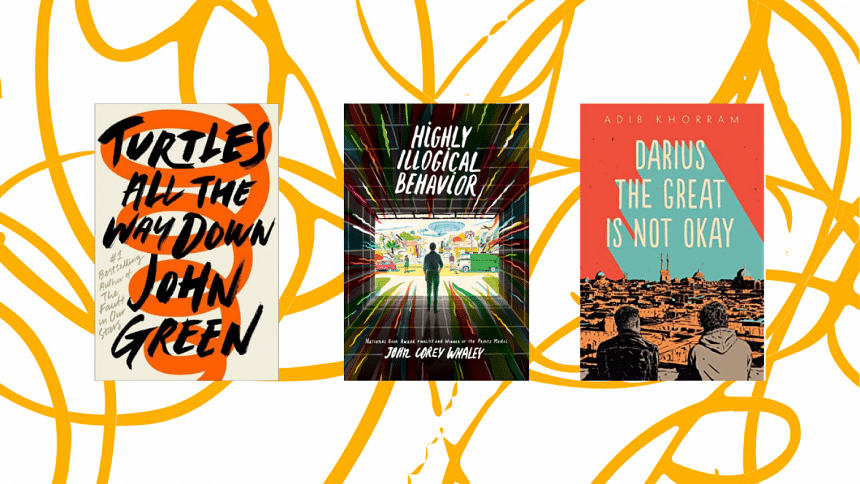 On October 10, marked as World Mental Health Day, we aim to raise awareness about mental health issues—conversation that, unfortunately, is still tip-toed around as there exists a veil of stigma around this topic. Young-adult books, however, have recently been doing an exceptionally valuable job of incorporating mental health issues into their stories. Following is a list of books that represent various aspects of mental health issues and how people deal with them. 
Phoebe Unfired
Amalie Jahn (Bermlord, 2021)
This novel explores the life of Phoebe, a 16-year-old who has developed germophobia during the pandemic. Her brother's premature birth left him with underdeveloped lungs and in order to protect him, she dedicates herself to pathogen avoidance, refusing to touch any potential sources of contamination, ultimately leading to a life of seclusion. As she navigates her way through high-school, Phoebe tries to find a way of dealing with her anxiety, uncovering the struggles that exist underneath. 
Darius The Great Is Not Okay
Adib Khorram (Penguin Young Readers Group, 2019)
Adib Khorram's debut novel explores the life of Darius Kellner, a teen suffering from depression, while also dealing with identity crisis, and the politics of immigration and belonging. Iranian on his mother's side and American on his father's, Darius never quite fits into his surroundings. When he suddenly travels to Iran to meet his ailing grandfather, the differences between his two cultures become more evident. But things seem to look up when he meets Sohrab, a friend who helps him overcome his inner struggles. Through a profound story of companionship, the author manages to unpack several important themes, while presenting a resonating character. 
Turtles All The Way Down
John Green (Dutton Books, 2017)
John Green, in his most recent work of fiction, portrays the life of Aza Holmes, a teen struggling with obsessive-compulsive disorder (OCD) and anxiety disorder, while looking for a fugitive billionaire. The story revolves around how mental health affects a person's everyday life and relationships. Within Aza, you see a yearning for better days, and a silent plea for help. The book leaves behind spirals of unwound mystery and urges readers to think about love, life and all things in between, from a more compassionate point of view.  
Highly Illogical Behavior
John Corey Whaley (Dial Books, 2016)
John Corey Whaley's book presents the story of Solomon, a teenage boy suffering from agoraphobia, anxiety, and panic disorder. Lisa, an ambitious young girl, is determined to bring him back to "normalcy" and use this experience in her scholarship application essay. When she, along with her boyfriend, starts on this mission, things become more complicated as the value of relationships come into question. At the heart of a chaotic mess, the author paints a story of friendship, duplicity, and coming of age.
All The Bright Places
Jennifer Niven (Knopf Publishing Group, 2015)
Niven's book highlights the stories of Violet Markey, who is struggling with survivor's guilt after the death of her elder sister in a car accident, and Theodre Finch, who goes through suicidal impulses and disappears for random bouts of time. Over the course of the book, Violet learns to rediscover herself by coming to terms with her loss, while Finch eventually begins fighting against bipolar disorder. At its core, the book is a brilliant portrayal of grief and the underlying complicacies of human emotions.  
Read our review of Maybe You Should Talk to Someone: A Therapist, Her Therapist, and Our Lives Revealed (Houghton Mifflin Harcourt, 2019) here. Watch our episode of Star Books on Reading into Mental Health here. 
Maisha Islam Monamee is a medical student who likes reading, scribbling, and blogging. Follow @monameereads on Instagram.