5 Top stories to know today
Catch up with the news in 5 mins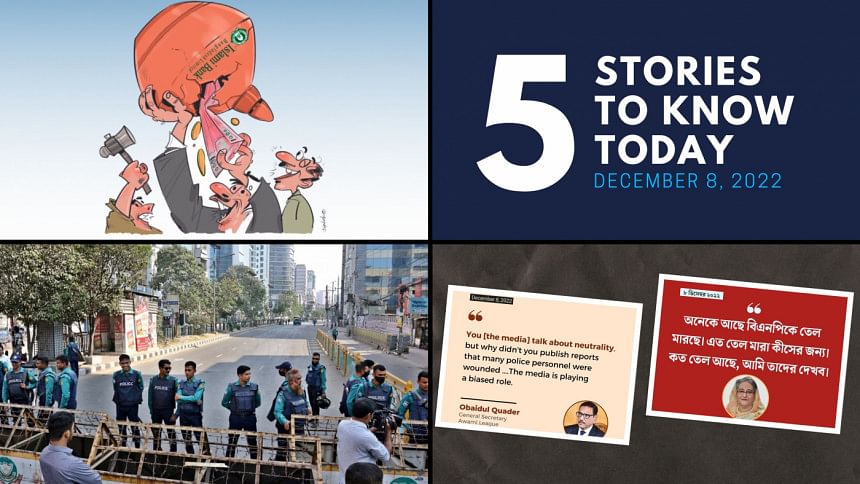 The nation's mood is spiraling. While there will be actual sports games — from football quarter finals to Bangladesh-India ODI — the nation's political parties seem to also view their clash as another "khela." Here's all you need to know to stay on top of what's happening — and to stay safe: it's slippery out there. 
1. BNP Dec 10 rally to *not* take place in Nayapaltan, after all. 
One, still, does not yet know where BNP will hold its rally — once again. BNP Secretary General Mirza Fakhrul Islam Alamgir, who was barred from going to the party office at Nayapaltan, had said earlier today that they will indeed stage their Dhaka rally in Nayapaltan. Previously, for a hot minute of imminent peace, it seemed like the two parties were coming into an agreement. The BNP had said they wanted to avoid government confrontation after being hell-bent on the venue. DMP gave permission for Suhrawady Udyan, which the BNP refused. BNP then proposed Mazar Road in front of Ideal School and College, but the police denied that. Now, the BNP has proposed the Kamalapur stadium as their new desired venue, while the DMP said Mirpur Bangla College field could be an alternative. Drama, drama, drama, it goes on. 
Watch our Viewsroom's take on whether made a mistake not opting for Suhrawardy. 
2. The night at Nayapaltan ends with police baton-charging BNP supporters 
Nayapaltan has become the heart of BNP and Awami League's political rivalry 2022 edition, symbolically and physically. For nearly 24 hours, the police had shut down the area and demarcated it as a "crime scene." They removed the barricades and opened the area to traffic around 4:30pm, and BNP men from different districts started gathering in front of the party's headquarters. They started coming to the spot in small groups and it turned into a gathering of more than 100 in a matter of 15 minutes, our staff correspondent reports. Police then baton-charged them and detained one supporter.
Talking to journalists, Biplop Kumar Sarker, joint commissioner (operations) of the DMP, "It is our responsibility to ensure security for the offices and houses in the Nayapaltan area… We will do everything necessary to ensure public safety." Yesterday, the police claimed to have found several improvised explosive devices but BNP leaders have alleged that the police planted it there intentionally. In other parts of the nation, specifically Narayanganj, police were out looking for Monirul Islam Robi, joint convenor of district unit BNP. Failing to find him they picked up his college-going son instead.
More than 2,300 BNP leaders and activists have been sued over the December 7 clash between the party men and police in the capital's Nayapaltan. They include BNP leaders Ruhul Kabir Rizvi, Khairul Kabir Khokon, Shahiduddin Chowdhury Annie, Amanullah Aman and Shamsur Rahman Shimul Biswas. BNP's Senior Secretary General Ruhul Kabir said, "it is a planned attack...police attacked at the order of top government officials." Read more 
3. Awami League responds to BNP clash, Quader slams media
Speaking today, Awami League General Secretary Obaidul Quader echoed the same narrative regarding the BNP rally in Dhaka. He said the BNP will not be allowed to hold the rally on the streets, blocking the roads. He did warn that AL leaders and activists in all wards, unions and upazilas will remain vigilant. He did not seem interested in finding common ground to prevent violence, and stated, "We will not attack but if we come under attack, we will give befitting reply." Quader also went on to blame the media for being biased and not publishing reports that many police personnel were wounded. Anyways, here is The Daily Star's report on 47 cops who were wounded in yesterday's conflict, according to Dhaka Metropolitan Police today. 
Prime Minister Sheikh Hasina, addressing a joint meeting of Awami League and its associate bodies, evoked the past to criticise BNP today. She said, it does not suit BNP to talk about democracy as Ziaur Rahman had introduced "curfew-democracy" while Khaleda Zia gave a system of corruption in the country. The PM also said, "After coming to power, I could've answered the harrassment with guns."
4. UN and foreign nations concerned over political violence
And the rest of the world too is watching Bangladesh's politics carefully. The US ambassador today condemned political violence. The US embassy in Dhaka yesterday issued a travel alert ahead of the political demonstrations on December 10, saying that the rallies intended to be peaceful can turn confrontational and escalate into violence. A similar travel alert was issued by the UK Foreign, Commonwealth & Development Office on December 6. The travel alerts come as 15 foreign missions in Bangladesh in an extraordinary joint statement reaffirmed the importance of free, fair, inclusive and peaceful electoral processes in Bangladesh. On the other hand, UN Resident Coordinator Gwyn Lewis published a statement yesterday, reminding Bangladesh of its commitments to freedom of expression ahead of December 10, also Human Rights Day. 
5. Islami Bank Bangladesh among 2 to take loans worth Tk 11, 250 crore from Bangladesh Bank
Two Islamic Banks have taken loans worth Tk 11, 250 Crore under the Bangladesh Bank's newly introduced financial instrument "Islamic Banks Liquidity Facility (IBLF)" to support Islamic banks' liquidity management. Islami Bank Bangladesh — which has come under fire recently for loans scams — is one of the Shariah-compliant banks to have taken out these loans from the central bank. Read more about the controversies surrounding Islami Bank Bangladesh and the allegations against S Alam Group.