BNP man detained after police baton-charge ends uneasy calm in Nayapaltan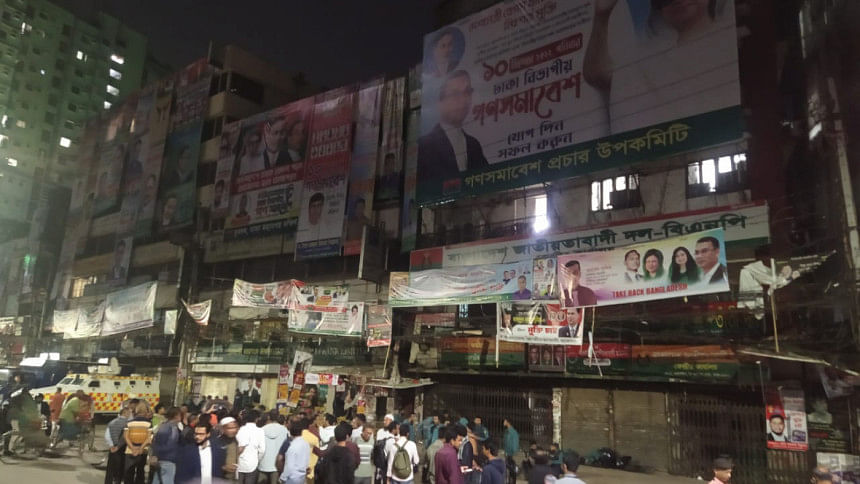 Police detained a BNP activist after baton-charging on around a hundred party supporters and activists to disperse a gathering in Nayapaltan tonight.
BNP men from different districts gathered in front of the party's headquarters before they were dispersed by police around 8:30pm. 
They started coming to the spot in small groups and it turned into a gathering of more than 100 in a matter of 15 minutes, our staff correspondent reports.
Police picked up Mostofa Jamal Mintu, a member of BNP's Sharsha upazila unit in Jashore.
This gathering and police's subsequent baton-charge came after a day of eerie calm following yesterday's clash between BNP and law enforcers, which left one man dead, scores others injured and saw the arrests of hundreds of party men.
Earlier in the day, police removed barricades from Nightingale and Fakirapool intersections around 4:30pm, opening the area to traffic movement after nearly 24 hours of closure.
The road was closed to all kinds of traffic movement around 4:00pm yesterday following the clash.
Even after the road was opened to traffic, there was heavy deployment of police, APC, and police van in front of the BNP head office, Fakirapool intersection, and Nightingale intersection, according to witnesses.
In the morning, restaurants, shops, and other business houses were seen closed on the road between the two intersections.
Police only allowed those who have urgent reasons to visit the area after inspecting their documents, as there are some hospitals on the road. Everyone was quizzed by police officials before allowing them to enter the area, according to witnesses.
Police claimed they did that for public safety as BNP's party office was the "scene of the crime", from where crude bombs were recovered during the clash on Wednesday.
The Dhaka Metropolitan Police was seen installing CCTV cameras near the BNP office around 12:00pm.
Talking to journalists, Biplop Kumar Sarker, joint commissioner (operations) of the DMP, "It is our responsibility to ensure security for the offices and houses in the Nayapaltan area… We will do everything necessary to ensure public safety."
The media correspondents were allowed to visit the area in the morning, but after 1:15pm, police asked all the correspondent to leave and stands behind the police barricade of the intersections.
Around 1:30pm, two vans of the criminal investigation department (CID) crime scene reached the spot and entered inside the barricade, and went towards the BNP Nayapaltan office, which this newspaper found during a visit.