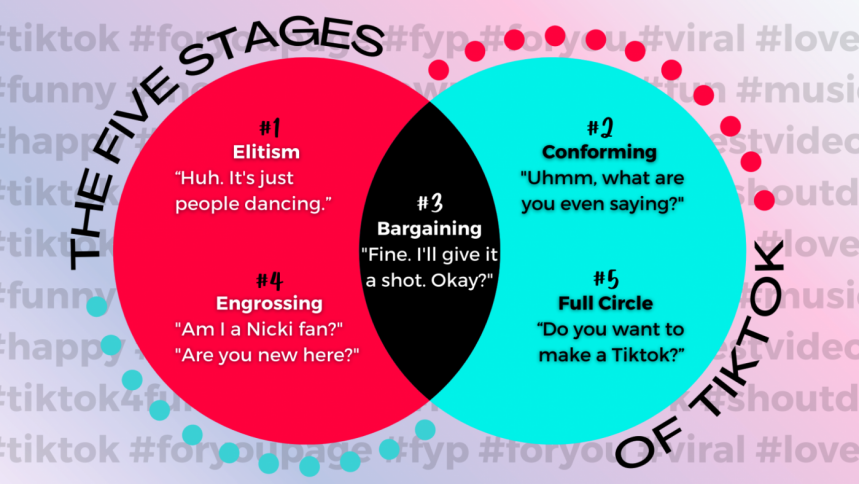 Your poker face is on full display as the world around you passes by. It has yet to come to your attention that you haven't blinked once. Some walk by, concerned, while others snicker but most people become uncomfortable and dare not to enter your periphery. Little do they know, what has consumed your mind are Tiktok songs. It is relentless. 
For most of us, Tiktok is just another application on our phones, waiting to provide mindless entertainment but some have a battle to win. The slow descent occurs in stages, but the shadow casted ultimately consumes entirely. If any of the following applies to you or anyone you know, do not be afraid to speak up. 
Elitism
"It's just people dancing," they would claim and even assume that Tiktok is just trying to rip Vine off. These people haven't even dipped their toes into the water, but will proceed to say something vague about how certain governments are stealing all the users' data.
Conforming
It becomes increasingly more difficult for the anti-Tiktok friend. What the rest of their friends have to say sounds like gibberish to them. They're excluded and left to wonder what's so hilarious about asking Joe Biden out. After getting a glimpse at maybe a couple of videos, they cave. They have taken a step towards becoming a new person they know nothing about. 
Bargaining
If downloading Tiktok wasn't already treason, then watching it must be. Unless, of course, they watch videos only their friends send them. After all, no one likes feeling left out. 
What harm could it possibly do? They have even added a few TikTok songs into their playlist. They still have their principles, right? It's not like they waste hours scrolling on Tiktok. Of course, not. What else is Facebook for?  
Engrossing
No one has heard from them in days. They no longer watch the TikTok videos you send them, let alone pick up your calls. Maybe they are busy. Absolutely. Learning TikTok dances is no easy feat and lip-syncing is a skill one needs 400 hours to master. The usual 20 hours don't cut it. TikTok is all they think and know of. Everything else seems trivial. 
It has come full-circle  
It isn't until weeks later that they answer your calls and reply to you exclusively with Tiktok references. There are some you've never even heard of before and when your paths cross again, it will feel like you are talking to a different person. 
"Do you want to make a Tiktok video?" is all they ask. The anti-TikToker now hums those very songs. They rave about their reach through the fyp, lament about a lack of likes, and will sporadically point their phones at you.  
A metamorphosis has happened overnight and the effects are permanent. Until the Tiktok moon rises again and reverts them to their anti-Tiktok agenda, you will have to learn to love them, and maybe a few TikTok dance steps along the way.
Abir Hossain had to take three TikTok breaks when writing this. Tell him how bad his attention span is at fb/abir.hossain.19