Remembering the heavenly harmonies of Nusrat Fateh Ali Khan
I: The Dream
Fateh Ali Khan Sr died in March 1964. Young Nusrat was a schoolboy then. At his death bed, Fateh Ali Khan Sr summoned his family. He asked them to chant the kalima. While the family was chanting, Kaniz Fatema, Nusrat's elder sister, saw her father silently looking at Nusrat. She felt that her father was transferring her family's centuries of musical tradition to young Nusrat through his eyes.
A few days after Fateh Ali Khan Sr left the world, Nusrat had a dream. His father took him to a shrine (dargah). Nusrat had never visited the shrine, but he could clearly see the place. His father asked him to sing. Nusrat said he doesn't know how to sing. Fateh Ali Khan Sr encouraged him to sing. Nusrat started to sing. When the dream ended, Nusrat was swinging in his bed.
Nusrat narrated the dream to his uncles, Mubarak Ali Khan and Salamat Ali Khan. He described the place where he sang in his dream with his father. The uncles listened carefully.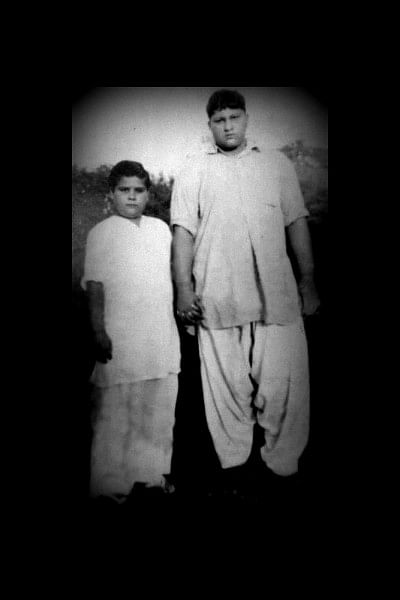 Little did Nusrat realise, he was immaculately describing Ajmer Sharif, the shrine of Hazrat Khwaja Mainuddin Chisti, the patriarch of the Chisti order of Sufism in South Asia. Fateh Ali Khan Sr had sung in the dargah several times before the partition of British India.
Nusrat was a chosen one. In 1979, he visited Ajmer Sharif. He immediately recognised the place. He found the place where he sang in his dreams. Nusrat sat there and sang. He poured out centuries of Sufi love and peace to which he was born, and the lineage of his family of which by then he was the custodian.
Today, August 16, 2022 is the 25th death anniversary of Nusrat Fateh Ali Khan Shaheb, the bird who took Qawwali and the classical music of South Asia and sang it to the world with other musicians of the world.
II: The Making of a Voice
Nusrat Fateh Ali Khan's ancestors emigrated from Ghazni, Afghanistan during the era of Mahmud Ghaznavi. They settled in Basti Sheikh in Jalandhar in what's now Punjab, in India. After the partition, the family moved to Lyallpur, modern-day Faisalabad, in today's Pakistan. Nusrat was born on October 13, 1948.
Qawwali music originated from the most loved Sufi saint, Khwaja Mainuddin Chisti of Ajmer. The structure of the music originates from Hazrat Amir Khusro, one of the founders of Hindustani classical music. The language of Qawwali started with Farsi and Arabic.
The music was destined to survive because it spread the universal message of love and peace. Qawwals spread this message through narrating verses of poetry in their songs. As Qawwals settled in different parts of South Asia, Farsi and Arabic mixed with local languages to reach to a wider audience. It was natural for Nusrat's family to slowly adapt Qawwali in the Punjabi language.
Qawwali music also evolved over the centuries. Today, harmoniums are an integral part of the genre. This was not always the scenario. Harmoniums were included not more than 200 years ago. However, it was the link between Qawwali music and classical music that would prove to be the link to win the hearts of the masses. It was here that Nusrat's family stood out from other Qawwal families in Punjab.
Nusrat's grandfather, Maula Bakhsh Khan, was a trained classical singer. He was a vocalist and a multi-instrumentalist. He was adept in sitaar, sarod, violin, table, and the harmonium. He mastered verses in Punjabi, Urdu, Arabic, and Farsi.
Maula Baksh's two sons, Fateh Ali Khan Sr and Mubarak Ali Khan, blended khayal and dhrupad with traditional Qawwali. This was one of the first times Qawwali music experienced classical elements like this in Punjab. It didn't end here. The two brothers popularised the poetry of Allama Iqbal. Iqbal's poetry was celebrated in academic circles throughout India. It reached the masses only after the brothers sang his verses over radio. Allama Iqbal paid an homage, "I was restricted to schools and colleges only. You have spread my poetry through India."
Alas, Fateh Ali Khan Sr left the world when Nusrat was still in school. His two uncles took the responsibility of taking care of and training Nusrat.
Nusrat and his cousins would practice for hours. This helped Nusrat to hold his voice during night-long concerts. Mere practice in classical music was not enough. Nusrat was slowly absorbing melody, tune, harmony and range in his voice. He was slowly approaching maturity in spreading the Sufi message of love and peace through his voice. That heavenly voice now needed breakthroughs.
III: The Breakthroughs
Mohammad Ayub, the founder of Oriental Star Agencies music label in Birmingham, UK, first heard the voice of Nusrat Fateh Ali Khan in 1977. It was a live recording of Nusrat Fateh Ali Khan & Party from 1975. Ustad Salamat Ali Khan was present in that programme. The party had an incentive to sing well to impress Salamat Ali Khan. They were singing, "Haq Ali Ali Ali Maula Ali Ali." Ayub and his friends were spellbound. All Ayub remembers that he said one word, "Wow!"
Nusrat signed with Oriental Star Agencies for four albums. In 1980, he went to Birmingham to perform live. And that was it.
Birmingham became Nusrat's second home. Halls would get packed. People would stand and listen if they couldn't get tickets. Some would have to go back home when there was no more space left. A 2-hour programme would continue till the wee hours of dawn.
When Nusrat & Party performed, there wouldn't be any taxis on the roads. Taxi drivers in Birmingham came from both sides of the Punjab. Nusrat's voice would unite them.
Nusrat's career-breaking performance to a non-South Asian audience came in 1985 during the WOMAD festival, founded by Peter Gabriel. His voice transcended boundaries and kept the audience mesmerised.
The WOMAD programme was Nusrat's launching pad for the world. It was also the launching pad for Qawwali music to be introduced to the world in its original form, and in fusion.
We all know what happened next. After WOMAD, Peter Gabriel started the label Real World. Nusrat recorded few seminal albums with Real World. Some albums were published posthumous. Nusrat collaborated with Michael Brook in two seminal fusion albums, Mustt Mustt and Night Song. The latter won a Grammy. Nusrat sang in The Last Temptation of Christ. The haunting and hypnotic melody of his voice was enough to visualise Christ through sound of a voice.
From Hollywood to Bollywood, they all courted Nusrat's voice. Raj Kapoor invited Nusrat to sing at his son Rishi's wedding. All the big stars of Bollywood were mesmerised. A young AR (Allah Rakha) Rahman included Nusrat's "Gurus of Peace" in his 1997 seminal album Vande Mataram that celebrated the golden jubilee of the partition of British India. That was not all.
Nusrat's voice lifted Jeff Buckley from depression. Such was the majesty in his voice, Buckley learned Urdu to sing Nusrat's songs with purity. Madonna, Tina Turner, and even Pavarotti wanted to collaborate with him, but couldn't. Mick Jagger travelled all the way to Lahore to listen to his voice. In Japan, they didn't understand his words. His voice was the words. They named him "the singing Buddha".
After listening to Nusrat at Mohammad Ayub's store in Birmingham, Imran Khan was mesmerised. He met Nusrat. Nusrat sang for Imran's charity concerts. The world-beating 1992 Pakistan cricket team would listen to Nusrat's "Allah Hoo, Allah Hoo" before matches.
This list goes on and on. But what made Nusrat so special that he still resonates to this very day?
IV: Why was Nusrat so special?
Music is a listening experience. A good piece of music touches the heart.
When we first listen to a tune, two things happen. We start to tap our feet or count our fingers to the beat. If the tune has melody, we start to nod our head. If it has more melody, we dance. And if the melody is a heavenly harmony, we enter a trance.
Nusrat Fateh Ali Khan was a complete musician. He had two gifts that are a singer's and musician's dream. His voice had the three dimensions of range — bass, mid-range, and high pitch. The voice could travel between scales to such an extent it could cover the range of the notes of a piano.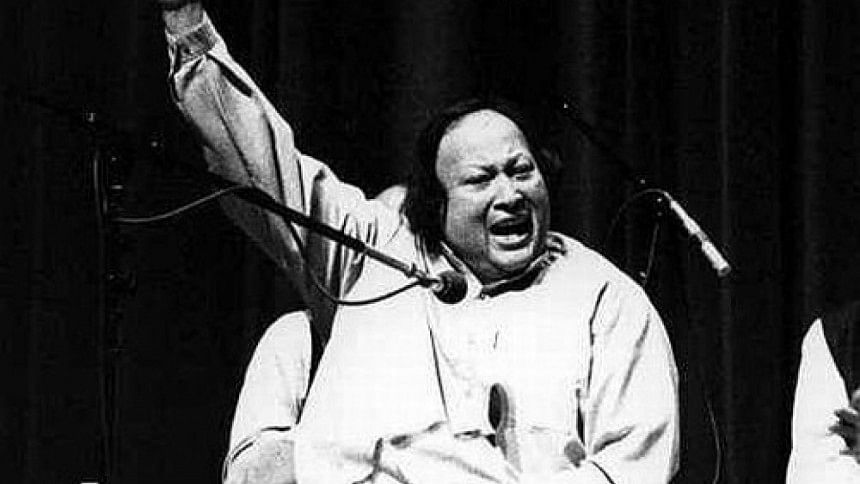 Having such power in a voice is a singer's dream. Having majesty with this power is the dream of any singer-musician. Nusrat could hold his voice at any range endlessly. He could move between notes and scales with smoothness. He could perform all night without his voice cracking. There was still something more that made Nusrat special.
For music to become a listening experience, a singer needs to master all the above dimensions and go a step further. The singer needs to throw the notes, melody and tune in such a way that it touches the listener's heart with the emotion of the composition. That happens only when the voice become a heavenly harmony.
The Sufi message of love and peace that rang for centuries in South Asia and united people of diverse backgrounds and ethnicities with its music was more than ready to unite the world. For that, it had to wait centuries for a voice like Nusrat Fateh Ali Khan. When that voice echoed, be that in pure Qawwali or any fusion, a person could not but be mesmerised and hold their breath in awe and asking for more.
I first heard Nusrat Shaheb in "Sanu Ek Pal Chain Na Aave". I was mesmerised. I heard it again and again. Since then, and even till now, I haven't heard another majestic voice that comes near Khan Shaheb. His voice will resonate in the hearts of millions who listened to him. His voice was an experience words can never be able to describe.
Asrar Chowdhury is a Professor of Economics at Jahangirnagar University. He is the author of Echoes in SHOUT of the Daily Star. Email: [email protected]; [email protected]