The poet who shook the Ershad regime
As he had actively protested against Ayub's dictatorship, and was indeed jailed, he felt compelled to protest against Ershad's dictatorship through his poetry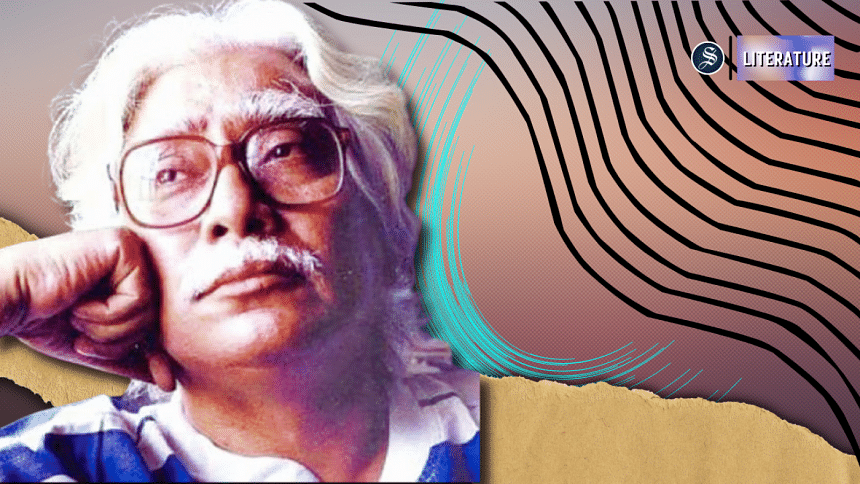 In 1983, during the height of the anti-dictatorship movement, a poem penned by Mohammad Rafiq, who was a teacher at Jahangirnagar University, gained widespread circulation across the country. The 16-page-long poem was covertly printed in the press due to publishers' reluctance stemming from fear of reprisals by the military ruler, HM Ershad. Rafiq's students clandestinely distributed the poem by printing it in a newsprint format. United in their efforts, the poem quickly circulated throughout the nation soon after its publication.
The poem's opening verses were:
"Shob shala kobi hobe
Pipre goh dhoreche urbei
Datal shuyor eshe rajashone boshbei"
In 1984, the poem was subsequently published as a book.
Recounting the memory, Delwar Hossain, a friend of Mohammad Rafiq, mentioned that he, along with Kajal Bandopadhyay, Tanvir Mokammel, Shafi Ahmed, and Shubir Datta, worked for two days—February 19 and 20—at Shubarna Mudrayan, a publishing house owned by Communist Party Leader Mojibor Rahman, to bring the book to publication. The next day, they presented the book at the Omar Ekushey book fair. The book received an overwhelming response for its mockery of Ershad's poetry and military rule.
Following the book's publication, Rafiq went into hiding, seeking refuge at the house of Diamond Jewellers' manager Shushil for three days, as an arrest warrant had been issued against him. However, he couldn't force himself to remain hidden at Shushil's house for more than three days, such was his free-spirited nature. Consequently, he headed straight to Savar cantonment, where he underwent several hours of interrogation. Later, he was released.
During his questioning by the security intelligence in Savar, Rafiq recounted, "Their initial query was—is this your writing? I affirmed that it was mine. I assured them that I would answer all their inquiries except one. Specifically, I declined to reveal who had printed it, as I was unwilling to endanger that person", Rafiq said during an interview with BBC Bangla years after the regime's downfall.
On February 1, 1987, as the Anti-Ershad movement faced a slump due to the "crisis of political parties", Rafiq, along with some other fellow poets such as Shamsur Rahman, took a courageous step by organising a National Poetry Festival at the TSC within the Dhaka University campus. This festival effectively became a significant platform for the anti-Ershad movement, which greatly concerned Ershad. The inaugural festival's slogan was, "Sringkhol Muktir Jonno Kobita (Poetry for unlocking the chains)." Political poems outnumbered general ones recited at the festival.
In 1988, the second National Poetry Festival was organised and that year's slogan was "Shoiracharer Biruddhe Kobita (Poetry against dictatorship)." Distinguished artist Quamrul Hassan was on the stage as a guest of honour. Tragically, he suffered a heart attack and collapsed on the stage. However, in his final moments, he sketched an image beneath which he wrote, "Desh Aaj Biswabehayar Khoppore".
The sketch was promptly transformed into posters, yet before they could be widely distributed, law enforcement conducted a raid and seized numerous posters. This sketch posed a significant threat to military ruler Ershad. He was eventually ousted from power by a strong mass movement.
Mohammad Rafiq believed that poetry played a pivotal role in the eventual downfall of the military ruler Ershad. He never recognised Ershad as a poet. Poetry for him is all about advocating for justice, equality, and democracy while not supporting injustice and discrimination. "How can a military ruler like Ershad be considered a poet?" he once asked in an interview. 
The poet saw parallels between the military regime of HM Ershad and Ayub Khan. As he had actively protested against Ayub's dictatorship, and was indeed jailed, he felt compelled to protest against Ershad's dictatorship through his poetry.
Mohammad Rafiq's voice extended beyond his rejection of military rule; whenever he witnessed injustice, he protested through his poetry. In response to the exploitation of workers by Garment Factory Owners, he wrote "Kaler Mandas" and "Ghorlaga Aparanha."
During the Liberation War, he took up arms and fought for Bangladesh's independence. Later, he joined Swadhin Bangla Betar Kendra.
This eminent poet, who shook the Ershad regime, passed away on August 6 at the age of 80.
Mohammad Rafiq, a prolific poet since the 1960s and recipient of the Ekushey Padak and Bangla Academy Literary Award, was laid to rest in his hometown of Bagerhat on August 7.
Born in Baitpur of Bagerhat in 1943, Rafiq was the eldest among eight siblings, including former finance secretary Mohammad Tareque and Professor Mohammad Naser, a former teacher in Rajshahi University's statistics department.
After completing matriculation in Bagerhat, he pursued higher secondary education at Dhaka College. He earned a master's degree from Dhaka University's Department of English in 1967 after completing his BA.
In 1974, he joined as a lecturer at the Department of English of Jahangirnagar University and dedicated his life to teaching and writing until his retirement from the university as an associate professor in 2009. Mohammad Rafiq encouraged Jahangirnagar University students to write poetry and use it as a tool to raise their voices against injustice in society. He initiated a number of discussions with poetry aficionados on campus. Thanks to his efforts, students of Jahangirnagar University took a keen interest in poetry, a practice that has continued to this day.
His debut collection of poems titled Baishakhi Purnima was published in 1970. Later in 1976, his work Dhular Sangsare Ei Mati was published.
His literary contributions include "Kirtinasha," "Khola Kabita o Kapila," "Gaodiya," "Swadeshi Nihshaws Tumimay," "Meghe Ebong Kaday," "Roopkatha Kingbadanty," "Matsyagandhya," "Bishkhali Sandhya," "Nirbachita Kabita," "Kalapani," "Nonajhau," Mohammad Rafiq Rachanabali 1, 2, and This Path: Selected Poems of Mohammad Rafiq.
Rafiq, a Marxist ideologue, was a lifelong critic of capitalist society and a vocal advocate for the emancipation of the working class which is clearly evident in his poetry.
Md Abbas is a reporter at The Daily Star.