Blue clay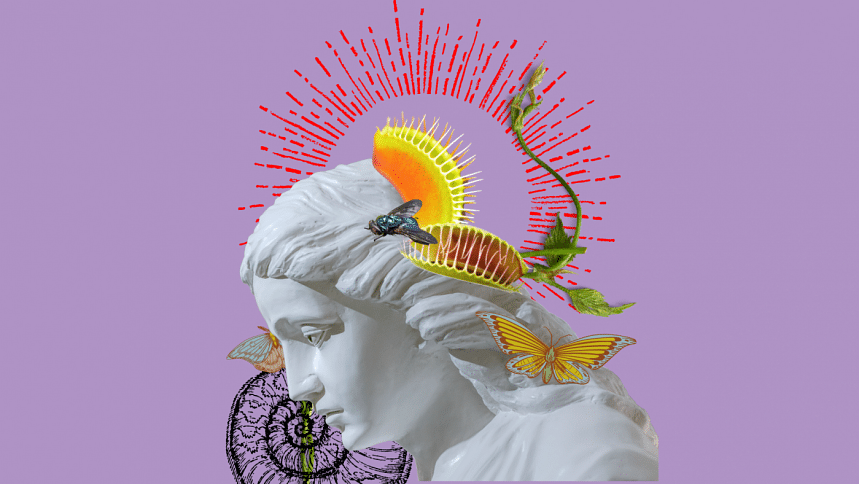 The blue model of clay vices
That sits in a house of glass
Will shrink about three sizes
As it waits for the moon to pass.
With her hair moulded perfectly,
and her eyes shaped to cry,
Her blue clay turns to burgundy
As darkness drains the sky.
She sits in the clear palace –
Picture perfect in her place,
Unaware of the mould and its malice
Inching into her embrace.
Like promises made in secrecy,
It tells her sweet, green lies
While spreading through her sheepishly
Like poison does to flies.
She's frozen in her state of being
A model built to die
With smooth skin that is for pleasing
But a heart built to deny.
So, the mould extends its ugly tendrils
Of deceit that it will preach.
While she stays set on her lovely end trail
Where she's never meant to reach
So doomed the blue clay princess
Her skin now turns grey
Too lost to even witness
The crime that was at play.
Her hand perched atop her side,
Her head turned to the sky,
She looks to darkness to confide
But the moon passes her by.
Her eyes frozen in memory
And skin broken in plea
She begs, but not for mercy
But only for her fee.
The one she'd earned for holding
The impossible serenity
That had the glass house going
While she lost her sanity.
But alas the mould is rigid
As it crawls into her ears
While she stands still and she listens
She sheds not one stray tear.
And while her colour slowly fades
And her blue clay turns to dark stone
No part of her is jaded
And no part of her, her own.
Syeda Erum Noor is dangerously oblivious and has no sense of time. Send help at [email protected]