2016 Great Wall Haval H6
The Chinese are quickly upping their game in building cars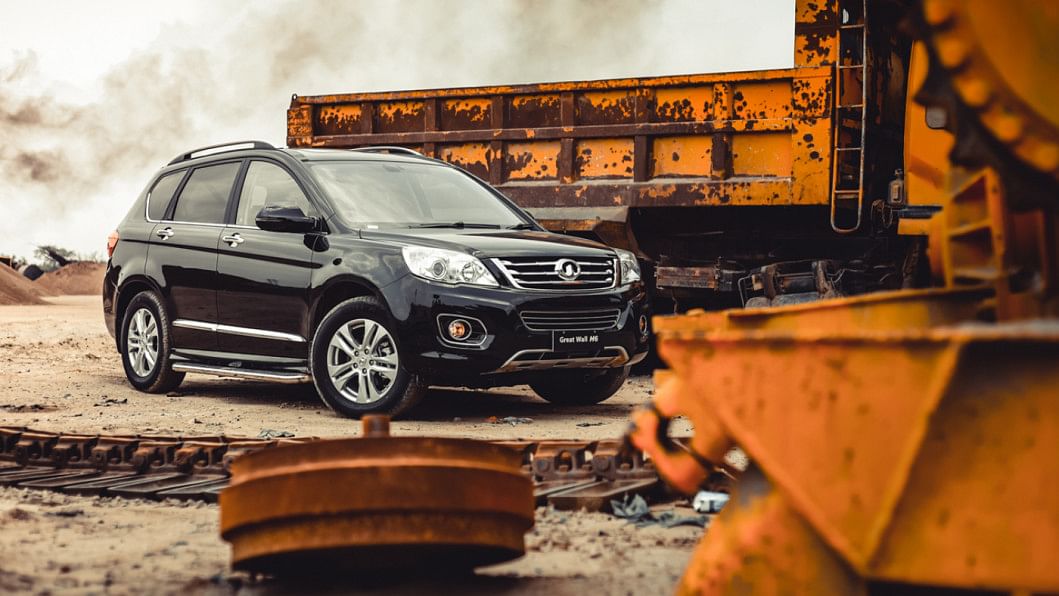 God made us; "everything" else is made by the Chinese. Despite advancing in everything and beyond, the Chinese somehow struggled in one area- conventional automobiles. Cheap finishing and compromised quality resulted in lagging brand equity and low sales figures for all Chinese automobile brands over the last decade. Things at Great Wall Motors, one of the leading Chinese giants were not very different until recently, the launch of its new crossover SUV, the Haval H6 paving the way to better times. Global reception of the H5 successor has pulled out Great Wall Motors from trouble and we set off to find out why.
Is the Haval H6 significantly different than the H5?
Very different. The Haval H5's ride was cramped and harsh, the dashboard mimicking a slab of plastic, and the exterior looking like the front and rear came off from two different vehicles. The Haval H6 on the other hand is everything the H5 wasn't. The outer shell is soothing to the eyes as BMW X5 cues are prevalent in the front and rear lamps, the proportion very rationale to be rivaling the size of a CRV or X-Trail.  Overall, the Haval H6 is one big step forward than the last generation lineup of the company.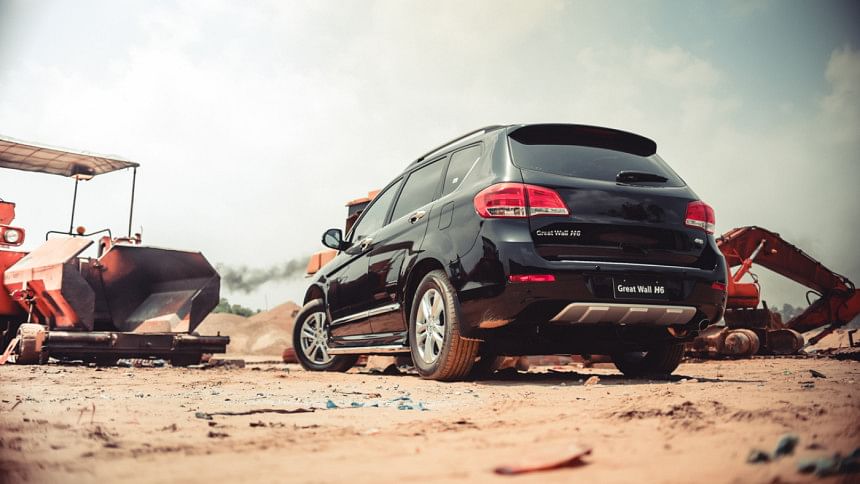 First impressions
The Haval H6 is a chunky looking mid-sized SUV with decent ground clearance to tackle our terrain. Climb into the cabin and you'll find the choice of materials used appreciable - there are no hollow sounds when you tap on the dashboard or the door panels. An elegant black color dominates the interior with a few bursts of chrome silver here and there. The seats are perforated leather with electric controls and you'll be cajoled by the cozy lumbar support. Contrasting red stitch is prevalent all over, giving the interior a sporty feel. There are abundant nifty storage compartments for your daily necessities everywhere too. The vehicle is clearly designed for international markets as the head room and leg room suggests, both in the front and rear for five comfortable passengers.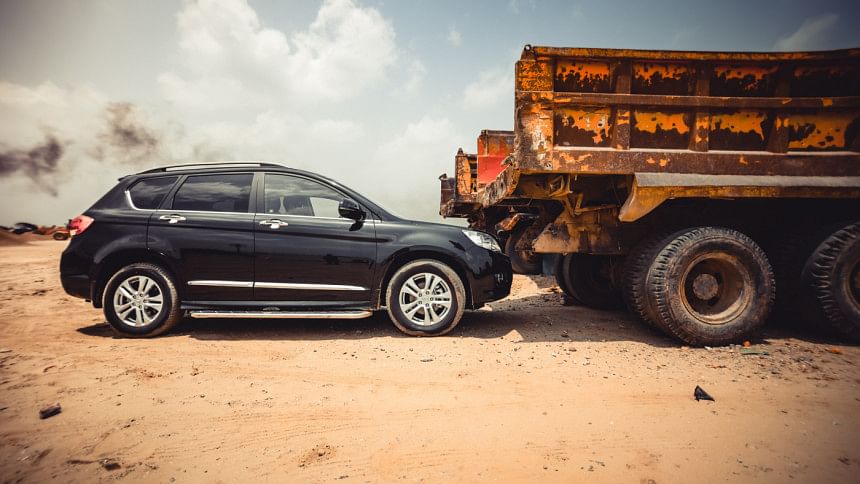 Lot of features to play with
The Haval H6 has been endowed with technology its predecessors have never heard of. To start with, there are proximity sensors all over with a front left fender blind spot cured by video coverage. Cruise control, dual zone automatic air conditioning, surround airbags and auto dimming anti glare rear view mirrors come standard. There is a Bluetooth hands free system and 6 speaker stereo system which can be controlled through steering mounted controls. A basic twin gauge instrument cluster with tire pressure indicator and the mandatory 7" display with rear view camera features will make life a tad bit easier in the hectic Dhaka traffic.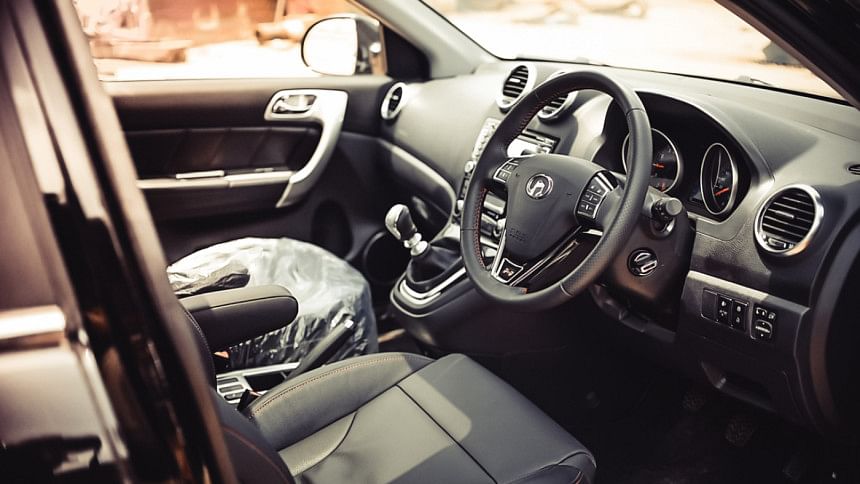 How is it to drive the thing?
A mid-sized SUV calls for a medium sized drivetrain but Great Wall surprised us with a 1.5 liter horizontally mounted motor, which will reward you the minimum tax structure in Bangladesh. So how does a 1.5 liter petrol motor pull this SUV? A turbo attached with the 1.5 liter motor leads to around 147 hp and 155 lb-ft of torque, which is enough to haul a loaded H6. On top of that, there is a six speed manual transmission, with a soft feel clutch and buttery shifter. The transmission gives you a controlled power delivery with brilliant efficiency, as you can quickly get into higher gears and cruise along at a lower engine speed. Although the Haval H6 is quick at higher RPMs, the torque-play is relatively low at lower RPMs, when you will have to shift down to lower gears to lurch the vehicle forth. The suspension and steering setup gives the SUV a great handling characteristic - goes over bumps and lumps at ease and body roll is well contained. I threw the H6 at corners in a barren wasteland littered with rock and sand and it was the most fun I had in a week. Got to mention, Ace Autos bring in two versions of the Haval H6- a FWD and an on-demand 4WD version that engages all four wheels when required. And our test mule was the latter model. The brakes are soft, and a combination of front and rear discs along with ABS and ESP with this SUV is impressive, giving you peace of mind.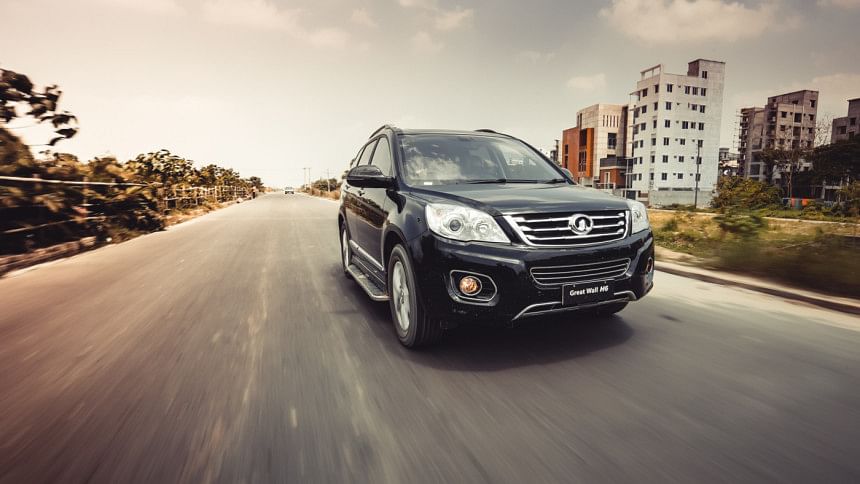 Final thoughts
The amount of options and tech bits in the Haval H6 places it in an uncanny position against pricey rivals such as the Honda CRV, Toyota RAV4 and Nissan X-Trail. The 1.5 liter motor also gives it an added advantage of lower tax structure. The hefty space and comfy ride, regardless of being a passenger or a driver will make you change your perception of Chinese automobile brands, especially when the build quality is noteworthy.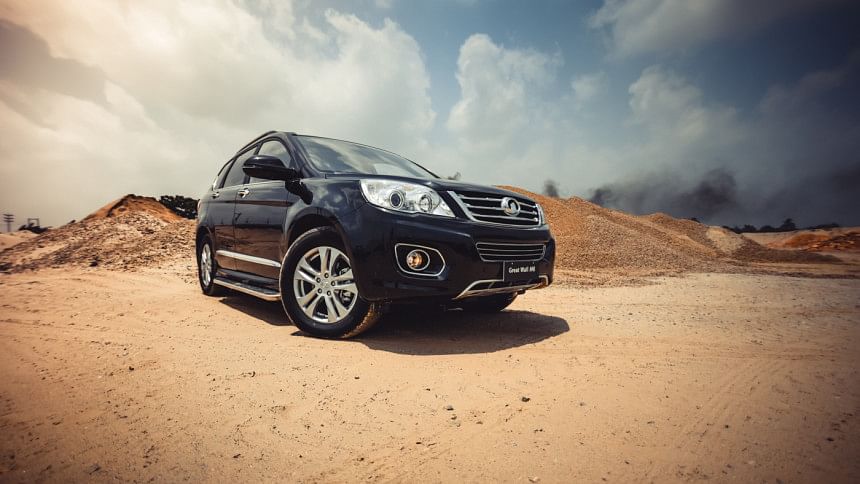 SPECS:
2016 Great Wall Haval H6
Engine: 1.5 litre 4G15B 4-cylinder gasoline engine (147hp, 155lb-ft of torque). 

Transmission: 6 speed manual.

Brakes: Ventilated discs front, solid discs rear, ABS, EBD, ESP,  brake assist. 

Suspension: MacPherson independent front, independent rear with cross arm and torsion bar. 

Features and options: 6 airbags, Sunroof, keyless entry, dual zone climate control, 7 inch touch screen infotainment system, 6 speakers, CD, DVD, USB, auxiliary port, power outlet, Bluetooth connectivity, steering mounted audio controls, cruise control, reverse camera, parking and proximity sensors, multi-function rear view mirror, auto defogging, 17 inch alloy wheels. 
Price: 26 lakh (4WD), 24 lakh (2WD). 

For details, contact Ace Autos. 
Photos: Rahin Sadman Islam