2016 Honda CRV
Besides the terminology, there is nothing really thrilling about crossovers, especially when it's a mid-sized SUV. But Honda's CRV has been the segment boss since its inception more than two decades ago. This week the SHIFT team hunts down what makes the latest fourth gen CRV invincible amongst its league.
Impressions: exterior
You look at the latest CRV and you are bound to notice an oriental eye line, an uncanny smirk and an elf chin. If that is not appealing, you will like its size – it's BIG. The fourth generation CRV is also the first to get a protruding lip job, giving the vehicle a more sporty appeal. While the last generation CRV had a vulgar side profile due to the oval rear quarter windows and oddly shaped D pillar, this generation has a rather chunky feel to it, with a revised angular D pillar arrangement and rear lamps. A combination of large 18 inch wheels, fat tyres and all over bottom black panels with silver trim gives the car a wanna-be off roader feel.  The versions you get in DHS Motors all have a 4WD emblem on the rear door, which means the indicated ruggedness is not fake.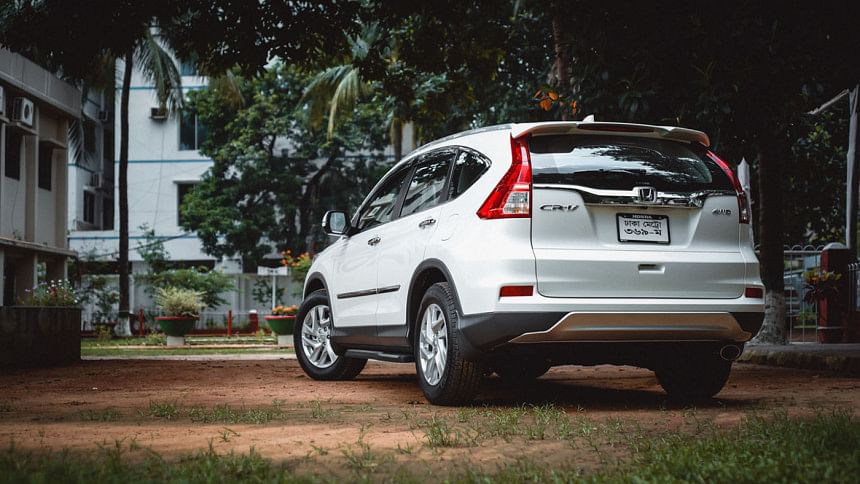 Interior impressions: front, rear and trunk
We reviewed the smaller HR-V last year and the interior was nothing short of spectacular, with everything you need exactly where you would want them. The CRV's interior is a larger version of that compactness, albeit the long AC vents for the front passenger and the conventional center consoled gear lever. Here, you have the typical new-age Honda dash language speaking with an exquisite assortment of black materials and a dark wooden garnish from one end of the dash to another. There are two screens – a 5 inch i-MID display embedded on the top dash and a larger 7 inch touch screen audio system right at the middle of everything. Then there's the climate control followed with the dash mount gear lever – all very precise and neat. From the driver's POV, you get a nice three part meter cluster and a three spoke leather steering wheel with buttons that can control almost everything except the throttle and brake. Look up and there's a sunroof too.
The rear of the CRV has a massive trunk. Pull two latches and the rear seats will fold and tuck away for even more cargo space. If you go camping without a trailer, worry not, as the CRV's trunk will save the night.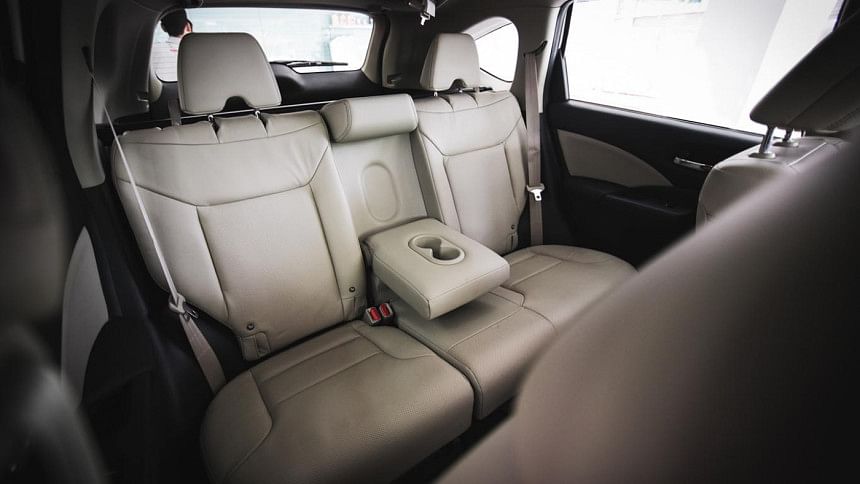 Ride impressions
If you jab on the throttle, you will feel like the 2.4 liter four pot petrol motor lacks juice initially, but come 3,500 RPM, the torque bellows in to push the CRV forth, the five speed automatic transmission doing its butter smooth job at good intervals. So the figures (155 HP and 140 lb-ft torque) on paper are mere figures and it delivers where it matters most - the roads.
The CRV will not crawl if u let go off the brake pedal – some will love it, some will not. At the end of the day, it is modern technology and most importantly, it is safe. There is a surplus of features and options including front and side airbags, rear parking camera which works great and cruise control, which we tried in Cantonment at 50kph, but refused to work as the speed was too minimal for cruising.
We tried the CRV in the city, but there were no shortages of bumpy, uneven path. Although you would be swaying over the bumps at slower speeds, you would cruise over them at ease at slightly higher speeds, indicating that the vehicle is designed for long road outings. Ground clearance is not ground breaking, but does the job pretty effectively.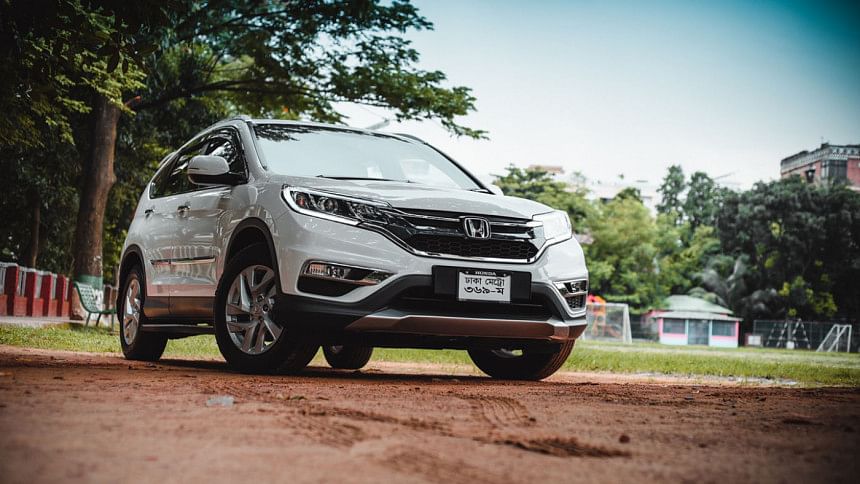 Driver or passenger?
The CRV is not a real driver's car. You will never own a CRV just to drive around in the weekend or to smile while you go off-road boulder wrenching. But it will do efficient economy driving from point A to B even with the 2.4 liter motor. You will run it to and from your office and it will do the chores and fetch the kids from school with a literal smile. So sit back and enjoy the ride that Honda promises with the CRV. It is a dedicated work horse with luxury amenities.
Engine: 2.4 litre 4 cylinder i-VTEC gasoline engine (155 HP, 140 lb-ft of torque).

Transmission: 5 speed automatic, 4WD. 

Brakes: Vented disc front, solid disc rear.

Features and options: Front and side airbags, dual zone automatic climate control air-conditioning, rear A/C, leather seats (L variant), sunroof (L variant), 5" i-MID display, 7" touch screen audio system, USB, HDMI, steering mounted controls, cruise control, rain sensing wipers, DRLs, reverse camera.   
Price: L variant at 67 Lacs and S at 60.5 Lacs. 

For details on pricing and availability, contact DHS Motors limited. 
Photos: Rahin Sadman Islam