Executive planet-saving: 2014 Toyota Camry Hybrid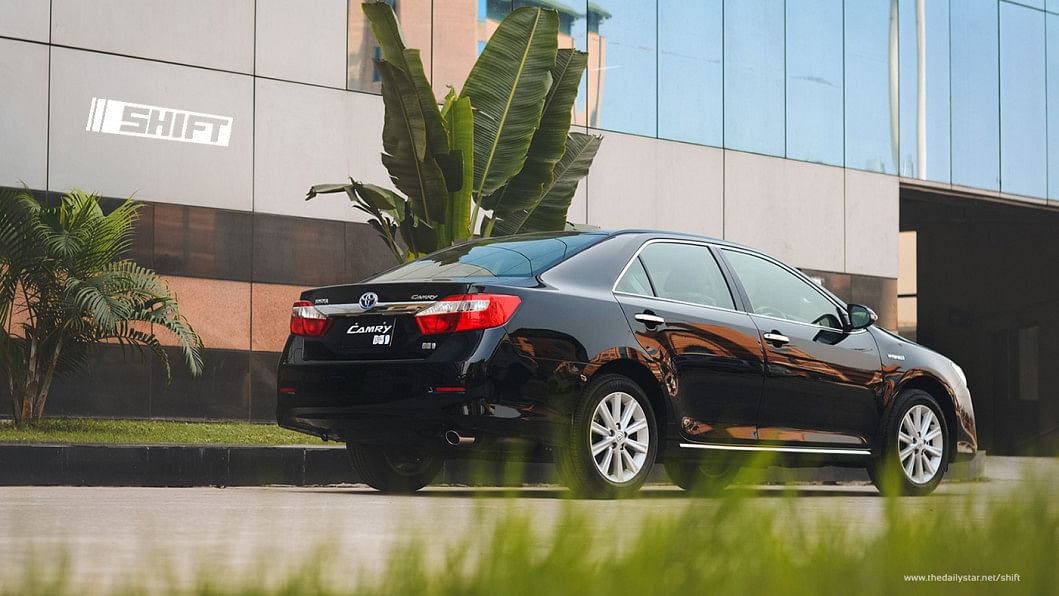 It was black on the outside but green at heart. Following a growing demand for more environmentally friendly, low emission, low carbon-footprint and complemented with a-lot-of-other-vegan-words comes the brand new Toyota Camry. And as you've probably already guessed, yes, it is a hybrid. I'll be honest. I was altogether very excited about this assignment. Hybrid cars for me have been almost taboo. I've never really warmed up to the concept. One Friday morning helped change a little bit of that though.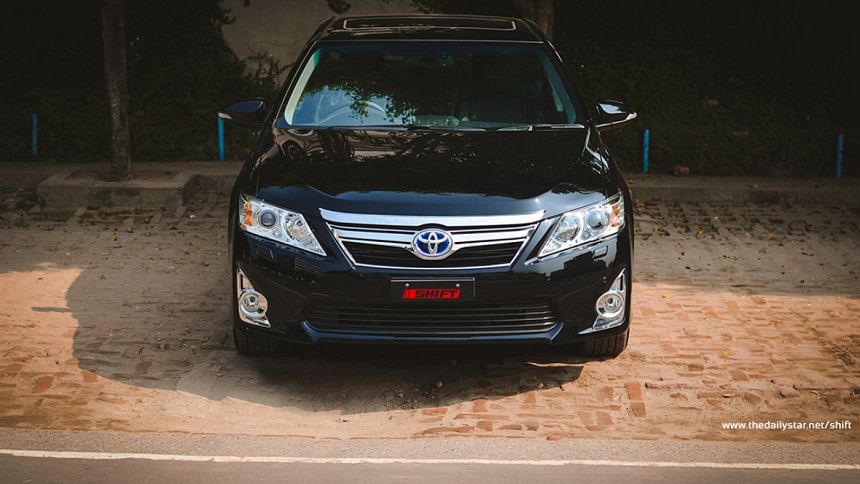 This car comes with Toyota's Hybrid Synergy Drive system, advanced Nanoe air conditioning system, powerful nickel-metal hydride batteries and tons more. Yes, this car gets as green as you can possibly get in the country. The new Camry is designed a few decades apart from its immediate predecessor. It's obvious they went back to the drawing board and sculpted this design from scratch. The sharp lines on the body, the geometrical contours and the commanding face-lifted front fascia is a refreshing change to the bland, boring hybrids we commonly expect to see. I do hope they do something about the tail lights with the later models though. But that's just my opinion.
Inside, the car was a well-furnished lounge. I loved how our test car had the black interior. It hides those dirty stains, if you ever get them, and doesn't show the grime that so easily collects on dash boards and seats due to Dhaka city air. If you're placing an order then opt for the black. The leather seats were large and welcoming. Some cars you sit in and feel like maybe you need to lose some weight to feel good sitting in it, but this car accommodates people of all body mass indexes. Take it from us, Tasdid and I loved the front and rear seats. The head-rest was just in the right place and the seats were broad and gave you enough space to spread out, complemented with loads of leg space.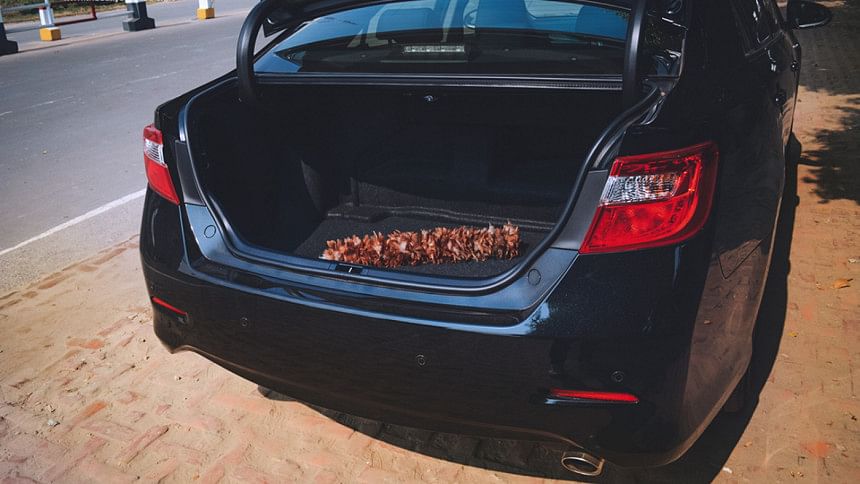 The gauges were interesting. It has one dial that shows you when the car is charging its battery and when it's delivering that power. The thing about the interior was that it didn't suffer from redundancy. Everything belonged, and helped you drive better instead of cluttering your vision. There is a slight issue with the quality of the switchgear, however. While the rest of the cabin feels plush and pampering, the air-con and audio controls feel plasticky and a little too cheap for an executive car.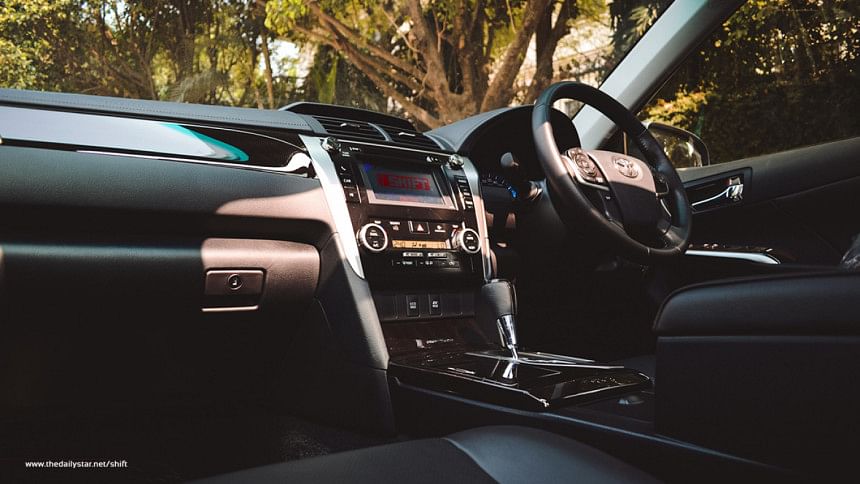 The Hybrid Synergy Drive gives the car a unique, almost hard to believe driving feel. It's designed to operate on the battery for speeds below 55 km/h and the petrol engine kicks in after that speed. I expected a lazy pick up and then maybe some proper power at higher speeds. But oh my, was I wrong. The pick-up from zero to 60 was swift and very impressive. The E-CVT gearbox makes zero effort to let the 2.5 liter petrol-electric hybrid powertrain do its work. Together the car can deliver upto 205 bhp. Those numbers are expected from a car in the class of the Camry. The suspension is very well designed for Dhaka city roads, tweaked to let the car ride safely over pothole ridden Dhaka city roads, and even then you have zero to none body roll. Something we all loved was the small turning radius, which was genuinely surprising considering the length of the car. Interior noise when the car starts doesn't even exist because the car operates at standstill on electric power. On a car like this you can't beat fuel efficiency. The wasted energy during the braking gets converted into back up battery power for later use.
As for the other specs, I'll let the specs list do its job, but we have to end it here with one question: should you buy it? It's a hard choice really. You have to really love the environment and also have great taste if you want to buy a car built for luxury but one that runs green. The car does not come cheap, priced at 75 lakh taka. But having paid that amount I can assure you, you'll sleep well at night knowing one more baby seal lived to see the light of day thanks to your purchase.
SPECS
2014 Toyota Camry Hybrid
Engine/Motor: 2500cc 2AR-FXE gasoline engine; Permanent magnet synchronous motor; total power output of 205.3 hp.
Transmission: E-CVT gearbox, front wheel drive.
Wheels and tyres: 17 inch wheels with 215/55R Yokohama tyres.
Brakes: Ventilated disc brakes front, solid disc rear, ABS, EBD.
Features: Tilt and slide sunroof; keyless entry; cruise control; 8 airbags; back camera; integrated stereo system with USB, aux, and steering mounted controls; leather seat trims; 8 available colour options.
Price: Starts from 75 lakh taka. For details, contact Navana Automobiles Ltd.