2016 BMW X1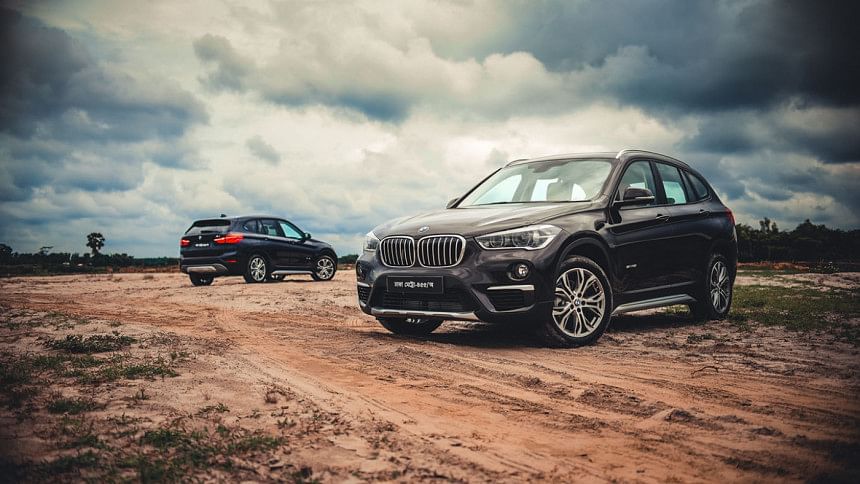 What is it?
This second generation X1 is a mini crossover. It is also the smallest from BMW, sold in Bangladesh with the most interesting engine for tech geeks.
First impression:
The first generation used to look dumpy and had a face that appeared surprised, as if slapped unexpectedly. That didn't stop people from buying it like these were going out of style. I expected the new one to look worse because this second gen is slightly shorter, wider and taller.
The designers must have been threatened with driving the horrifying Mitsuoka Orochi for the rest of their lives. They made deeper slashes on the sides with wheel arches bulging out more prominently. The headlights are pulled back like a 70's Hollywood diva's hair, creating an attractively chiselled front. It's a neat design trick where the proportions look neatly smoothed out. Before, it used to be a semi-squashed X3. Now it looks like a raised, athletically buffed up hatchback.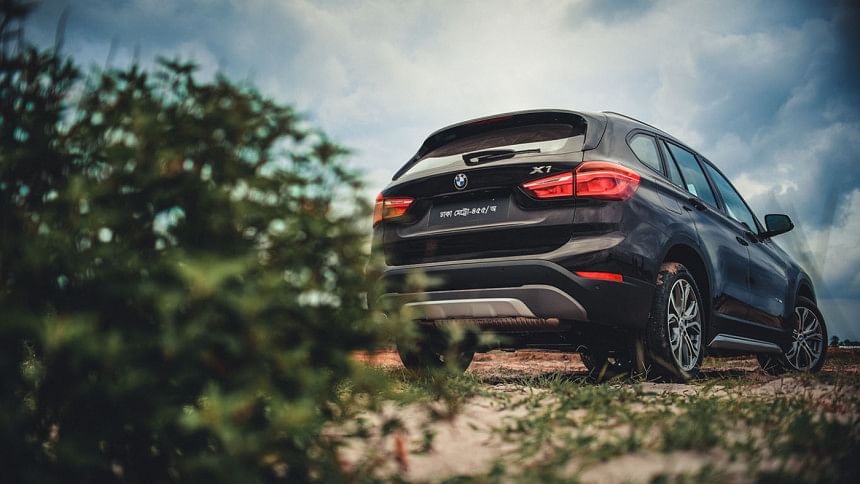 So, a Mini crossover?
In more ways than one. The modular platform used for the X1 is the same as the Mini (owned by BMW), which incidentally isn't so mini anymore. As a result you end up with BMW's new way of doing things, i.e. a transversely mounted engine for front wheel drive. Because the world wants more of this. It made many BMW fans gasp.
Is it sacrilege?
Crossovers sell like hot cakes all over the world with the X1 having shifted more than 700K units so far. The FWD shift means the engine can be packaged more compactly, squeezing out more interior space. You can also order it as a four wheel drive with the xDrive option. But is it really necessary? Not really.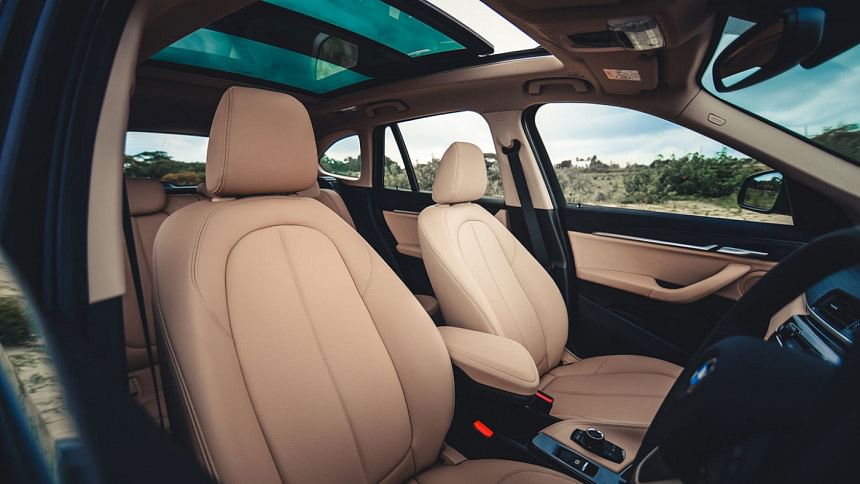 How does it drive?
We got the S-Drive (FWD) with the turbocharged 1.5 litre 3 cylinder, delivering 136bhp and 162lb/ft of torque. The small engine didn't feel small. Acceleration isn't neck-breaking obviously (9.7 seconds to 100km/h), but the speeds pile up rapidly enough for you to wonder how a large car like this manages so well. It is well dampened, enough to prevent you from feeling carsick, something that affects majority of bigger, boat like SUVs. Ride is a little stiff which is great when you find good roads with corners. The front wheel drive allows you to navigate sharp turns at higher speeds without worry of the rear trailing out.
It performs nicely on tarmac but we took it places where most people won't be taking it for fear of getting it dirty. The tires managed well even in soft, deep sand and clay-like mud. It scrabbles if you're being silly, but we remained happily unstuck.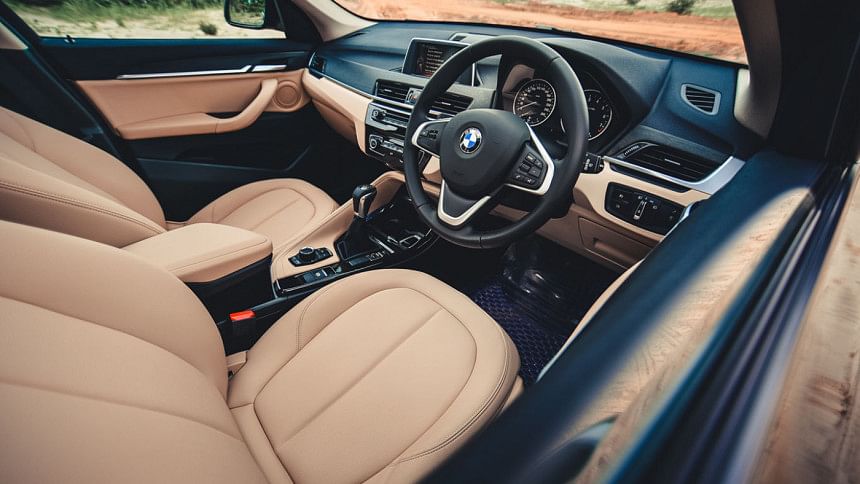 How is it inside?
That transversely mounted engine has helped gain significant leg space front and rear. You can stretch out and also to the side, depending on how much you love your cholesterol packed foods. Mini-crossovers aren't known for being spacious but this has enough room for tall and wide adults. The longer rear overhang provides a massive double floored boot/trunk. Long trips with large bags/annoying passengers are sure to be a breeze. The X1 we got had a full length glass roof that opens and closes quickly so you don't have to see too much of the grimy building tops till you are out of the city.
Features?
It's a BMW so it is loaded with everything you could want. The excellent audio system comes in slightly varying options, both of which we sampled in both our test cars. Crisp highs with deep undistorted bass from the speakers. Powered seats, brilliantly accurate reverse camera markings and a plethora of airbags for your safety in case the worst happens. Road noise is low compared to cars of this type.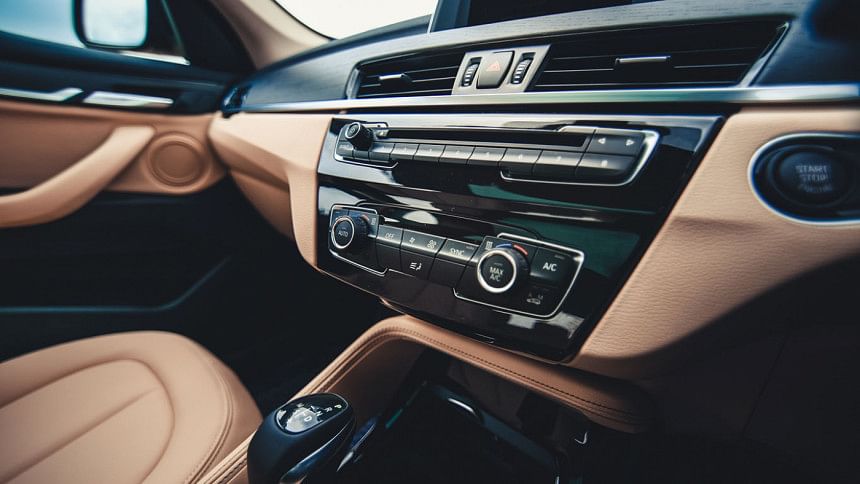 Who is this for?                
Brochures are full of sky divers and trail bikers. So it's clearly aimed at hip young people that want a cool ride that won't destroy the environment. You can get four wheel drive and bigger engines but the 1.5 is the jewel of the bunch for a city like Dhaka or Chittagong. It tackles bad roads and gravel with ease. The compact body curves make manoeuvring the car very easy amidst our psychotic Allions and rickshaws.
SPECS

Engine:1.5 litre 3 cylinder TwinPower Turbo gasoline engine (136 HP, 162 lb-ft of torque).

Transmission:8 speed Steptronic gearbox, Front Wheel Drive. 

Brakes: Vented disc brakes with single piston floating callipers at all four corners.

Suspension: Single-joint spring strut axle front, multi-arm axle with separate springs and dampers rear.

Features and options: 8 airbags, dual zone automatic climate control air-conditioning, Sensatec leather, BMW i-drive infotainment system, Bluetooth connectivity, multifunction steering wheel, multifunction power seats, panoramic roof, reverse camera with parking sensor, LED headlights with DRLs.
Price: Starts from 77 lakh Taka.

For details on pricing and availability, contact Executive Motors limited. 
Verdict

Not quite a fast car, it will still power through whenever you get straights long enough to enjoy the triple digits it is capable of. You will miss out if the chauffeur does all the driving because the handling is excellent. It looks like a purposeful mini SUV, rides comfortably like a car and can tackle moderate off-road conditions that would leave a typical car dead. And the best part is the benefits in lower tax and very low fuel costs packaged behind a BMW badge. 
Photos: Rahin Sadman Islam