TEST DRIVE
Segment busting CUV: 2015 Honda HR-V / Vezel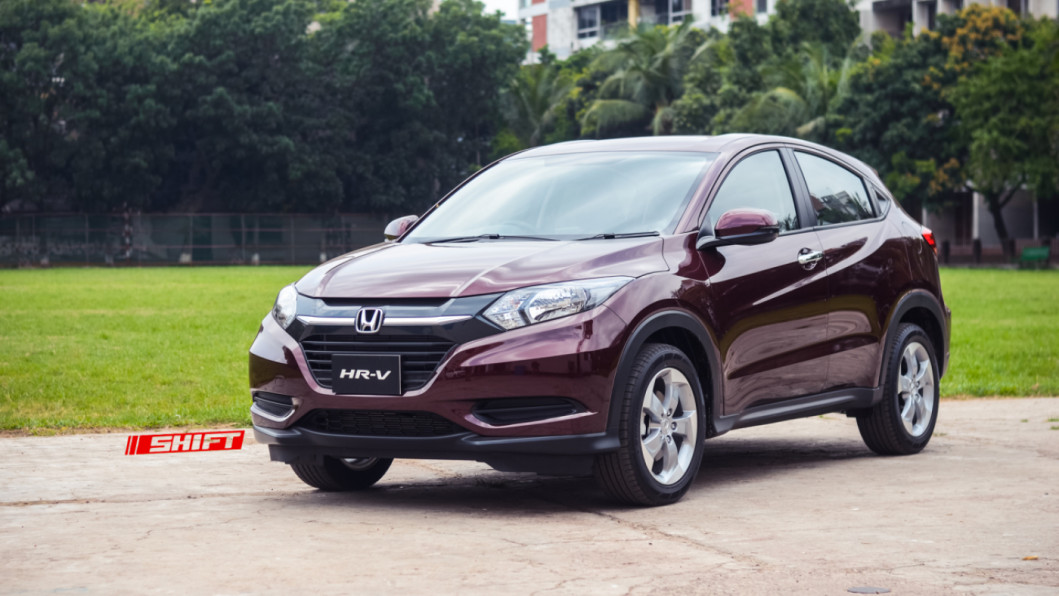 What is a CUV? We like most of our things big. Cell phones, televisions, pillows, cars and roads. While most of these are getting larger by the day, our roads for sure aren't. Change is therefore, inevitable. Carmakers built a solution: kei cars. Kei cars can't traverse our roads, mainly because they are littered with potholes the size of kei cars. Enter the crossover (CUV- crossover utility vehicle), a new genre of automobiles which is NOT a marketing gimmick by automobile companies but a delightful solution to the pitiful road conditions we have.
What is the HR-V? Honda sleeved up to make a CUV, giving it the maneuverability of the Jazz hatchback and the versatility of its mid-size SUV, the CR-V. Here we have the LX edition of this new CUV, based on the Jazz hatch: the HR-V. Or in Japanese, Hi-rider Revolutionary Vehicle. Yeah, we'll just stick to HR-V.
Would you want to ogle at it? Well, it is a looker! The new HR-V's design cues suggest a distinct coupe like characteristic with two prominent bodylines highlighted. Why? Because one was not enough by Honda standards. At the front, the CUV features a horizontally barred grille that incorporates wide crystal headlamps. The rear slanted low roofline and squat stance add on to the coupe-like appeal of the crossover. Everyone likes coupes. They are sporty but not very practical for Flintstones sized families, and especially not for Bangladeshi roads for obvious reasons. So, with the added ground clearance, the HR-V is like a coupe high on practicality.
Would you want to stay inside? First things first- it is spacious. The HR-V will probably give a lot of competitors' mid-sized SUVs run for their money. Honda has been able to achieve this by cleverly redesigning and relocating the 40 liter fuel tank under the driver's seat. The sitting height or the technical hip-point is set higher, accommodating comfort for longer journeys. Rear passengers will never budge for extra space as they get plentiful legroom and headroom. The back of the vehicle has copious space for moving planets.
The interior features an abundance of soft touch materials, detailed stitching and brushed chrome highlights. The door panel has a mix of soft mesh fabric blended with supple leather. With similar leather stitch finish, the dashboard and centre console also feel up market. The seats are perforated fabric upholstered with detailed stitching. There's a lot of sporty appeal to it as well. The multi-function steering wheel is relatively small and skins a patch of mesh design on the bottom spoke. It also sports a cruise control button, whose application in Bangladesh roads is pretty much unthinkable. Sort of like giving a diabetic person sweetened caramel pudding as mid-day snacks. The driver's instrument cluster features a "floating" illuminated blue ring. There are flappy paddle shifters too.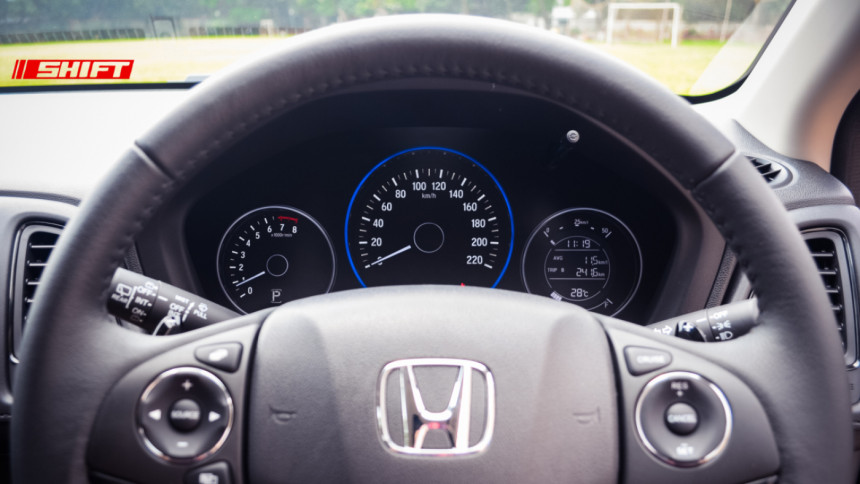 Honda has made the HR-V's interior as practical as it could get. There are nifty storage compartments for your large coffee latte and daily essentials. A cool feature has to be the tucked away slot with HDMi, multiple USB, and power outlet ports for all your appropriate devices that you can charge and seamlessly integrate with the 7" touch screen on the dash. The climate control gets a fantastic electrostatic touch panel display at the heart of the dash, which is very ergonomic and easy to access, even with your left arm cajoled by the soft leather wrapped auto shifter. 
How does it drive? With a gentle push of the start button, the HR-V ignites with a soft purr and lights up the little 1.5 petrol i-VTEC motor. We made our way out into the scorching Dhaka sun with a full blast of aircon and yet, the throttle seemed light. Power and torque figures are not mind boggling (118 HP and 146 lb-ft), but it is enough for our traffic. What it provides is fuel efficiency- 10 km/L in the city and 17 km/L on the expressways.  The automatic transmission is responsive and nippy. 
What I have been itching for is a clearance amidst the traffic to throw the lever to S and try out the tiptronic mode. Eventually I did. My face lit up with a grin as the RPM climbed rapidly and held while the seemingly relaxed HR-V geared up for action. The paddle shifters are stubby, but soft and quick to respond. The crossover felt terrific to drive. 
The electronic steering felt very light, although not very fast at responding. However, it communicates well with the torsion-beamed suspension, which is stiffer than most competitors and hence minimum body roll. The extra stiffness works like magic over speed thanks to the fantastic ground clearance, but the potholes are sometimes unforgiving and you would wish for a slightly softer tune. The HR-V has superb soft feel braking, owing to the front and rear disc assembly.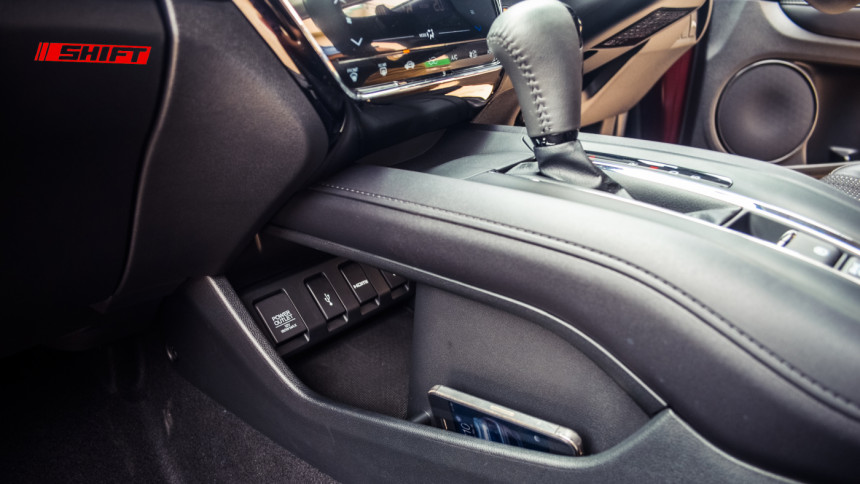 The fancy bits? Honda's CUV segment entry HR-V's hands free telephone switches got us excited. Then there is the hand brake which does not look like one. The HR-V's innovative electronic parking brake is a push button between the gear lever and arm rest that replaces the vintage hand brake. Releasing it is just as easy. But Honda wanted to go overboard with urban driving practicality. What really got us hooked is a 'hold brake' option Honda endowed the HR-V with. It is there so that you do not have to keep your right foot ploughed on the brake pedal during congested traffic trying to avoid unwanted creeping. Good going, Honda!
Should you buy one? Honda could have opted for an all-new identity for the 2015 HR-V. Instead, it waited almost a decade to revive the faded HR-V brand. Very clever of Honda as it probably chose the most fitting and emerging segment to position its competitive CUV in the market. Given all the aforementioned gizmos, an industry busting price of Taka 39,95,000, and 3 years warranty with 2 years of free service from DHS Motors, you are certainly in for a win.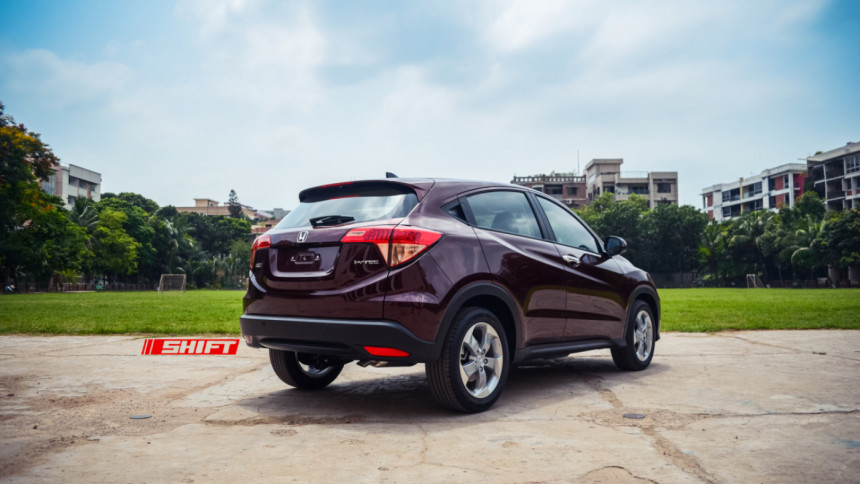 Specs

Engine: 1.5L SOHC i-VTEC 4 Cylinder (118 HP @6,600 RPM and 106 lb-ft @4,600RPM)

Transmission: CVT

Brakes: Front ventilated discs, rear solid disc brakes with ABS, EBD and brake assist.

Features: Keyless entry, automatic odour reducing climate control air-conditioning, leather interior, steering mounted audio switches and Cruise Control, Bluetooth hands-free, 7-inch touchscreen, radio, HDMI, multi-USB, MP3, aux-in, 6 speakers.
Price: 39.95 lakh taka. For inquiries, contact DHS Motors Ltd.