The wallet friendly SUV: 2014 Ford Ecosport
A FWD mini SUV that handles well and sits enough people. Is it the perfect car to conquer Dhaka's massive potholes?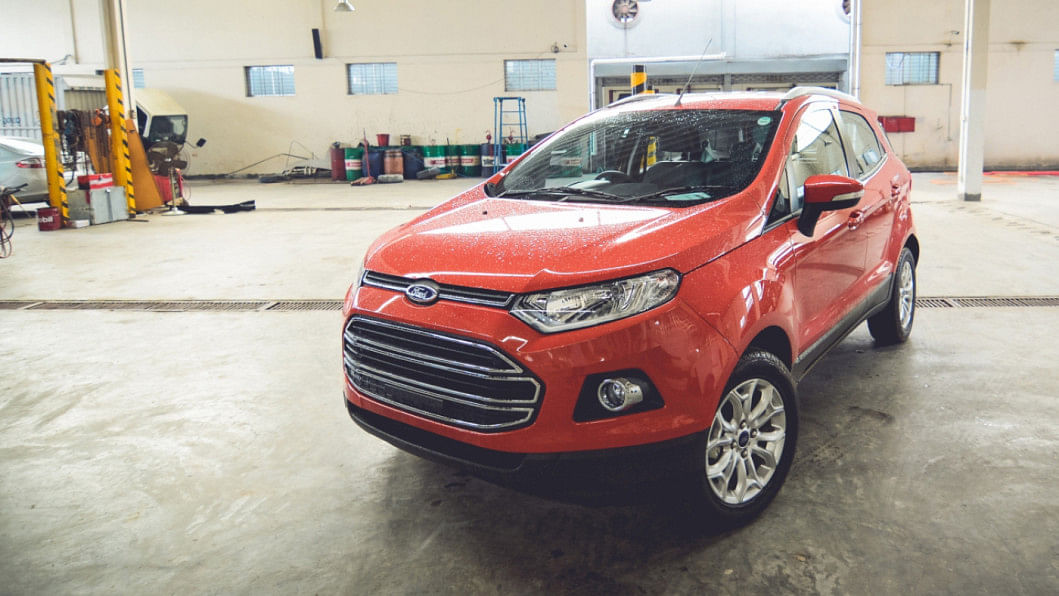 Is it a mini SUV or a station wagon on steroids? 
Both actually. It's the perfect little urban car. You get the lofty driving position of an SUV. It allows you to see over hundreds of rickshaw tops in front, to spot the fight going on at the end of the traffic jam where a bus just rammed another car. But unlike a rolly-polly SUV, this is very car-like to drive. Its platform is based on the new Fiesta and that's a good thing,because the Fiesta rides superbly. 
Is my chauffeur going to enjoy driving it? 
Most people hand their new cars to chauffeurs and this would be a mistake. Mistake because this is a fun and easy car to drive. We spent nearly two hours trundling around in traffic to get to our destination. In the meantime we navigated around hundreds of pampered school children and their attending vehicles. The tight, sharply rounded design means you can effortlessly squeeze through narrow gaps. You don't feel like this is a lumbering brute,quite the opposite. Cool AC and a solid interior means the noisy world stays well outside. The car is easy to see out of, and the proximity sensors make it breeze to get into tight spaces. 
Can I race it to remind me of Ford's long racing history? 
Well, sort of, but you have to remember this is an urban runabout. It's designed to be effortless and gentle. The engine on offer is the 1.5 petrol with 108 bhp and 103lb/ft of torque. The automatic gearbox is tuned for efficiency and smoothness and when you jam down your foot, it tries to remind youto take it easy. The buttery soft clutch action manual would be the preferred choice here but sadly, that's not an option yet. There will be a 1.5 diesel with the manual coming soon.
I did let out my inner demon when I finally reached an empty road. 2500RPM onward things get urgent. The car picks up speed, and being built on the same underpinnings as the Fiesta reaps benefits. The semi-independent rear suspension lets you take wet, bumpy turns at speed withouthopping all over the place. We went a little tail out in the wet (main picture) without any drama or a visit to a hospital. There is some slight body roll due to the high posture but it holds its composure way better than most other mini SUVs on sale right now.
And as for race-car feels, there's always the push-button start. 
We Bangladeshi always thought Fords were high-end. How pampered will I feel? 
The interior is well specced. There's everything you need:air-con and big, bolstered comfy seats that come wrapped in leather on the higher trim models. The ride is extremely compliant, with the small wheelbase soaking up the bathtub sided potholes surprisingly well. I didn't think the small wheelbase would perform this well but it did. There's a huge boot, big enough to store a family's monthly groceries and/or my lazy sub-editors. 
Can you talk to it like it's a person? 
Yeah. You can talk to your car. It accepts voice commands. Fun thing, although we were too busy enjoying driving instead of trying to pretend to be in an episode of Knight Rider. 
I hear there'sa turbo.
There's a 1.0 turbo-charged three cylinder engine of the same car. Ford doesn't sell it in Bangladesh but I've driven one. It's cracking little car. Interestingly noisy and thrashy with plenty of grunt from the 123bhp, this is quite special. The engine is light, powerful and terrific for the environment and more importantly, your wallet. Bangladeshi users will have to settle for 1.5 because we love ourdisplacement. 
Verdict: The Ford looks terrific from the side and the catfish front gives it an aggressive appearance. We love aggressive without the silliness of unnecessary spoilers and intakes. The mini SUV rides like a car meaning it is comfortable, steers well and exhibits a composed ride over our terrible, terrible roads. The performance is zippy and the safety features are excellent with 6 airbags and ABS/EBD and ESC offering peace of mind. Price range is 35-41 lakh taka coupled with a 3yr/60,000km warranty. 

Specs
2014 Ford EcoSport
Engine: 1.5 liter 1.5L Ti-VCT 4 cylinder (108 HP @6300 RPM, 105 lb-ft torque @4000 RPM).
Transmission: 5 speed automatic.
Wheels and tires: 205/60R16 ATR tires with 16 inch alloys.
Brakes: Power discs front, drum brakes rear with ABS, ESC.
Standard equipment: 6 airbags, Ford SYNC USB and auxiliary cable supported audio system, steering mounted audio controls, four cupholders, power boot release, heated rear window, proximity sensors. 
Options: Push start, leather seats.
Price: 35-41 lakh taka with 3yr/60,000km warranty. 
For options and availability, contact AG Automobiles Ltd.
Photos: Rahin Sadman Islam