2016 SsangYong Tivoli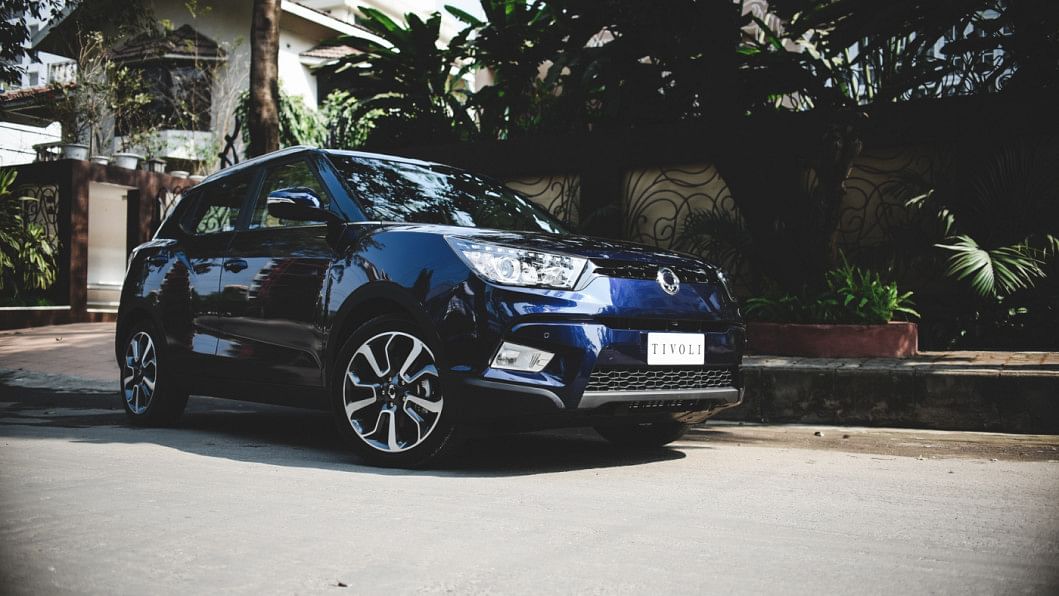 Frankly speaking, a decade or two ago, Korea was a laggard in automotive engineering, desperately trying to shine its dim light. Hyundais and Kias were defunct transport makers while SsangYong used German engineering (Mercedes drivetrain in its old Rextons) to cover up its lame attempt at car building. However, much has changed in the recent years, and the country seems to have an upper edge in many aspects including automotive engineering developments. Previously SsangYong had funny looking SUVs like the Musso and Rexton. With some technical progress, they continued to make comical vehicles like Actyon and Rodius. Then in 2015 came the Tivoli. I went to collect my test vehicle at Millennium SsangYong Motor Ltd with no expectation whatsoever- which is still a form of anticipation. But expectations can be deceiving.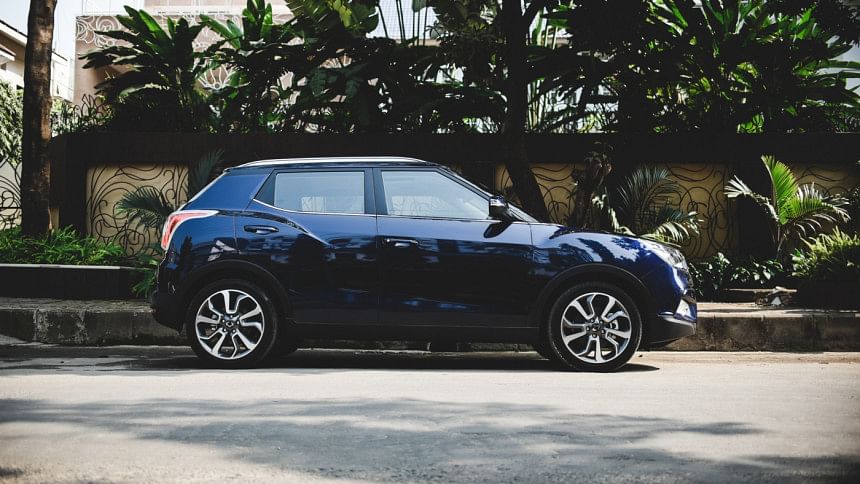 What is the Tivoli?
It is not an off roading 4WD SUV. SsangYong has no other vehicles on which it is based on- so it is not a CUV (crossover). The proportions of this FWD vehicle is ideal for a city tourer with fantastic ground clearance, 2+3 seating arrangement and a boot space to fit in a "luggage party" haul. We would call it a small SUV. And it's cute.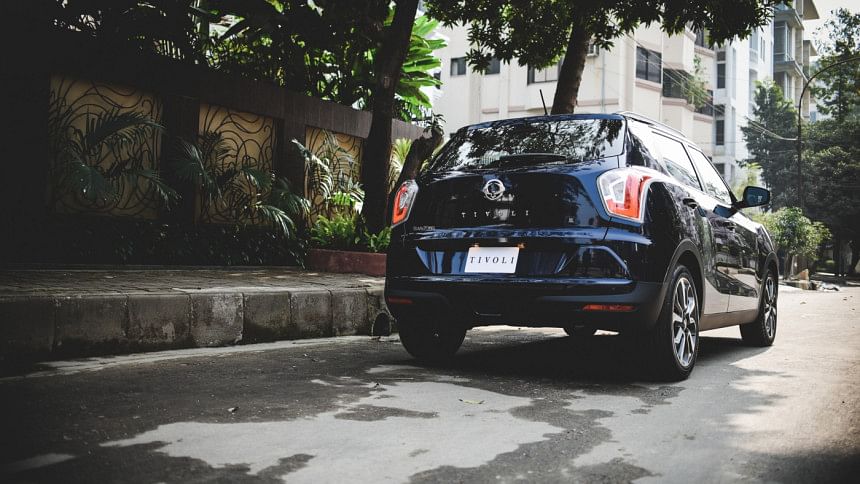 First impressions
There is a mix and match of a lot of cues from a lot of vehicles in this little SUV. Take for instance the rear lamp from the side has an identical curve like that of a Jag XJ; the sloping roof line with a butch C pillar is quite similar to that of a Range Rover Evoque's. From the rear, the total package looks like a raised Mini Clubman. However, the front is unique with head lamps pointed outwards reminiscent of an angry bull's horn. The Tivoli has the right curves and angles with two striking body lines on the front and rear, which beefens up the wheel arches. Size doesn't matter, but proportion does for an automobile to be visually appealing. Unlike the previous oddly proportioned stable mates, the Tivoli is rather a pleasant surprise.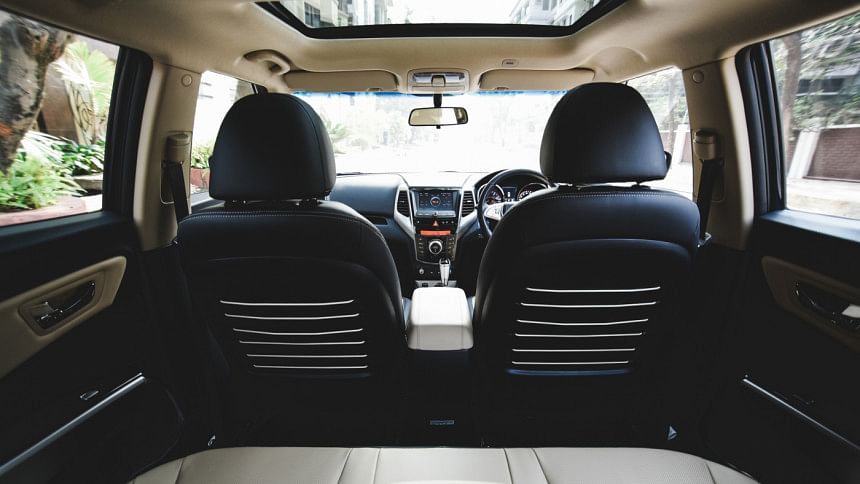 Time to climb in- abundant space for you to stretch out in the front and rear alike. Even with the slanted roofline, rear head room seemed enough for someone with more than average height of the country. The second thing that you would notice is the splash of colours and materials all over the place- there's black in two shades and materials in the dash, centre fascia, steering and a blend of black and beige in the door trims and roof. Yet, all that doesn't make the interior feel cheap. There are abundant nifty storage compartments for your daily necessities everywhere too- we found 11 between the rear boot and front glove box. Thumbs up for the sunroof, SsangYong.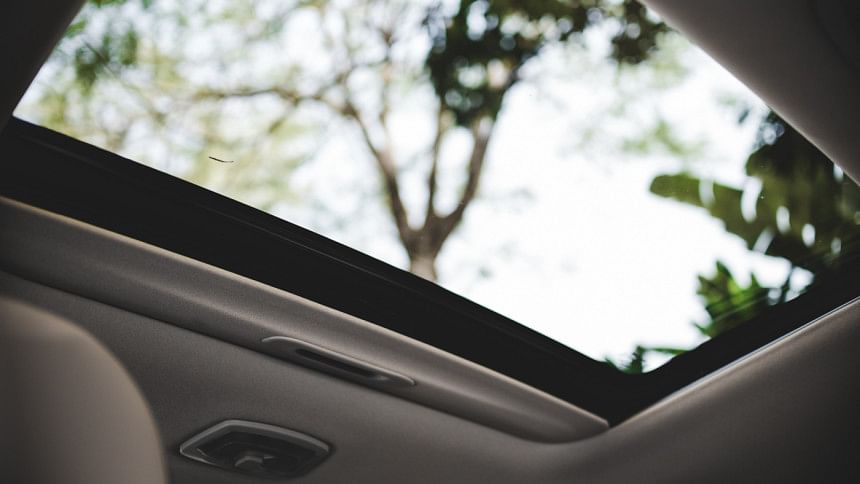 Multitude of features to bask on
Dhaka has an unforgiving attitude towards vehicle drivers. To make life a tad bit easier, SsangYong has thoughtfully put dual zone air conditioners and ventilated/ heated front seats. After a hectic & sweaty bazaar duty, retreat into the front seats and get your butt air cooled if you so desire. To make driving less frantic in the grizzly traffic where everyone scavenges for space, the Tivoli comes with front and rear sensors that send in visuals to the 3.5" trip computer between the elegant twin gauge instrument cluster. There's the mandatory 7" navigation system too with rear camera features, not to mention Bluetooth, HDMI and steering mounted audio controls.
Most importantly, how's it to drive the thing?
A compact SUV calls for a small drivetrain and SsangYong gave JUST that. Perhaps a little too small, may be? A 1.6 liter horizontally placed petrol motor turns the front wheels via a 6 speed autobox. Indeed the figures are small- 128 hp and 118 lb-ft beyond 4,500 RPM; but it's the way these are delivered is important. With a gentle tap of the right foot, the Tivoli lurches forward, quickly shifting and picking up speed with no drama at all. Very, very normal. A few settings needed to be fiddled with to rid the boredom- D to M in the gear lever, Normal to Sport in the steering controls and turning the Traction control off. The little SUV is so much sharper to handle, steering more responsive and fun; there is however insignificant difference in the acceleration, but the rev climbs all the way up to almost 5,800, holds a little and shifts on to next.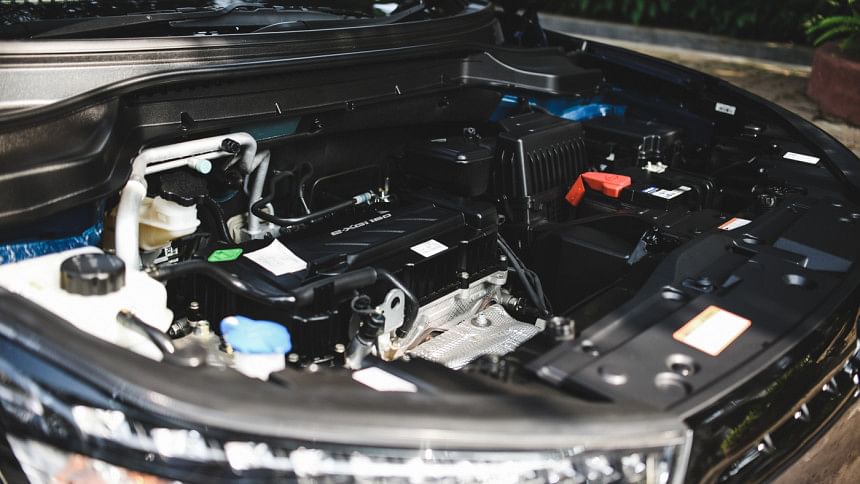 Tivoli's suspension has split personality disorder- although it handles the bumps brilliantly, you will feel some of the nasty pot holes of the city. But you do get great seats to cushion that. The brakes are soft, and a combination of front and rear discs along with ABS and ESP with this little SUV is impressive that gives you an assured sense of being in it.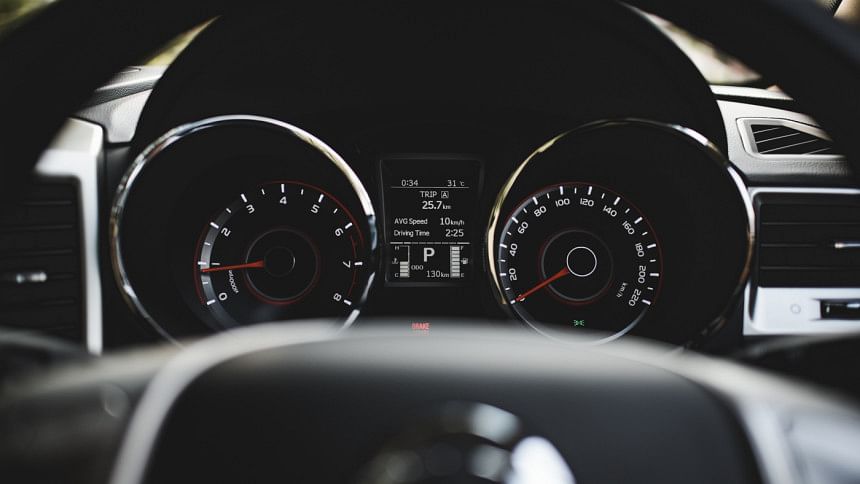 Verdict
Despite too many colours in the inside, the cabin is still a pleasant place to be. But you ought to get used to slightly less intuitive placement of controls- for example, T/C is on the right of the dash, the steering controls on the left and the Power- Eco button on the far left. However, there's plentiful space for your stuff everywhere. SsangYong also endowed the Tivoli with better than competition options and features, which certainly is a pro. It also ensured that the autobox is never subjected to abuse by entrusting the onboard computer to intervene and upshift without holding the REV even at M mode, whereas you are meant to have fun and shift yourself with the flick of your left thumb. Talking of the manual shift flicker- the thing is so tiny that your left thumb's nerves will dry out trying to send in adrenaline juice to your brain. But keep all that aside and the Tivoli is a certain joy to drive around the city for your daily chores. SsangYong has certainly lit us up with its Tovoli. And the best part of it all- it is locally assembled in Bangladesh at the Millennium plant.



For more information, contact Millenium Ssangyong Motors Limited. 
Photos: Rahin Sadman Islam

 
Here are the rivals. Hit the images for the stories: