Test Drive
2017 Hyundai Elantra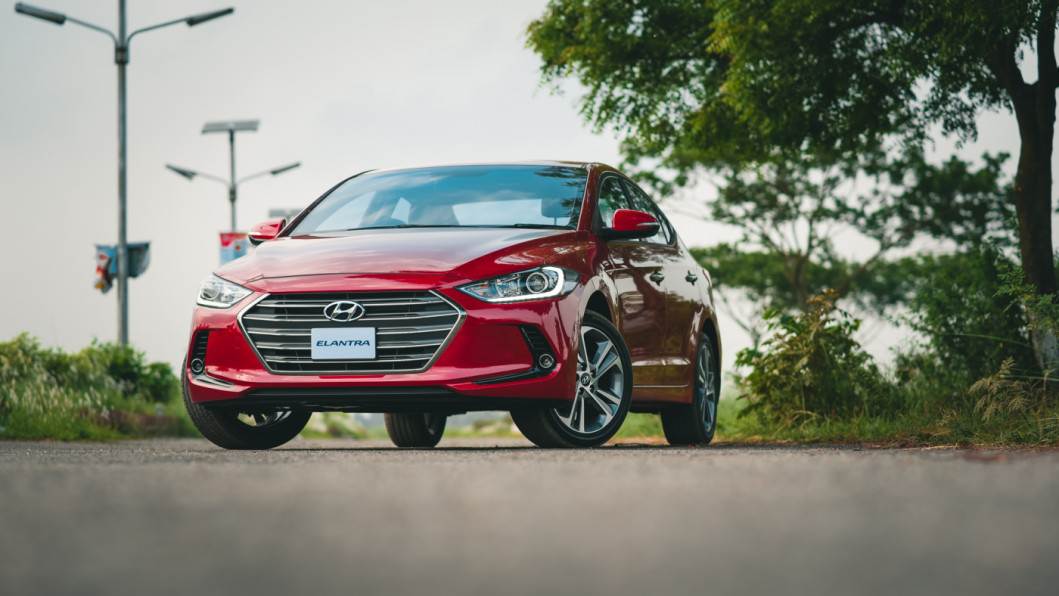 First impressions
Today we have the brand new, 2017 model, Hyundai Elantra. Right off the bat, you can see Hyundai's aspirations as a brand reflected on the new Elantra.
It looks handsome, the front and rear reminiscent of the Jaguar XE. The big grille at the front is reminder that Hyundai is moving up in the world, with a range of premium products selling well all across the globe. The daytime running lights are tactfully placed and enhances the design, a stark contrast to the previous attempts on the Sonata and Santa Fe. It's clear that Hyundai's designers have matured along with their brand. At the back, the Elantra is a far cry from the shouty old model - the design is smooth and streamlined, the elegant taillights containing a trio of trapezoidal LEDs and paving the way for a raised bootlid that removes the need for a spoiler.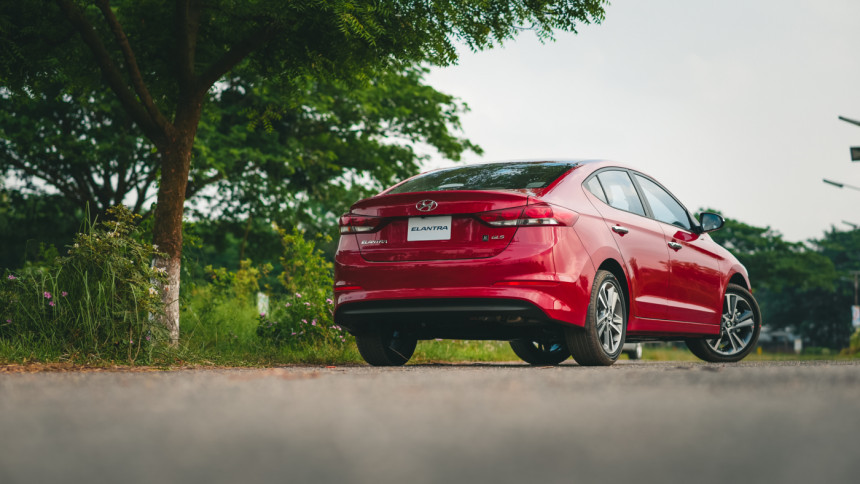 On the inside, the materials are much improved with a driver oriented dash utilising a cleaner design. There is no shortage of practical storage compartments, but in terms of interior space it could have been a bit more spacious. That's still fine though, since the target market segment for the Elantra are all mostly similar. The materials used on the dash and for the seats speak volumes about how well crafted it is, but the doors could have done with a lot more padding and softer plastic. The trunk space could be a bit better, but the Elantra allows you to carry more luggage by flipping down the rear seats.
It's a fully loaded car, and the most surprising facet about the Elantra is that it is locally assembled in a plant in Bangladesh. You would not know it unless specifically pointed out - that's how good the car's build quality is. All the parts come in from Korea and are assembled locally under strict quality control measures, and the result is a car that is priced way under the market average for this segment.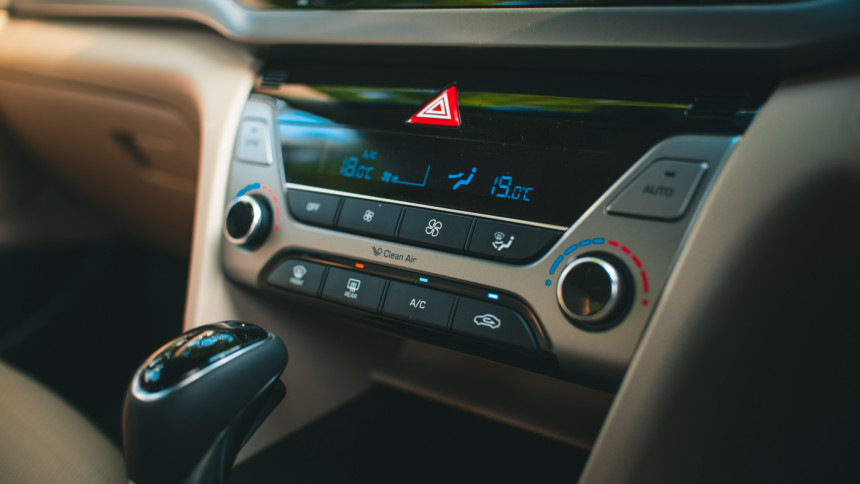 Multitude of features to bask on
The dual climate control AC on this car is absolutely divine. Bangladesh has been getting some intense heat waves lately and its worth mentioning one of the best features of the car. Did I mention these cars come standard with rear vents too?
The specs on this car are through the roof, literally. The sunroof opens up smoothly to
let the sun kiss you good morning. You get a 5-inch touch screen display for all your infotainment settings, and those can also be controlled from the buttons on the steering wheel.  The driver's seat is powered and are semi-buckets that hold you firmly in place. Standard options include speakers on each door, USB and auxiliary ports, a power outlet, Bluetooth and the usual cup holders.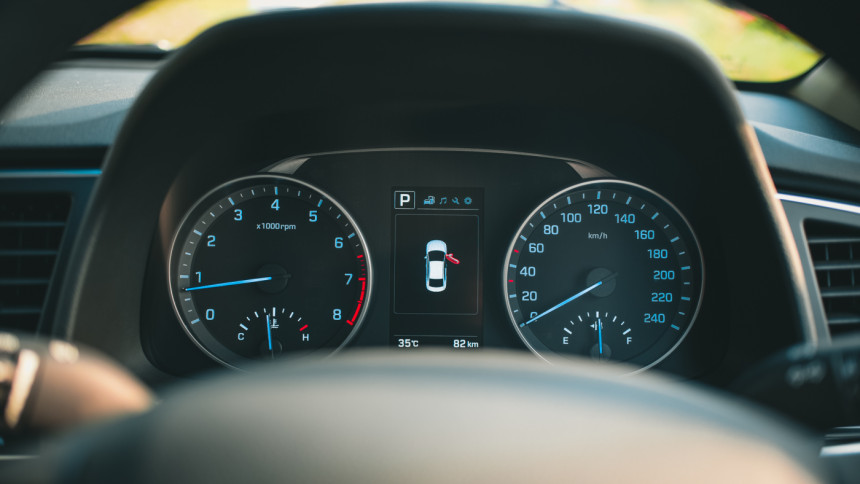 How's it to drive?
It's not that fast and of course you can't expect a compact sedan to be anyway. But it does handle well, notably the steering is very responsive; the turning radius is short and precise and I didn't experience too much body roll on our test drive. Cars of this class are made to take people from point A to B, in a safe, efficient, and comfortable way. Owing to that, the car had to have good road clearance and spongy suspensions and shocks, so body roll is something we have to expect in some amounts.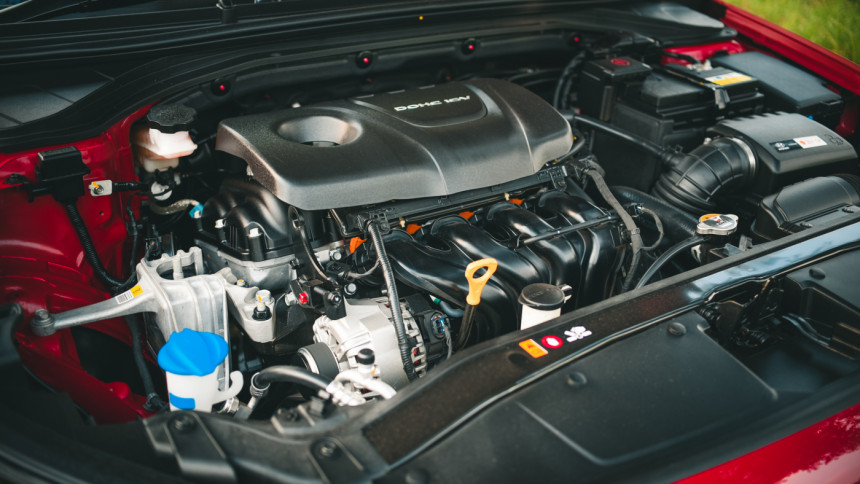 The 1.6 liter engine produces around 126 HP, but disappointingly, the initial pick-up was a little lazy. At higher speeds though, the acceleration meets expectations. The six speed gearbox brings back the classic automatic feel, which is a pleasant comeback in the world of boring CVTs.
You have three modes of driving to choose from: Sport, Eco, and Standard. For a car of this class I was surprised it came with features you normally tend to get with higher end vehicles. Now, sports mode on a family sedan never made sense to me, because I think not much difference comes with it. Yes, the suspension stiffened up and the car delivered slightly more torque, but the end result was never clear as the car hadn't gone any faster. And even if it did make a sizeable difference, what exactly do you do with it?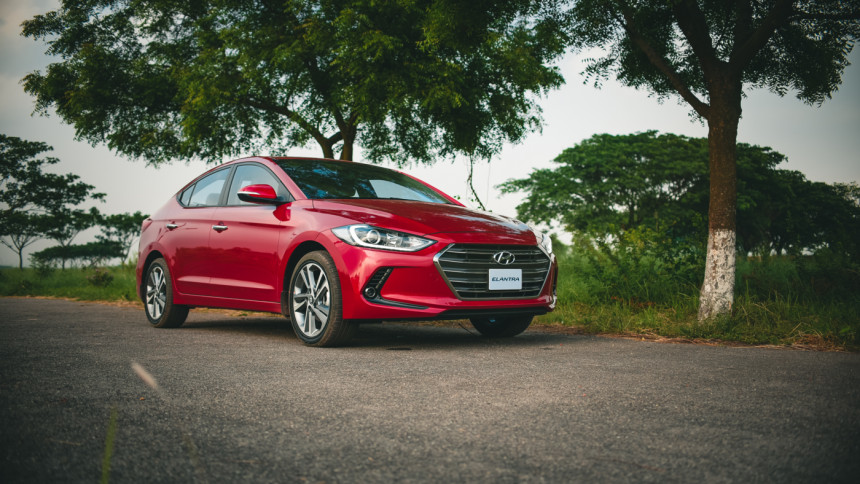 VERDICT

You have to judge this car by how well it fulfills its purpose, which is to ultimately give the passenger a comfortable ride without hurting your wallet, or the environment. In that respect this Hyundai performs brilliantly. 
SPECS:

Engine: 1.6 litre 4 cylinder gasoline engine (126 HP 114 lb-ft of torque). 

Transmission: 6 speed automatic.

Brakes: Ventilated discs front, solid discs rear, ABS, EBD, Brake Assist. 

Suspension: MacPherson strut front, torsion beam axle rear. 

Features and options: Sunroof, rear AC vents, dual zone climate control, 5 inch touch screen infotainment system, CD, DVD, USB, auxiliary port, power outlet, Bluetooth connectivity, steering mounted audio controls, reverse camera, rain sensing wipers, auto de-fogging, HID headlamps with Daytime Running Lights, fog lamps, 17 inch alloy wheels. 

1 year free servicing and 3 years warranty. 

For pricing and other details, contact Hyundai Motors Bangladesh limited.

 
Words: Shaer Reaz, Mohammad Akib Nawaz

Photos: Rahin Sadman Islam