2015 Honda City: City Tourer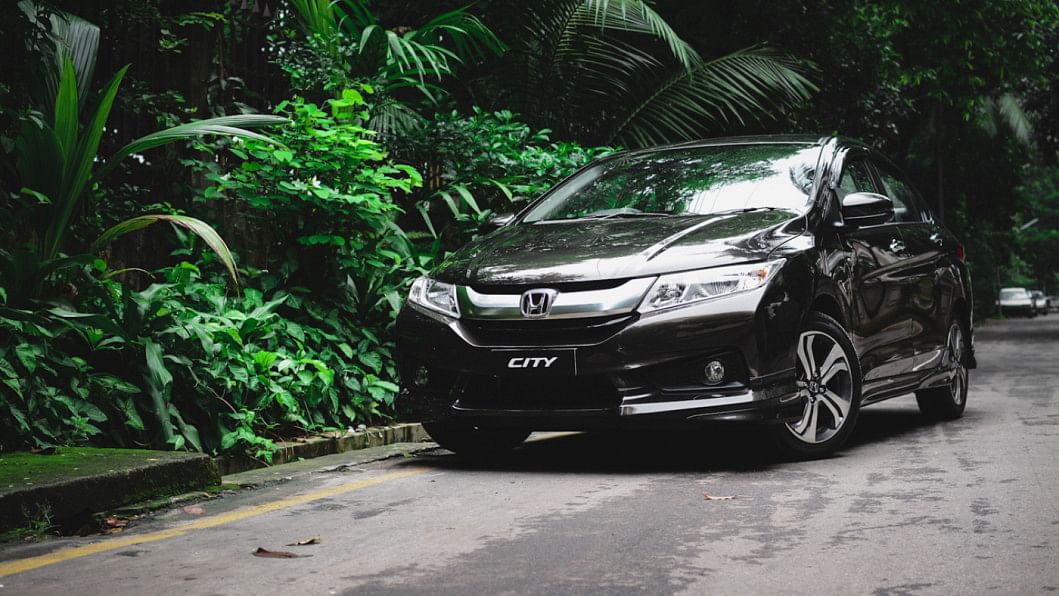 It's possible I'm one of few in the Bangladesh car scene to have driven all six generations of the Honda City. It would have sounded cooler if I could have said I've driven all generations of the Honda Type R variants (only two Civic R's so far). Yet, the City isn't an uncool car at all. Well, most of them aren't.
Throwback
The City was always a light, economical, sharp handling car. The 3rd gen had a D15B 1.5 engine with about 115 bhp coupled to a fully independent suspension. Then it all changed with this horrendous 4th gen cab forward design that was more cockroach on wheels than car. Someone stepped on it after five years of production. 2008 onwards things looked up again.
Looks
The current gen is the sixth so far. It looks literally sharp with all those creases breaking up the tall sides neatly. Look at the pictures again. You don't need me telling you that that's a good looking car, especially with that Modulo body kit. Admittedly, those are terrible wheels. Replace those dull factory 16 inch rims with a set of aftermarket TE37s and you have a looker. It looked especially fine in the blue or the reddish metallic brown we took out.
Inside
We'll tell you what really matters though - how it feels inside. This is a car targeted for those who want sporty but within a budget. None of the interior design or materials feel budget. It's quiet, well thought out and spacious. The same day I also took an Accord out. The difference in those two cars of two segments is how the engine behaves. The Accord moves effortlessly. With the City, engine noise is apparent inside at higher revs. Otherwise, both are almost eerily similar in comfort. That's high praise.
Tech
It's designed for the millennials who walk around with their noses leaving smudge marks on their smartphone screens. The car has Bluetooth connectivity for Apple and Android smartphones. You can stream your audio and be able to mirror your iPhone screen on the large display in the dash. It's quick and seamless and my subeditor who is the only user of Blackberry in Bangladesh managed to sync his phone in an instant.
Power
The engine is a 1.5 and the CVT can smoothly squeeze out all 118bhp. But if you want to hold on to the revs, the paddle shifter is there with 7 ratios to choose from. It's fun but I doubt it helps much with the fuel consumption. Despite our throttle mashing the fuel consumption showed 8-10km/L on average when moving around in light traffic.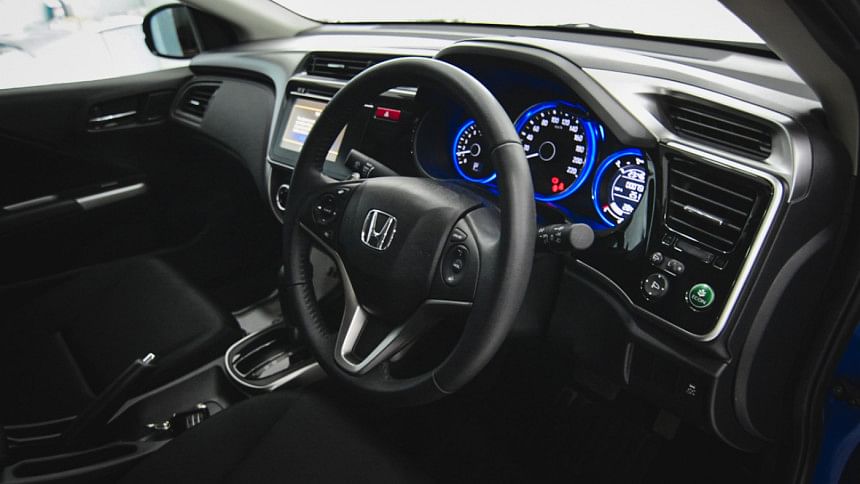 Handling
The brakes are responsive with the traction and ABS making sure you're never skittering about. We had it on a day when traffic was really light so I got to push it. It accelerates well if you leave it out of the Eco mode. Those who buy this car to drive themselves will enjoy the tight turning radius and brisk acceleration. A standard reverse camera makes things all the more effortless. Those who prefer being driven, the rear has one of the largest seating areas in this segment allowing three people to sit comfortably without too much awkward knee touching.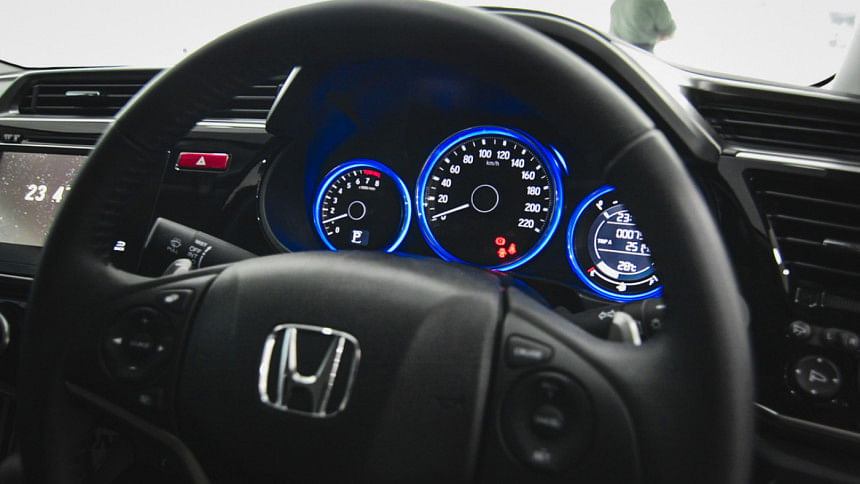 SPECS
2015 Honda City

Engine: 1.5 litre 4 cylinder i-VTEC engine (118 HP).

Transmission: Continuously Variable transmission (CVT), paddle shifters.

Brakes: Ventilated disc front, drum brakes rear, ABS, EBD, Vehicle Stability Assist.

Suspension: Front strut, rear axle torsion, gas pressure shocks.

Features and options:  7 inch touch screen infotainment system with Bluetooth and iPod connectivity, HDMI port, 3 power outlets, 2 USB 2.0 ports, 8 speakers, Smart Entry, push start, cruise control, steering mounted audio controls, 2 airbags.
PRICE: 31,50,000 TAKA.

For details, contact DHS Motors Limited.
VERDICT
For the price, the car has an extensive list of standard features which is rare in this class in Bangladesh. The 536 litre boot space is one of the biggest we've seen in this class although the boot opening is a little narrow. The interior is beautifully designed and built and the rear suspension is well damped so that rear occupants hardly feel a thing. It's not a mushy ride though. Body roll is acceptable so that weekend drives out of the city can be a lot of fun. It's one of the best selling cars in India and Philippines and it's not difficult to see why.
Photos: Rahin Sadman Islam