2015-16 TOYOTA RAV4
What is it?
The Spice Girls came onto the scene in 1994 screaming at you to "Tell me what you want, what you really, really want." Car consumers didn't know but Toyota did. Unlikely as it may sound, the RAV4appeared in '94 as a true trendsetter. It was the first SUV crossover and the ingredients have not changed since. It combined roominess and ride height of an SUV with the efficiency of a sedan. That formula still continues.
Does it look right?
RAV4s are pretty popular here in Bangladesh. Our review unit is the fourth generation highlighting the current design language of Toyota. The profile is immediately sporty with that hawk-like beak of a slope up front. It has the sharp profile of a car that can carve through air.
There's plenty of Gundam warrior influences with the squinty headlights and the gaping maw of a bumper airdam. The lines flow neatly along the sides breaking up the large slab into two visually appealing creases. The top crease carries on and out toward the taillights creating a bit of a shelf where you rest your elbow and pose against your new car for that standard selfie. Quite convenient actually.  Gone is the rear mounted spare wheel which once carried on the pretence of a big SUV without being visually pleasing. It was an eyesore and good riddance.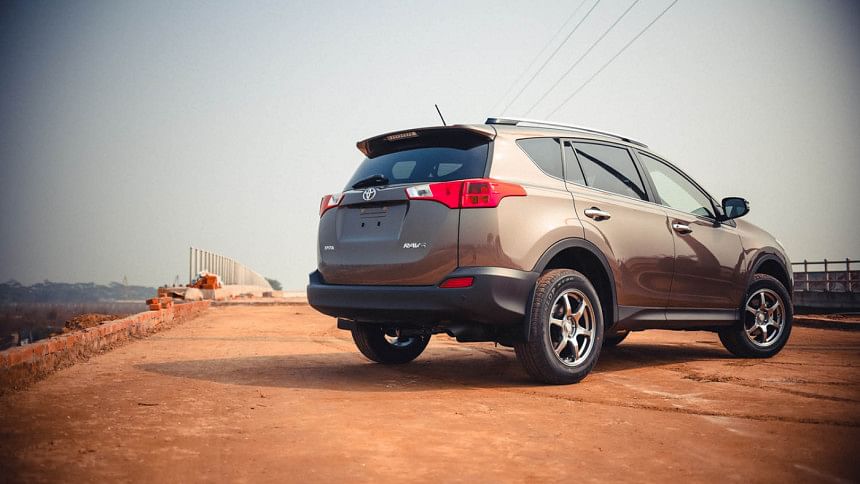 What's it like inside?
Couple years ago Toyota thought fake embossed stitching on plastic would fool people into thinking it was upmarket. Plastic feels like plastic. Things like stitches are so basic in functionality they should never appear as plastic copies. Kind of like Megan Fox. So the plastic stitch was ditched in favour of the real thing. Yes, you can poke them and feel them move. This may verge on nit-picking, but it goes all out making the previously plasticky interior of the last three gens a forgotten memory. We got the black and terracotta red interior that looked smart and felt good with the soft touch surfaces.
Simplicity and solid construction was probably on the designers agenda. It's not a work of art but it works and it feels solidly constructed to last forever.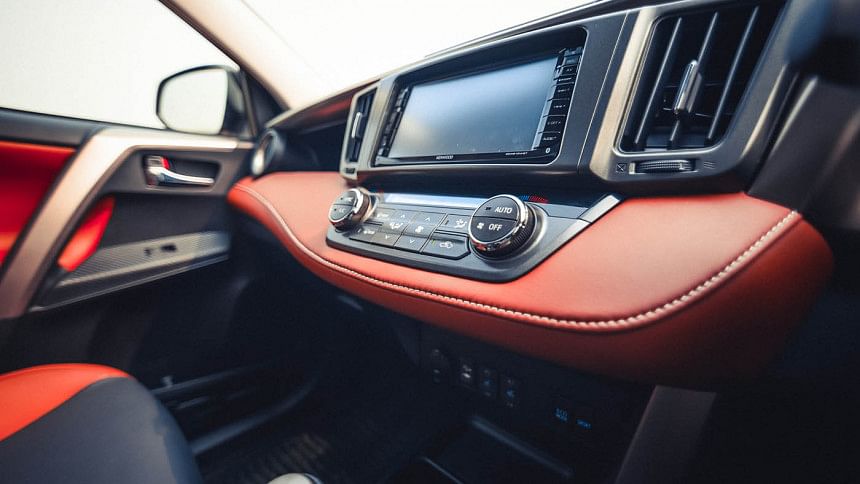 Can you have a board meeting in there?
There's acres of space inside, so much so that my sub-Editor felt there was just too much space; he drives an oversized Camry. But there's no such thing as too much space which you will appreciate here. Rear passengers have enough space to stretch out while browsing their laptop and occasionally dropping it. Yet, the dimensions on the outside aren't that big. This is great packaging making a compact crossover feel large on the inside.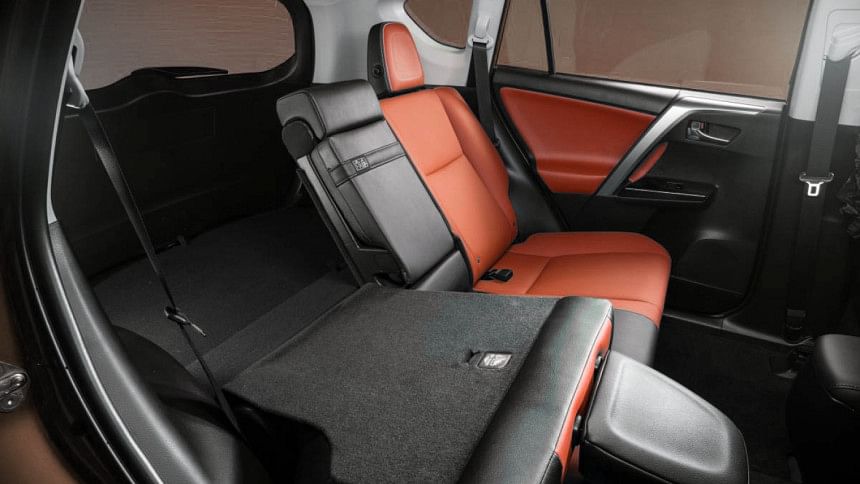 How does it ride?
Despite the tall ride height, the RAV4 exhibited moderately tight handling. From my experiences with all three previous generations, I expected much more body roll during fast cornering. It's no racecar but it showed as little bodyroll as much lower sedans. Most people here will be used to Premios and Allions. The RAV4 makes those cars feel like boats which is quite surprising.
Road noise does creep in but it never gets loud enough that you have to shout. At speed over our typically jittery roads, it provides composed movement and subdued thumps of those 17 inch wheels. There's a good balance between handling and ride comfort.
Driving impression and verdict on next page
How does it drive?
The car is quick to move forward and those magical CVT ratios do their abracadabra so you don't really feel anything other than linear movement. There's a sport mode but don't let it fool you into thinking this becomes an Evoque. Engaging Sport seems to sharpen up the throttle response a little unless you start using the manual mode to hold the engine speed to a higher ratio. The CVT makes good use of all the 145bhp and 138lb/ft of torque to help push the biggish car to triple digit speeds.
Navana is only bringing in the feature laden 2WD and these soft roaders will most likely spend the duration of their lives on the pothole filled tarmac. We did put it through its paces over a steep sand incline with and without traction control. It pulled up without fuss but unlike me, be light on the throttle. Press it down to the floor if you enjoy watching clouds of sand storms rise in the rear view mirror.
A lower spec 4WD is planned for import later but you really probably most likely won't ever need it.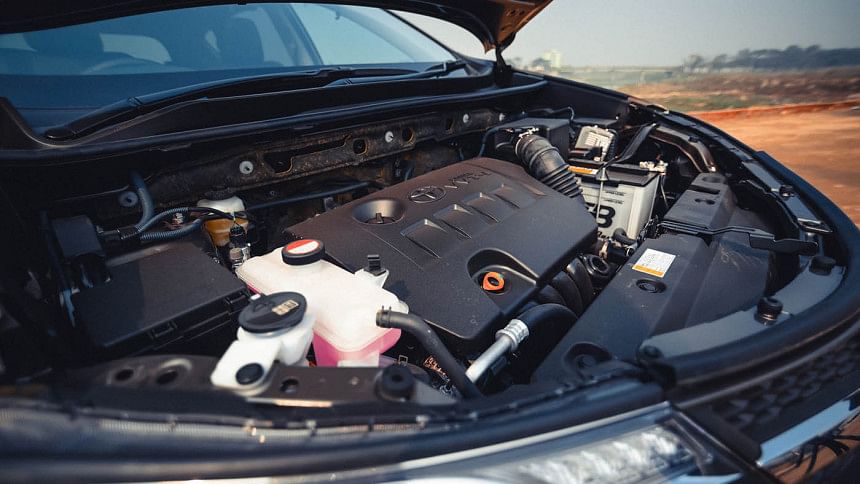 How techy is it?
Power seats are standard as is a big sunroof. The tailgate is also powered albeit it opens and closes a little too slowly. That's more likely because Toyota wants to avoid lawsuits over someone getting whacked on the nose by a quickly rising gate. But it works, just be patient.
There's an aftermarket head unit that also acts as a rearview camera and is apparently voice operation enabled. Safety comes from a huge assortment of front, side and curtain airbags. 
Verdict
I used to love the first generation RAV4. It was tiny and the handling was agile for what it was. Then it bloated and became a bit of a bumbling city cruiser. They fixed a lot of that with this new RAV4. It feels more lithe and light despite having grown to full-on SUV proportions. The steering feel is diluted in typical Toyota fashion but it is light to the touch. It isn't a GT86 but it is still fun to drive around town although most owners will likely be driven all the time. Here, the huge space inside means you can sit in our famous traffic jams all day as you must and revel in the dual zone air conditioning.
The RAV4 has a strong presence in this market and will hold its value well. The Spice Girls may have faded away but the RAV4 has built on the original formula with good looks, decent handling, superb interior space and fuel economy. It's a little formulaic, but it works.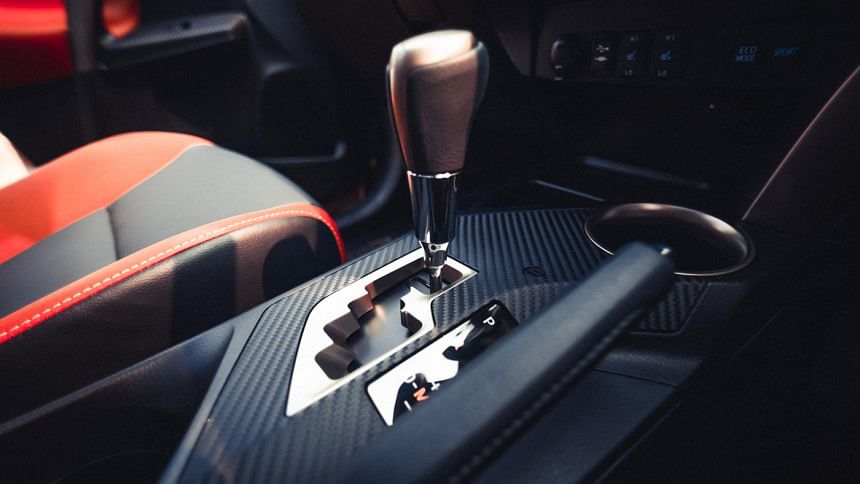 Specs:
2015-16 Toyota RAV4
Engine: 2.0 liter 4 cylinder 3ZRFE VVT-i engine (143hp, 187NM of torque).
Transmission: CVT with manual mode
Layout: Front engine, Front wheel drive
Brakes: Ventilated discs front, Solid discs rear, ABS, EBD and Traction Control.
Features and options: Immobiliser and alarm anti theft system, projector headlamps, natural leather seats, automatic climate control air-conditioning, steering mounted audio controls, optical meters, foldable rear seats.
Price: 65 lakh taka.
For details, contact Navana Limited.