Land Yacht: 2jz-ge Toyota Chaser Gx100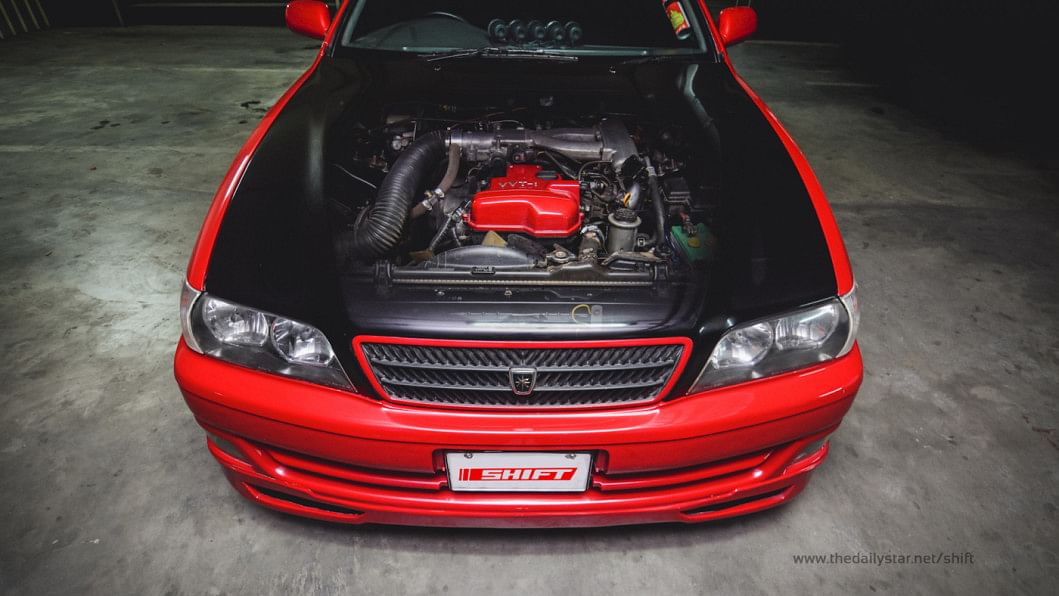 I love Chasers, I love the sleek masculine body lines, the simple front-engine rear-drive setup, I love the way these cars are blank canvases for your heart's desire to shape them up to exactly fill your needs and how they manage to put a smile on your face every day. That is how the Japanese built their cars, they would leave you with a platform and a set of engines, exterior bits, and interior trims of various styles that fit right in and allow your imagination to take over. And that's what makes them so special.
This week we got up close and personal with a daily driven beauty that manages to stand out in a sea of drabness that is the morning rush hour traffic it has to wade through every day. The low-stance, made possible by the Tein coilovers, 18" AC Schnitzer wheels and simple body enhancements all-round, is a perfect example of a tastefully done daily driver. And it's loud too. I'm not talking about the exhaust, which is loud enough on its own, but the black and red color scheme. This car is so red, even Rooh Afza looks pale beside it. Despite the show-car stance, this is no garage queen, it's  Nayhan Salam's daily driver, which is the reason why he opted for the more manageable non-turbo 2JZ-GE engine.
The bulky sofas have been replaced in favour of gradient patterned Mazda RX7 semi-buckets, TOM's steering wheel, VIP-style floor-mats and a set of neat gauges coupled with fully tinted windows, making it look and feel as JDM as...those weird Japanese "comics" on the internet. It shares the same basic engine as the Supra, but unlike the bonkers twin turbo Crown we featured last week, this packs the naturally aspirated 2JZ-GE; a decent upgrade from the unwholesome 1800cc 4S-FE power plant.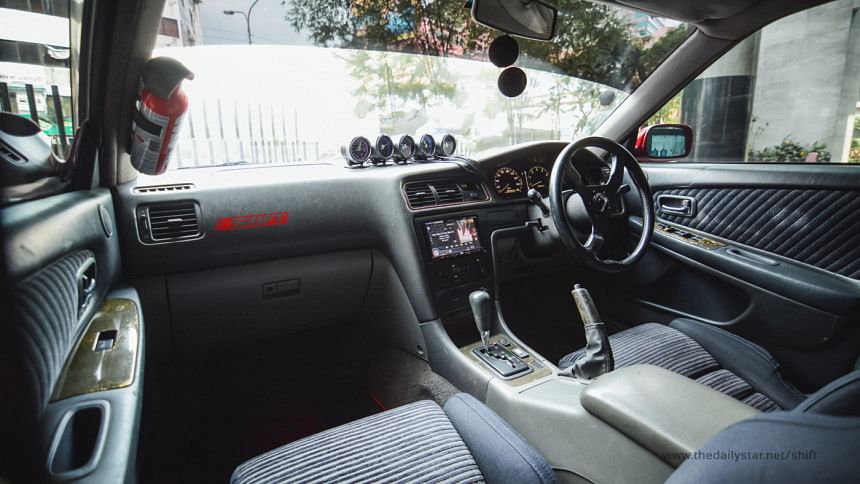 There is obviously something with HKS mufflers and 2JZ powered sedans. Like the Crown, this one also roars, and at the same time, it's not in-your-face or all show and no go, the tune is very satisfactory and gives off a hint of a legendary inline-six resting under the bonnet. The braking system is Chaser Tourer V spec, and a cold air intake replaces the factory panel filter.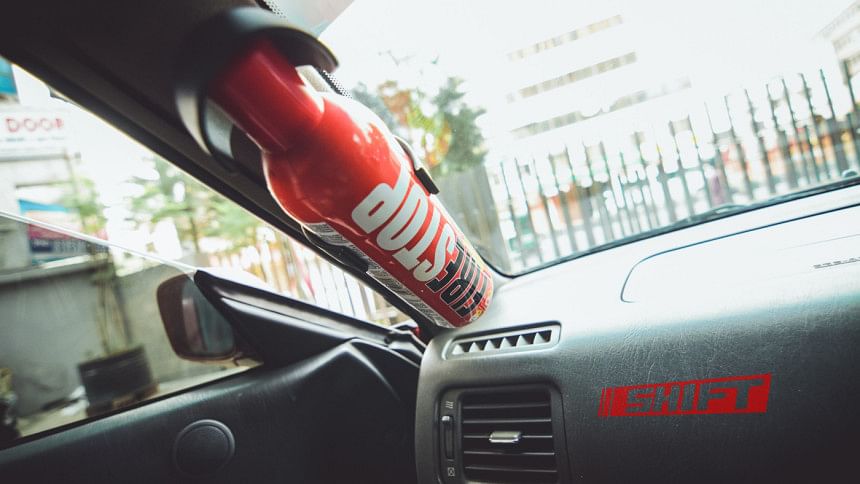 When he bought this car, it was in good condition, had around 90 thousand kilometers on the clock, and it was sparingly used by the previous owner. The bodykit cost him around 15 thousand and another 50 thousand for the paint. According to the owner, the hardest thing to source for this car was the Tourer V differential and the doors, as they are very hard to find in the local market.
What makes Nayhan's Chaser so special is its not stowed away in the basement, but run daily, rain or shine, through thick Dhaka traffic. And this is only possible because he has CNG power in the rear trunk. NOS cylinders are over rated. You can't go anywhere with that in Dhaka. Better off with a CNG kit than a NOS setup. Practicality drove Nahyan to opt for the cheaper fuel. Come to think of it, you can save decent bucks on fuel for couple of years which will compensate for the minimum engine wear and tear due to the CNG conversion. Nahyan bought this car to drive every day, and given the 7-8 kmpl (or lower if with air con) fuel efficiency of the 3L motor and Dhaka's absurd traffic condition and fuel prices, it's just not feasible to run this car on octane. When people hear it's running on CNG, purists may curse the owner for running this motor on gas, but that does not bother Nahyan. He knows how to have fun with the car. Economically too. More importantly, he also knows how to take good care of the CNG-ed motor.
When running a car like this on CNG, the cooling system should be upgraded as the CNG combustion cycle produces more heat than with octane, the radiators should be upgraded and an oil temperature gauge should be installed to ensure the engine oil temperature is at the optimum level. The engine oil should also be checked frequently and transmission oil changed every 50 thousand kilometers. With all that done, his loud Chaser is almost bullet proof to tackle the daily battles of unforgiving Dhaka traffic. With the 3.0 liter 2JZ-GE to compensate for the slight loss of torque and power due to CNG, he has his dose of excitement while his low slung Chaser breezes through.
The owner has no future plans for this car, indicating that it's a finished project, but he does however hope to get a Toyota GT86 in the future.