Pickup Lines: 2014 Great Wall Wingle 5
Pickup Lines: 2014 Great Wall Wingle 5
Source: Tasdid H. Chowdhury
Back in the fifties and sixties the Japanese used to make copies of then-popular American cars. People in the west laughed at the tiny, often quirky replicas. And now Japanese cars regularly show everyone else how it's done. That was the same story with the Koreans in the 90's. Tacky, plastic cars gave way to ground breaking design languages as seen in the new Hyundais and Kias. Are the Chinese are now following a similar trend.  
That's a fact evident in this pick-up truck we just tested for half a day. Ten years ago Chinese cars were a joke. They were designed from a mishmash of curves and angles from different existing competing brands creating a Frankenstein on wheels. But back then, they had just begun. Now the story is a lot different.
We're a lazy bunch of car guys at Shift so when Great Wall Motors Bangladesh offered us a choice, we asked which has aircon. Their answer: everything. So we thought we'd go for the roughest first. A double cabin pick-up truck in black. First impression is good. Gone are the days of random bits and pieces added together from different cars. We see a little bit of Volkswagen in the headlights but the overall design package is a cohesive form accentuated by the wide muscular fender flares over wide tyres. Chunky looks for a pickup is the right ingredient. Panel gaps are consistent meaning the Chinese are putting proper attention to detail.
Inside things are quite good. The dash and switchgear is a lot of hard plastic but we took a scientific approach to testing the build solidity. We used our fists to beat and thump around to see if anything rattled. Not bad. Nothing fell off, nothing echoed or rattled. The truck is very well equipped for the price. Power windows, power steering, leather, CD player, aircon and a nifty yet toyish feature of instrumentation dimming. There is decent space inside with five people accommodated comfortably.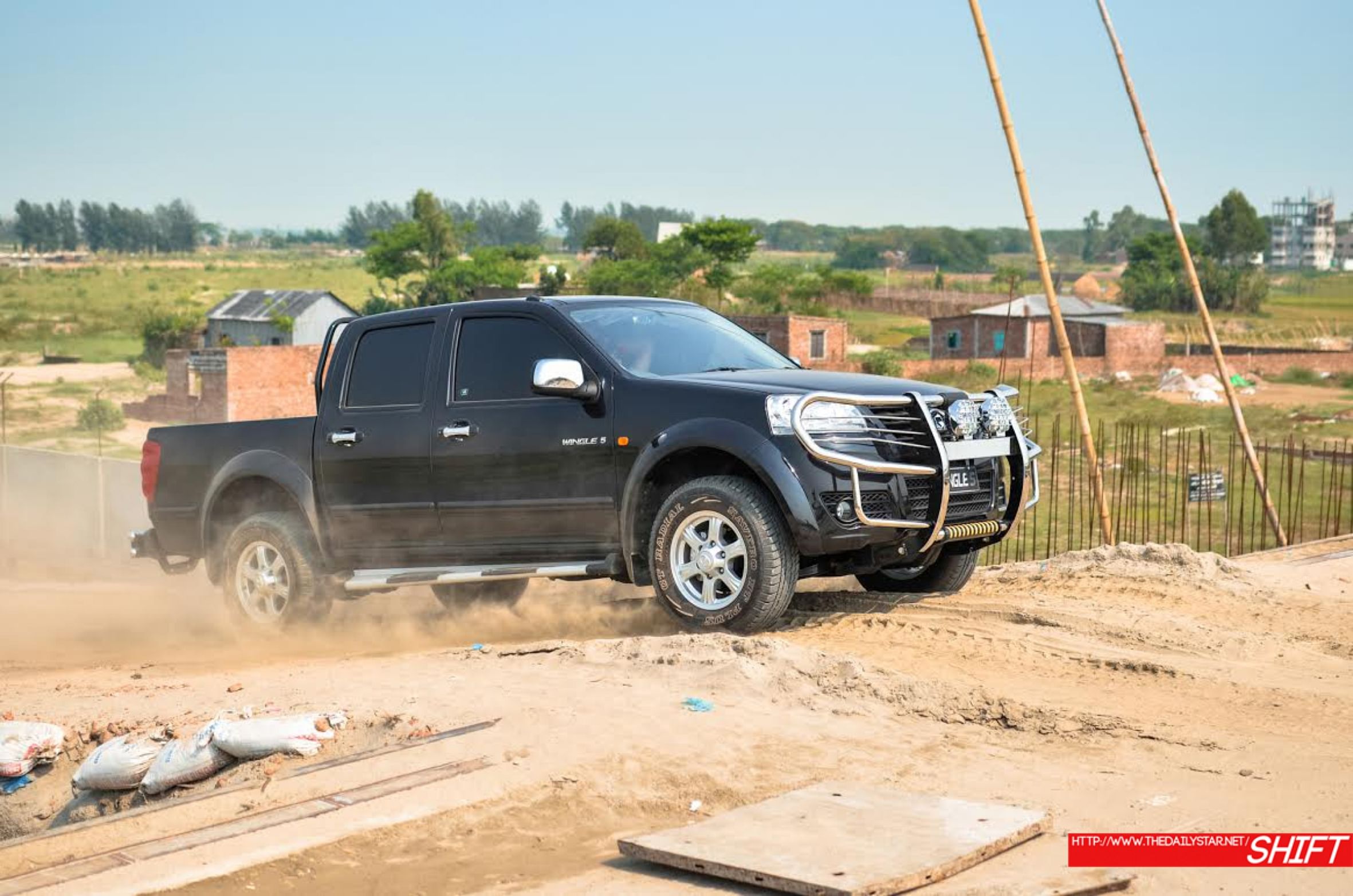 Source: Tasdid H. Chowdhury
The typical diesel rattle from the 2.5 is kept to a minimum. The interior does a decent job of keeping the noise out. The truck rides like a jacked up car in the city which is a good thing. But then that's not what it is really made for. We headed for the outskirts where I was promised some sand, dirt and hopefully mud. We love it when a company tells us to go bonkers with their car. That's confidence in their own product. The 2.5 turbo diesel mated to a 5-speed manual delivers about 108bhp and 221 lb/ft of torque.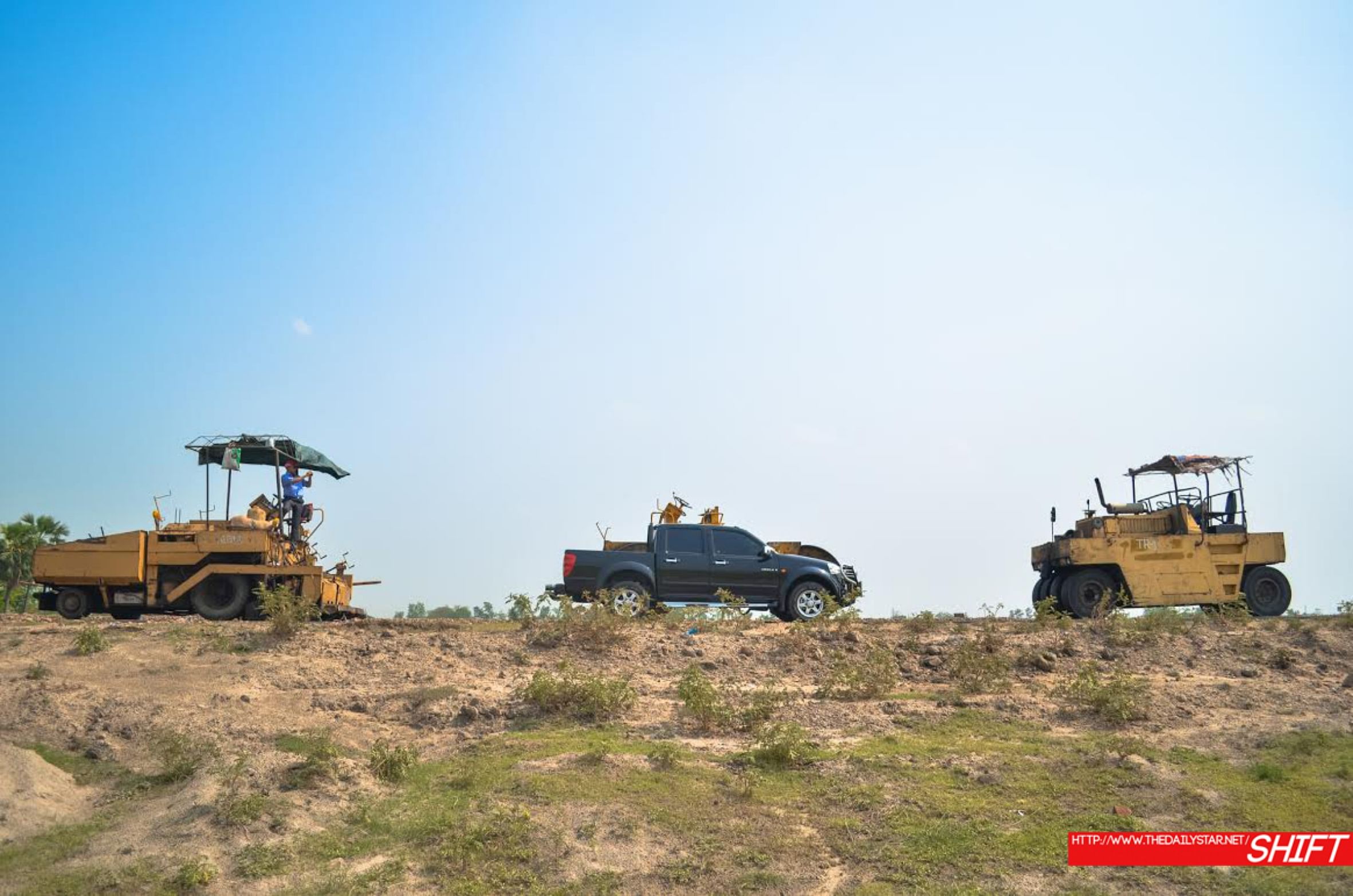 Source: Tasdid H. Chowdhury
The first portion of our off-road experiencewith the Wingle (also known as a Steed in other parts of the world) was an uneven dirt road littered with stones. The cabin remained solid throughout, not a single rattle was heard. I looked down at the speedo and the needle was hovering at 80kmph. This is in a utility truck going fast over very bad roads that would leave a typical family sedan with a dismembered exhaust system at best. During our shoot we parked on some really soft gelatinous dirt where the truck started to dig in. Totally unintentional. Well, almost unintentional. So I got to test the roughly 221 lb/ft of torque. The truck features electronic four-wheel drive system where a button on the dash allows you to flick between rear wheel drive, 4WD high gears and 4WD low gears. While the backup truck known as the Rescue Vehicle was there, we didn't need it's assistance to pull us out. Yeah, that's the silver 2.0 in the picture. Surprising fact, the support truck had the 2.0 common rail turbo-charged engine delivering higher power output: 145bhp and 228lb/ft of torque.
Source: Tasdid H. Chowdhury
While I thought I was giving the truck some hell, turned out I was doing some granny syle of driving compared to what the CEO Azharul Islam did. We went flying onto and off a bridge. There was some powersliding on sand to avoid a digger parked in the middle of the road; something to do with testing the ABS. In his words, "We know our products, and we know how hard we can push them and these won't break." So when he asked me to push it like I would if it were my own, I sure did. The wide open expanse in our test route was perfect to try out the trucks handling. It absorbs dirt track unevenness better than city speed bumps.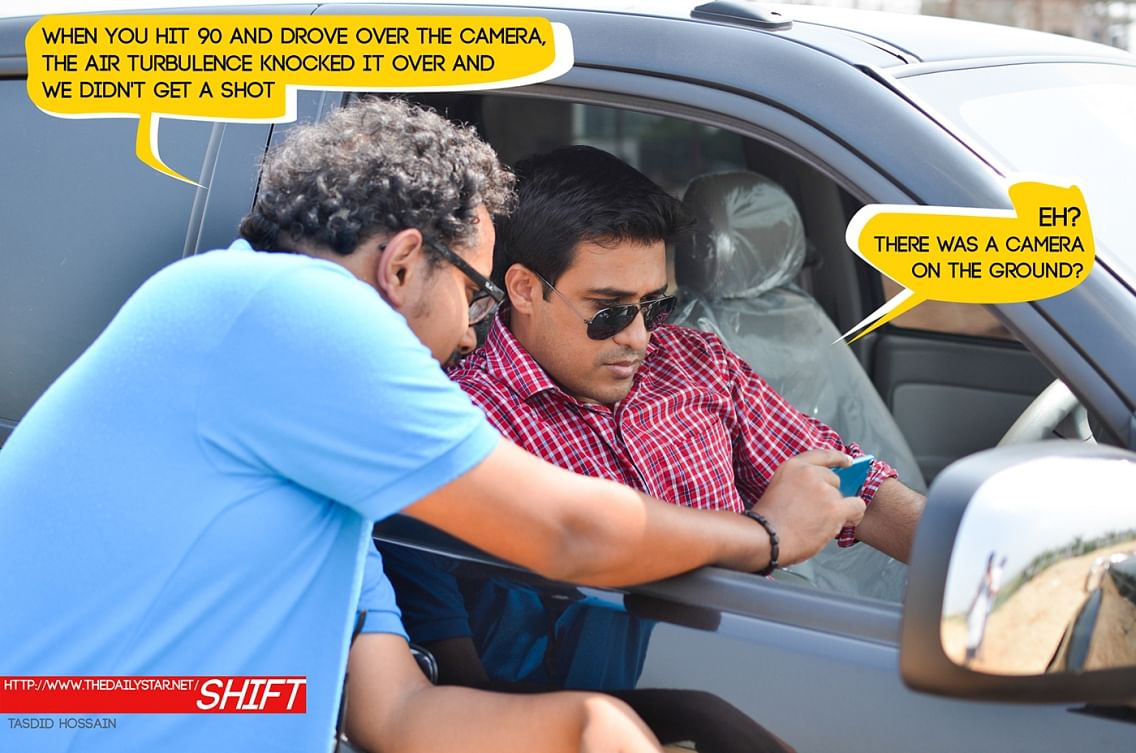 Source: Tasdid H. Chowdhury
Conclusion: The Wingle is the best selling truck in China. It's still got lot of room for improvement but those who buy a utility truck don't necessarily looks for fancy baby cow leather and hand polished paint. The Wingle does what it does very well. It's solidly built and the ride is comfortable with the aircon offering consistent cool in our ridiculously hot and humid test outing. The truck looks sharp, rides well, has plenty of equipment and is priced well. It doesn't offend in any way. Prepare for the invasion of the Chinese. At the rate at which they are evolving their design and quality, it's not long before the Japanese start to get worried.
Price: 2.5 Turbo Diesel – 35/36 lakhs. Contact Ace Motors for further details and specs.
Our suggestion: Buy the black one and paint the rims black.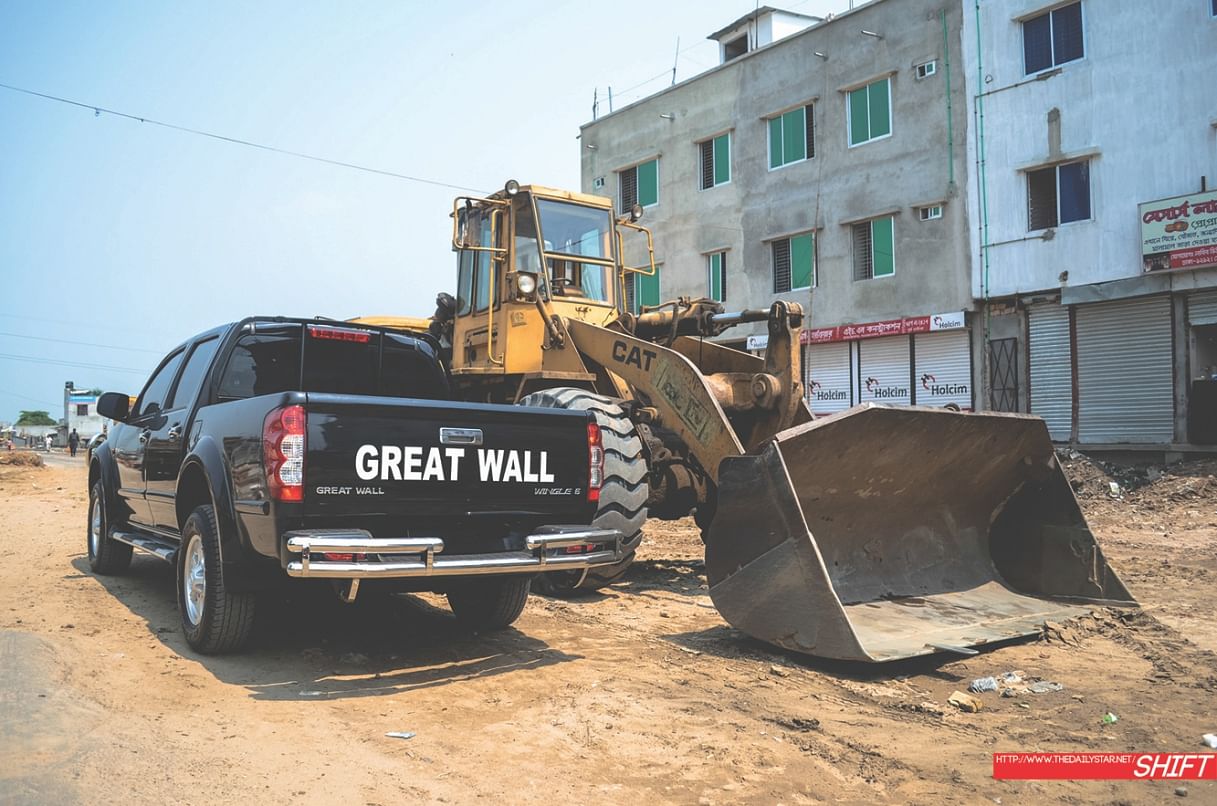 Source: Tasdid H. Chowdhury
You might also like:
2014 BMW X5: O-100kmph in under an impressive 9 seconds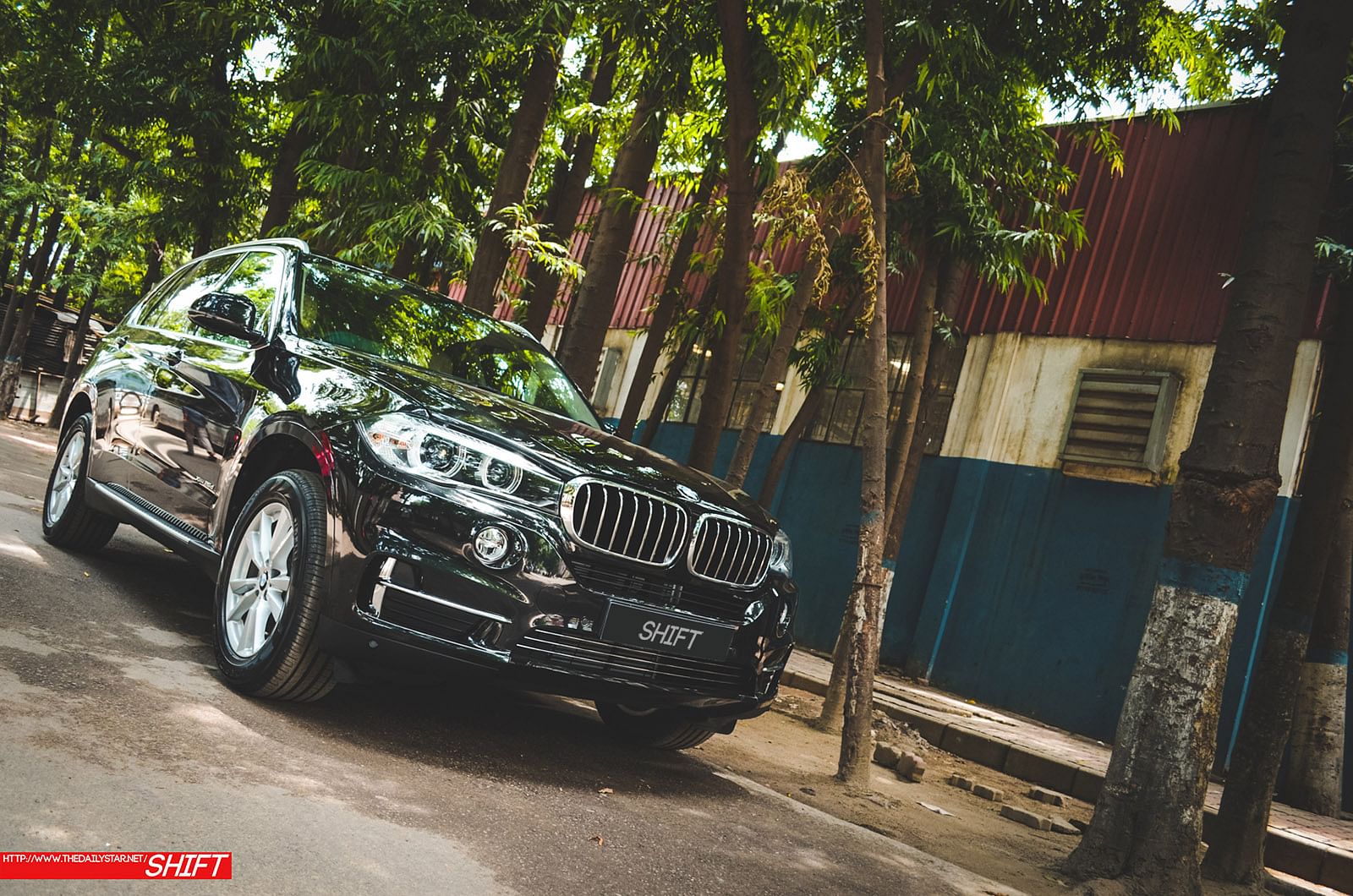 2014 Ford Ecosport: City pothole killer with terrific handling
2014 Mitsubishi Pajero Sport: Assembled in bangladehs, minus the squeaks