Order on Khaleda's re-cross-examination plea Monday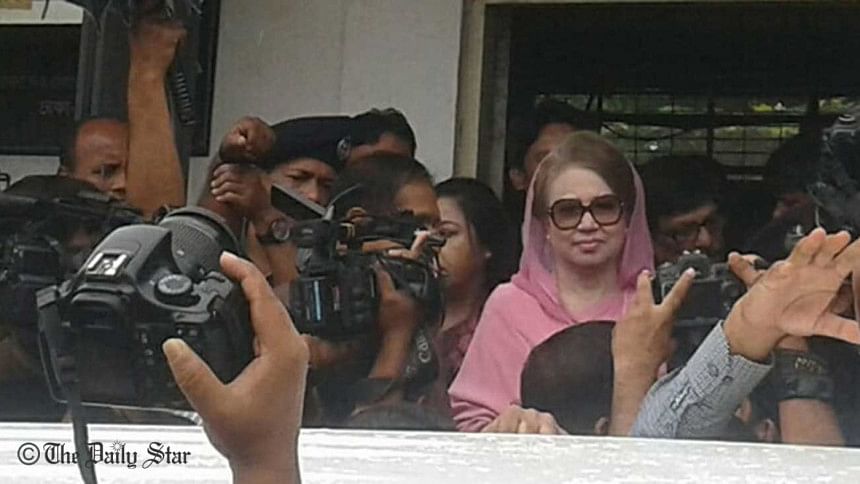 The Supreme Court today fixed Monday to pass an order on a petition filed by BNP Chairperson Khaleda Zia seeking its directive on the trial court concerned to allow her lawyers for re-cross-examination of nine prosecution witnesses of Zia Orphanage Trust corruption case.
After the hearing, a four-member bench of the Appellate Division led by Justice Md Abdul Wahhab Miah, who is now carrying out the duties of the chief justice, fixed the date for passing order.
Earlier on October 24, Khaleda filed the petition with the Supreme Court seeking its directive on the trial court concerned to allow her lawyers to re-cross-examine the nine prosecution witnesses.
After a brief hearing, Chamber Judge of the Appellate Division Justice Syed Mahmud Hossain sent the petition to the full bench of the apex court for its hearing today.
Khaleda terms current govt "illegal"
While delivering her self-defense statement at a special court in Zia Orphanage and Zia Charitable Trust graft cases, Khaleda terms the current government "illegal" saying that Bangladesh does not have any elected government and parliament now.
Citing her sufferings and sacrifices made during the Liberation War in 1971, she said it was her husband Ziaur Rahman who declared independence of Bangladesh.
She claimed to have been always fighting for democracy, human rights and rule of law.
Earlier at 11:56am today, Khaleda appeared before the court set up in Dhaka's Bakshibazar area and placed her self-defense statement in the two graft cases.
Later, she sought permission from the court to give the rest part of her statement in the next hearing. Then, the court set on November 2 as the next date of hearing.
On October 19, the court granted bail to the BNP chief in the two graft cases upon a bond of Tk 1 lakh.
In July 2008, the Anti-Corruption Commission filed the Zia Orphanage Trust graft case with Ramna Police Station accusing Khaleda, her eldest son Tarique, and four others of misappropriating over Tk 2.10 crore that had come as grants from a foreign bank for orphans.
On August 8, 2011, the ACC filed the Zia Charitable Trust case with Tejgaon Police Station, accusing four people, including Khaleda, of raising funds for the trust from unknown sources through abuse of power.