Khaleda asked to appear before court May 25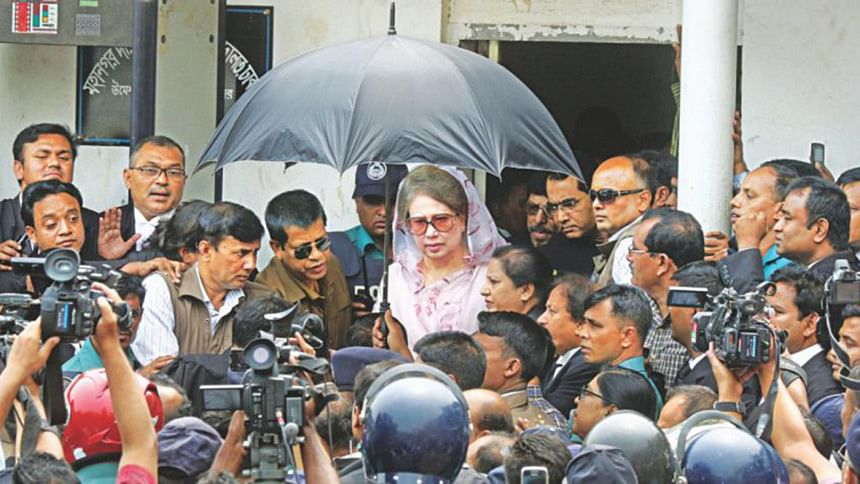 A Dhaka court today asked BNP Chairperson Khaleda Zia to appear before it on May 25 in connection with Zia Orphanage Trust and Zia Charitable Trust graft cases.
Judge Abu Ahmed Jamadar of the Special Judge Court-3 of Dhaka ordered Khaleda's counsel to take initiaves so that Khaleda appears before it on that day.
The judge came up with the order after her counsel submitted four separate petitions --  two seeking Khaleda's exemption from personal appearance before the court and two others for adjourning recoding of the complainant's statement in the two graft cases.
Later, the court granted her non appearance appeal.
But it did not pass any order on the adjournment petitions.
On April 5, the court granted bail to Khaleda in the two cases saying that she and the two other accused must appear before the court on every date.
The Anti-Corruption Commission had filed the cases in 2008 and 2011. According to the charge sheet in the Zia Orphanage Trust graft case, Khaleda, Tarique and four others embezzled Tk 2.1 crore by forming the charity that exists only on paper.
The other case statement said Khaleda and three others abused power during the 1991-1996 tenure of the then BNP-led government to collect Tk 6.19 crore for Zia Charitable Trust. The charities were named after late president Ziaur Rahman.