Khaleda expresses no confidence in trial court judge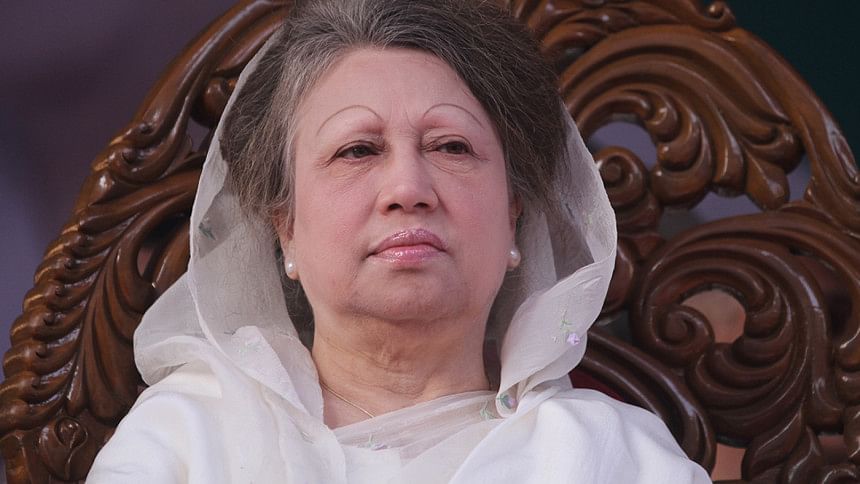 BNP Chairperson Khaleda Zia's counsel today placed two petitions before the High Court expressing no-confidence in the judge of a trial court, who is dealing with Zia Orphanage and Zia Charitable Trust graft cases.
Khaleda filed the petitions on January 28, expressing her apprehension that she will not get justice from Abu Ahmed Jamadar of the Special Judge Court-3.
Barrister AM Mahbubu Uddin Khokon on behalf of Khaleda placed the petitions before the HC bench of Justice Md Rezaul Haque and Justice Md Khasruzzaman this morning.
The bench will hear the petitions later on when those will come up serially before it, the court said.
In the petitions, Khaleda expressed her apprehension of not getting justice from Jamadar's court as he rejected her two adjournment prayers in the two cases on January 7.
She prayed to the HC to direct the government to transfer the corruption cases to the court of another judge.
On February 25, Abu Ahmed Jamadar, of the special judge court-3 of Dhaka issued an arrest warrant against Khaleda Zia, her son Tarique Rahman and another accused of the cases for not appearing before it in connection with the two graft cases.
On January 15, Khokon expressed no-confidence in Jomadar after he rejected four petitions filed by the defence.
Jamadar was appointed as a new judge at the court on December 18 last year.
He replaced Judge Bashudev Roy, who had been holding trial of the cases since the charges were framed against Khaleda on March 19 last year.
In her political career spanning over three decades, this is the first time Khaleda faces arrest warrants on charges of illegal fund raising and embezzlement.
She was earlier detained by the joint forces on September 2, 2007 during the caretaker government's tenure and kept behind bars for around a year.
While in detention, she was accused in four corruption cases, including Zia Orphanage Trust graft case filed by the Anti-Corruption Commission on July 3, 2008.
The Special Judge's Court-3 issued warrants for Khaleda's arrest in the orphanage case and Zia Charitable Trust graft case filed by the ACC on August 8, 2011 during the previous tenure of the Awami League-led government.