Hand over that keycard, 2022: Your access has been revoked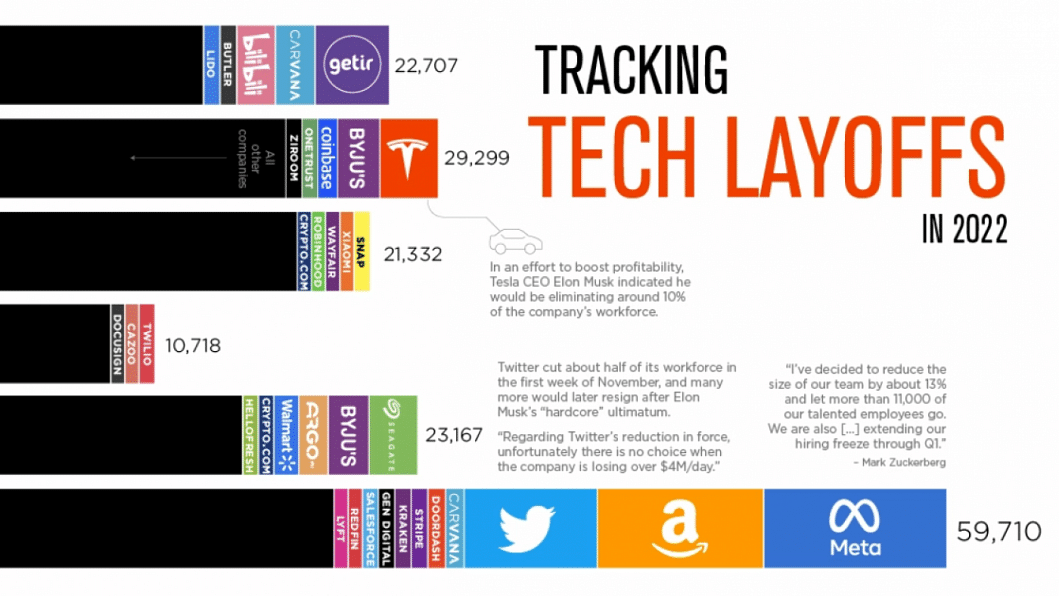 Put your winter socks on, snuggle in under that comforter and plug in those wireless headphones – it's time for 2022 Wrapped. Not Spotify Wrapped, since these streaming tech companies arbitrarily decide whether a country/region (sorry, Bangladesh) should get an exciting new feature or not – no, it's time to take a look back at the biggest tech happenings in the past year. Spoiler alert though, we're still teetering on the brink of total collapse of human civilisation due to climate catastrophe with barely any shift in outlook since last year, so… yeah.
Climate change may be the farthest thing from your mind when your supposedly-safe areas of work are crumbling around you. Not literally, as would be the case for minimum wage workers from sweatshops in the Global South – more of a figurative crumbling, as tech jobs in the United States and the western world disappeared overnight in 2022.
According to Crunchbase, close to 91,000 tech workers were laid off, with some estimates putting the total figure closer to 150,000. Even the largest software-based companies – including Meta, Amazon, Apple, Netflix and Google – were forced to lay off staff to cut costs in the post-pandemic revenue crunch, as bloated hiring in a remote-work environment finally caught up. Some are speculating that a significant number of these jobs are due to be shifted eastward, outsourced to the cheaper labour markets of India and Bangladesh, but it's hardly a silver lining for those laid off – some of whom are immigrants on work visas from those "cheap" countries.
It's not just factory floors feeling the crunch either – latte sipping, man-bun and Burberry sporting crypto-bros felt the effects as well. Brought about by a series of scams and market crashes, cryptocurrency enthusiasts lost millions as their NFTs lost whatever little digital value they had overnight. Bitcoin, Ethereum, Logan Paul's NFT zoo game – everything graced by Web 3.0's toxic and often inexplicable presence crashed and burned. Twitter sizzled with the anguished sorrows of people making bad investments in crypto, but it wouldn't be a raging fire until much later in the year.
Elon Musk's acquisition of Twitter and subsequent dismantling of the once-mediocre social media platform has been covered so thoroughly that there's little else left to say, except he seems to have wisened up to his own ineptitude after a poll he himself posted about stepping down from running (read: ruining) the company decidedly called for his removal. Not before he let a bunch of clowns back onto the platform however – as Elon soon realised, having the crazies of Donald Trump, Kanye West and Andrew Tate back on Twitter is bad for business.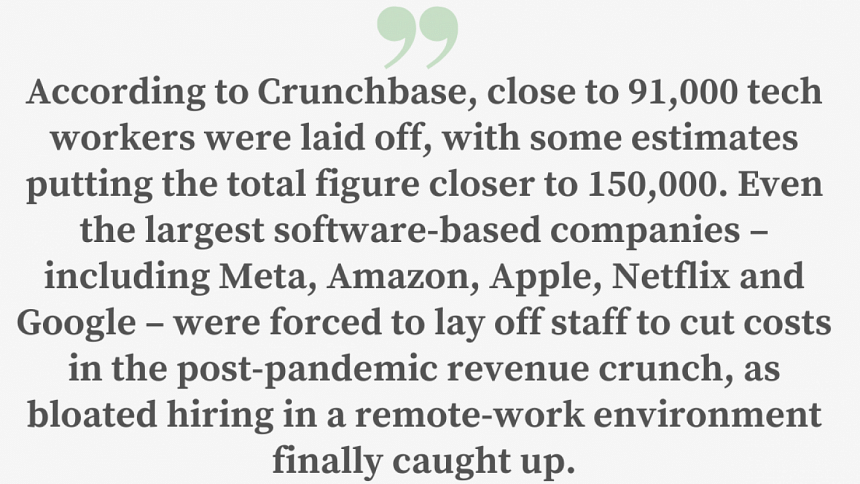 If only Twitter employees had the foresight to push harder for unionisation, they might have fought back the egomaniacal billionaire firing them for the smallest of slights. A silver lining is that 2022 saw a series of high profile union formations across some of tech's biggest names – 110 of Apple's 160,000 employees formed a union in June at an Apple Store in Maryland, USA, paving the way for much needed unionisation efforts across Amazon warehouses and order processing chains. Hopefully, the trend continues despite the mass layoffs and union-busting practices encouraged in the US, and workers can finally protect themselves from unachievable targets, absolute disregard for mental and physical wellbeing, and the greedy and predatory practices that are so prevalent in the global tech industry.
How do you fight that which you are asked to create, though? Many tech workers are faced with the ethical dilemma of engineering Artificial Intelligence engines that might replace them in the near future. At present, AI engines that generate images and motion graphics based on prompts and use millions of datapoints gathered from real art – such as MidJourney and Stable Diffusion – are threatening to replace the very artists that they use as sources of AI training data.
In 2022, artists of all backgrounds and nationalities took a stand against use of their intellectual property as reference data by image generation AIs to produce work for commercial purposes. Important discourse on intellectual rights, creative vision and artistic talent aside, it is surely a mood dampener on the fact that Stable Diffusion's founder, Mohammad Emad Mostaque, is a Bangladeshi-Briton who coded one of the most intricate (and, thankfully, open source!) image generation models in the world. His company is now reportedly valued at over USD 1 billion, and the engine has millions of monthly users.
ChatGPT is a variant of the GPT (Generative Pre-training Transformer) language model that has been fine-tuned for the task of chatbot dialogue. It is designed to generate human-like responses to a given input, using the information and language patterns it has learned from a large dataset of conversational text.
Like other language models, ChatGPT is able to generate text that is coherent and flows naturally, and it can be used to create chatbot systems that can hold a conversation with a human user in a variety of contexts. ChatGPT is trained to understand the structure and content of conversational text and can generate appropriate responses to a wide range of input. It can also handle a variety of language styles and levels of complexity, making it a useful tool for building chatbots that can communicate effectively with humans.
This is clearly understood from the fact that the entirety of the last two paragraphs was written by ChatGPT. Journalists, copywriters, editors and people working in communications, are you scared for your job yet?
Thankfully, there were slight glimmers of hope – in what is a sure sign of progress, digital artifacts can now be admitted to a court of law in Bangladesh as evidence, and digital forensics tools can help ascertain their authenticity. Outlined under the Evidence (Amendment) Act, 2022, this implies that perpetrators can no longer hide behind a veil of digital anonymity. For example, an altered image posted online and used to incite communal violence can now be admitted into evidence, and its metadata can be used to determine ownership, transference and dates of origin. However, as with almost all laws drafted for digital governance and law enforcement, there exists unexplored loopholes – lack of specificity being the chief culprit in this case. Given our track record with the Digital Security Act and its use in curbing free speech and clamping down on journalists and cartoonists, it might just prove to be a different face of a well-known monster.
Many things happened in the expansive, sprawling world of tech in 2022, and most were less than desirable, but the important thing is we all trudge on, pursuing that dream of outdoing ourselves on almost every front, with the biggest entertainers repeatedly coming from the tech industry. It's a rat race, but with our hands seemingly tied against the whims of Mega-Corporations and Mega-Characters, we might as well take a sick sense of joy from it. Are you not entertained?
Shaer Reaz is a Product Manager with SELISE Digital Platforms and a tech enthusiast interested in social justice, human rights and history.