Elon Musk is a vigilante superhero. That's terrible news for everyone
One of the most common tropes in the comic book universes of Marvel, DC Comics, Image and what have you is that of the billionaire superhero – individuals who can make a real difference and deliver justice when all other institutions fail, often shown as a selfless beacon of hope who (typically) uses his immense wealth for the good of the society he inhabits. Batman, Iron Man, Mr Fantastic, even Black Panther falls under the trope of the billionaire who's willing to go to any lengths to save the world, even if it means dressing up in latex and visible underwear and swinging from building to building, punching bad guys in the face. And in 2022, we have a new entry to that list – a very real parody of a comic book billionaire superhero named Elon.
In the fertile imaginations of comic book writers, there exists a very valid cause for why superheroes are needed – in Gotham, Batman is a necessity as a counter to the corrupt, inept justice system that fails more often than it functions. Institutional failure follows these characters around as if their entire arc depends on the continued negligence of duty of public servants, failure of communities and perseverance of general lawlessness. Without them, the individual billionaire superhero is just another rich bored guy without a higher calling, withering away in relative anonymity. 
Both Bruce Wayne and his masked counterpart have a tendency to operate outside of the law – even when Batman dons his Bruce Wayne persona to interact with "normal" people, his wealth and status put him well beyond reproach and allows him to do extraordinary things, things we all wish we could do – like buying up an entire hotel where the manager was rude to someone once because of the tattered clothes they wore. It fuels our capitalist revenge fantasies as we imagine using a fraction of our near-inexhaustible wealth to teach the lesson of a lifetime to someone who has dared to slight us. 
To say Elon Musk isn't prone to the same vengeful fantasies as us would be wrong. Filthy rich or not, he's still human. Prophetic overlord of SpaceX, Tesla, The Boring Company and now Twitter, Elon is from an industry that is dominated by an adherence to the cult of personality – you don't actually need to be able to do things or even know things, as long as you hold a position of power and are able to say smart sounding things at a moment's notice, you're a god among men. Your patience, your tolerance for perceived stupidity is so low as to be legendary, and you are seen as the all-knowing being who will pull engineers, developers, business analysts and product managers out of the squalor of ineptitude and onto the path of glory.
It matters little that the man taking the credit for electrifying the world's roads and building the rockets that will ultimately whisk us away to safety once we're done killing this planet has very little engineering excellence to back up his claims to prophethood. To date, he has a total of 18 patents, out of which nine are inactive/obsolete and the remaining nine are mainly related to autonomous vehicles, charging ports and location based searches. SpaceX and Tesla, Elon's most successful ventures to date, are valuable purely because of speculation – based on where investors think the world is heading and which companies they see to be leading the charge.
So when Elon Musk undertakes an aggressive takeover of Twitter and brands it as him "saving" the platform and upholding the values of free speech that he believes in, one has to ask, what actually makes him qualified for the role?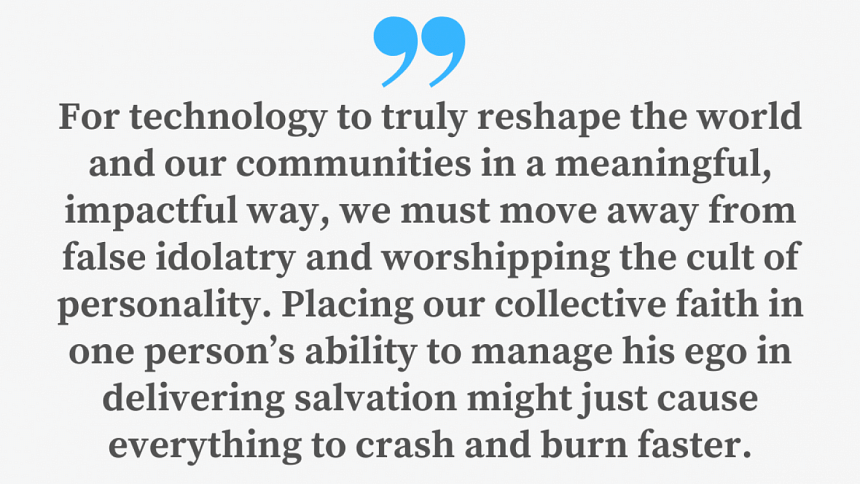 Given the disastrous results of the USD 8 for a "verified" blue tick stunt that he spearheaded right after taking charge of Twitter, the answer to Elon's qualifications seems to be clear. Parody accounts that paid the paltry sum for a verified blue tick caused billions of dollars of damages to publicly traded behemoths like CocaCola, Lockheed Martin and Eli Lilly, with scathing "confessional" style Tweets that would shame even the most cutthroat digital anarchist being levelled against some of the worst offenders of climate, war profiteering and healthcare. Advertisers pulled away from the volatile mess and hotbed of memes that Twitter was quickly devolving into, yet Elon's ego made sure to put a positive spin to his house burning down by marvelling at the number of people who showed up to watch it go down in flames.  
The saddest part of Elon's Twitter saga may have come when he claimed the social media platform's performance suffers in many countries due to the excessive number of batched Remote Procedure Calls (RPCs) used by the feed to load content, only to be told to his face in a tweeted response by some senior engineers that Twitter does not use RPC protocols at all, instead favouring GraphQL. It's equally funny and sad that tech guru Elon doesn't know the tech stack of the company he's trying to "save", but the fun runs out when a bit of light digging reveals that Elon immediately fired the engineer(s) who had responded to him and challenged his ego on what is purely facts. Let's not even go into the hypocritical nature of Elon and how retaliatory firing of employees for speaking their minds simply goes against the "free speech" mandate he wants to be championing. 
For anyone even remotely familiar with the global tech industry, it should be clear that Elon Musk would not be qualified to hold a junior business analyst role at a tech company in Bangladesh on his own merits, and would undoubtedly be fired in no time over his antics. That his South African apartheid profiteering family and his emerald mine-backed family fortune essentially allowed him to buy his way into the world of technology, and that he's held on and risen up by swindling and dealing, needs to be made clear to the whole world. 
For technology to truly reshape the world and our communities in a meaningful, impactful way, we must move away from false idolatry and worshipping the cult of personality. Technological advancements have the possibility to bring net good to society and may hold the tools to ensure the continued survival of humans as a species, but it is absolutely vital that we look to community building and ensuring our institutions are functional and accountable, instead of replacing them with so-called individual superheroes. Placing our collective faith in one person's ability to manage his ego in delivering salvation might just cause everything to crash and burn faster.
Shaer Reaz is a Product Manager with SELISE Digital Platforms and is a tech enthusiast interested in social justice, human rights and history. Elon Musk fanatics can send him hate mail at [email protected].