Biman never fails to disappoint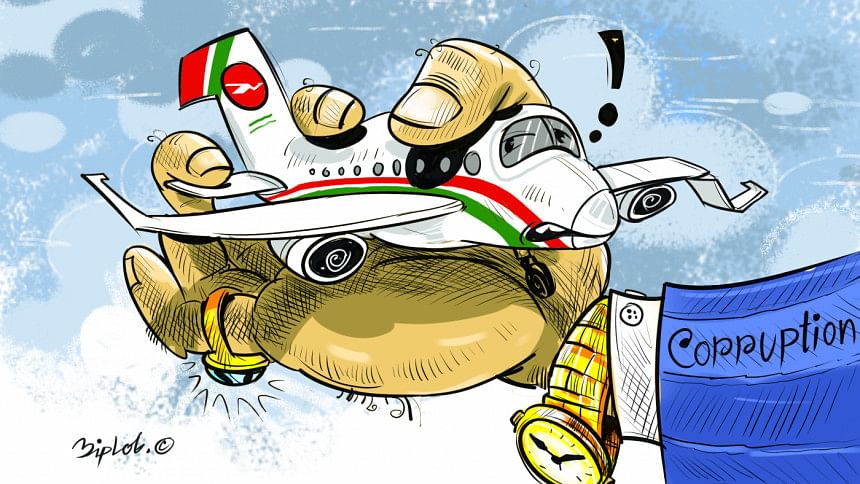 Biman – flamboyant, glamourous, carefree – seems to be flying high on the back of unbridled corruption, reckless nepotism, shameless mismanagement, and belligerent malpractices. It also seems to have become a magnet for the wayward and the corrupt, ensnaring them with endless possibilities of thriving on the common people's taxes and national resources.
Take, for instance, Biman's puzzling decision to send about a hundred officials to Saudi Arabia this year on a 37-day, fully-paid-for trip, at a tentative cost of about Tk 8-10 crore, to "supervise" hajj pilgrims and assist them. In what capacity these Biman officials are going remains a mystery, since the "work" that they are supposed to do involves tasks that are already carried out by others – carrying luggage, wheelchair management ticketing, cleaning aircraft, etc.
For instance, these officials (from the customer service directorate, marketing sales, engineering and material management directorate, and IT, among other departments) are supposed to help in carrying the luggage and Zamzam water bottles/containers to and from hotels. However, the president of Hajj Agencies Association of Bangladesh, M Shahadat Hossain Taslim, said to this daily that, under the Makkah Route Initiative, Saudi-appointed employees carry the pilgrims' luggage between the airport and their hotels, and they also carry Zamzam water containers.
Moreover, the national flag carrier already has a General Sales Agent (GSA) in Saudi Arabia and station offices in Jeddah, Madinah, and Makkah. Despite the hollow and puerile justifications given by Biman authorities, this entire programme looks like a leisure trip for the officials at a time when the country is facing perhaps the worst forex crunch of recent times, and in spite of the prime minister's straightforward directive to avoid unnecessary foreign trips. Interestingly, Muhammad Nizam Uddin Ahmed, a key accused in the recent question paper leak scandal during Biman recruitment, is also a part of the entourage.
Unfortunately, Biman's misadventures do not end here. On May 3, its board of directors in principle decided to procure 10 Airbus planes, including the two freighters, to expand its fleet. This decision has left some aviation experts baffled, since Biman is only using six percent of its current freight capacity. In 2022, Biman carried about 28,000 tonnes of freight in the cargo hold of the planes making international flights, against a capacity of 498,000 tonnes. There is another challenge: Biman's seasonal cargo transport demand is west-bound when it comes to exports, and in-bound cargo mostly comes in from countries in the eastern region, such as China, Japan, Hong Kong, etc.
Given the reality, how is Biman planning to ensure a two-way goods traffic during these flights? Or are they planning to run only one-way transportation? If that is the case, Biman should thoroughly revisit the plan, as this looks like a loss-making venture at best, and a new enterprise to plunder taxpayers' money at worst.
Coming to passenger flights, even here Biman is not utilising its 100 percent capacity. Last year, it carried nearly 2.06 million passengers on international flights, and had a concerning 700,000 seats vacant, which translates to an underutilised capacity of 24 percent. This inability to utilise existing capacity has been attributed to shortages of pilots and cabin crew members, and poor planning and management.
At the executional level, too, Biman seems to be struggling incessantly, putting passengers' lives at risk. As recently as on May 13 this year, a Biman flight coming in from Kuala Lumpur at the Dhaka airport got stuck at the end of the runway while taking a U-turn, resulting in flight operation suspension at the airport for about an hour and causing about six international flights to be delayed. Unsurprisingly, neither of the two captains flying the aircraft managed to register the incident in the air safety report, which could have been a deliberate attempt to hide the incident from official reporting channels.
What is even more alarming is that the Boeing 787 Biman aircraft, which dropped off the prime minister at Tokyo airport on April 25 during her recent visit to Japan, on its way back to Bangladesh had to navigate a "minimum equipment list" flight, as both its weather radar systems had stopped functioning. Imagine this happening during the flight to Japan, instead of the return leg. This could essentially have put the life of the head of our government at risk.
While it is true that accidents can happen and machines can malfunction at any time, the least we can do is learn from past experiences and make it a point to not repeat mistakes.
A similar incident occurred on April 19 this year, when a Riyadh-bound Biman flight carrying 347 passengers had to make a technical landing at Dhaka airport two and a half hours into the flight, as its weather radar system was not working. Now, coming back to the incident involving the aircraft that carried our prime minister to Tokyo: if, as Air Commodore Moazzem Hossain, director of engineering and material management at Biman, said, it was only a "small problem" and did not "pose a safety hazard," why did the Riyadh-bound flight suffer the same problem?
Unfortunately, these incidents are only the tip of the iceberg. It is a well-known and generally accepted fact that Biman is a cesspool of corruption and mismanagement. It does not have the capacity to run like a professional, commercial airline – despite its officials drawing corporate-structure salaries – let alone creating its competitive edge in the global aviation industry. It is a blackhole that keeps devouring national resources and gives nothing back in return except scandals. The airline has zero accountability and no regard for any form of governance, compliance, or internal (or even external) control measures.
While it is understandable that Biman serves the financial interests of vested quarters, the only solution to its malady is privatisation. The sooner the policymakers and decision-makers come to terms with this fact, the better.
Tasneem Tayeb is a columnist for The Daily Star. Her Twitter handle is @tasneem_tayeb