Flight disruption at Dhaka airport as Biman plane blocks runway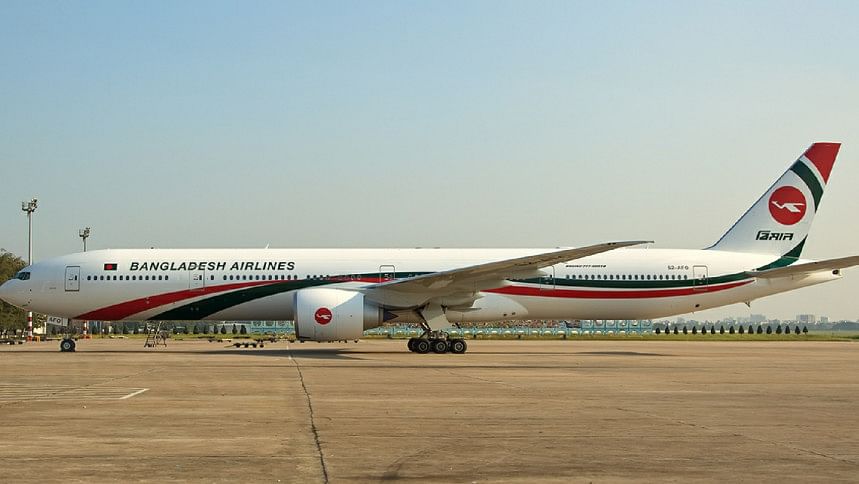 Flight operations at the Dhaka airport were suspended for around an hour in the wee hours of the morning today as a Biman Bangladesh Airlines plane got stuck at the end of the runway.
Around six incoming and outgoing international flights were delayed due to the shutdown of the runway of Hazrat Shahjalal International Airport, Group Captain Kamrul Islam, executive director of the airport, told The Daily Star.
Sources at the HSIA said, flight BG387 of Biman Bangladesh Airlines coming from Kuala Lumpur, landed at the airport at around 4:00am today.
But the aircraft Boeing 777 got stuck at the end of the runway while taking a U-turn, blocking air traffic.
The aircraft was pulled back on the runway with the help of two pushback carts. None of the passengers were hurt.
Biman sources said Capt Ishak and Capt Hasan Imam were flying the plane.
Sources at the HSIA said neither of the pilots registered the incident in the air safety report in an apparent move to hide it.
An aviation expert said this could have been a fatal incident as the pilots could not control the speed after landing.
Kamrul Islam said, two to three incoming flights were forced to hover in the sky for some time while three flights were delayed up to 15 to 20 minutes due to the incident.
Asked, he said they will be able to get details about the reasons behind the incident following getting details from Biman.