Buying Airbus planes: Biman's move puzzling
Experts say purchase of freighters, operation of mixed fleet will hurt flag carrier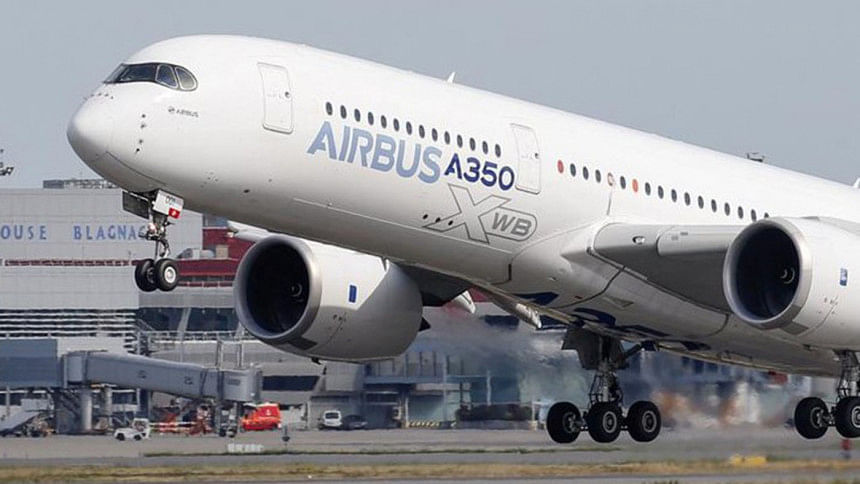 Biman last year carried a little over 28,000 tonnes of freight in the cargo hold of planes making international flights when it had the capacity to transport over 4.98 lakh tonnes.
This is about 6 percent utilisation of the capacity, and yet Biman is planning to buy two new Airbus freighters.
An audit by the Civil Aviation Authority of Bangladesh (CAAB) also shows that in the same year, Biman carried 20.58 lakh passengers on international flights and had around 7 lakh seats vacant, which is just under 76 percent utilisation.
This happened after the national flag carrier bought 12 Boeing planes spending around Tk 19,000 crore between 2011 and 2019. The aircraft purchased include multiple huge Boeing 777-300ERs, efficient Boeing 787-8s and -9s, and workhorse Boeing 737-800s.
But the planes are not properly utilised largely due to shortages of pilots and cabin crew members, and poor planning and management, experts have said. Biman failed to launch adequate number of new routes for the planes' best use, they added.
They questioned why the Biman Board of Directors on May 3 approved in principle the purchase of 10 Airbus planes, including the two freighters.
Biman's top management believes the company will make money ferrying cargo in the freighters and the new Airbus planes will help Biman expand its reach.
An aviation expert, however, says buying the freighters will not be economically viable at all.
"First of all, airfreight is a seasonal business in Bangladesh. For five or six months of the year, there is almost no demand," aviation expert Kazi Wahidul Alam told The Daily Star.
The season is dependent on garment products and vegetable exports.
Secondly, most outbound freight goes to the West, and the items Bangladesh imports largely come from China, Hong Kong and Japan. So, the inbound cargo flights from the West and the outbound flights to the East would be virtually empty, he said.
"Therefore, we can say that the cargo business here is mainly one-way. You can never survive doing one-way cargo business," said Alam, the editor of Bangladesh Monitor, an aviation and tourism magazine.
He said some foreign carriers operate cargo flights in Bangladesh but they operate flights only when there is demand in the peak season.
An airline can bargain better with the manufacturer if it buys planes from both companies. In the case of carriers with large fleets, you can enjoy some advantages. But from the point of view of operations, if you have aircraft of both plane makers, the disadvantages are so many.
For example, since Dhaka has no inbound demand, Emirates Skycargo planes usually fly first to Bangkok or Singapore carrying goods and then make a stopover in Dhaka during the return flight to Dubai to pick up freight that they deliver to the West, he said.
"The large carriers operate this way to be able to carry cargo both ways. But we won't be able to do that as we never made the strategic plan," he said.
A cargo division official of Biman said, "We couldn't even utilise the full capacity of our cargo hold in passenger flights. Then What is the point of buying brand new freighters without proper marketing and planning?"
Airlines do not often buy brand new freighters. They usually buy old and used freighters because new ones are rarely commercially viable, he said, requesting anonymity.
Alam adds that no airlines are currently flying dedicated cargo flights to Dhaka because the demand is very low.
Carriers like Emirates, Etihad, Qatar, Fly Dubai, Turkish and Kuwait Airways can't even fill the cargo holds of their passenger planes despite their huge network and high number of onward destinations they serve from their hubs.
Biman only serves a handful of destinations.
"We don't have the required quality infrastructure, international standard cargo village, and loading-unloading facilities… Biman getting into dedicated cargo business will be suicidal," Alam said, adding, "It is not the time for Biman to have dedicated freighter service."
"Does the revenue earned by Biman carrying freight in the cargo hold of passenger planes last year justify operating dedicated cargo flights?" he said.
The global commercial aviation sector is dominated by the duopoly of US plane maker Boeing and European manufacturer Airbus.
Aviation experts are critical of Biman's attempt to use planes of both makers, known in aviation sector as using a mixed fleet.
The national flag carrier will have to train its cockpit, cabin crew members and engineers afresh to deal with the new aircraft. All these will require a lot of money.
"Unfortunately, we see such decisions being imposed on Biman from the outside," Alam said, adding that Biman should be given the liberty to make its own decision.
He said Biman still owes different organisations Tk 3,500 crore, which suggests that the money spent on buying planes over the last decade has not had the desired outcome.
Another aviation expert, ATM Nazrul Islam, now the MD of the government-appointed Board of Directors for United Airways, said there are advantages and disadvantages of using mixed fleet.
"An airline can bargain better with the manufacturer if it buys planes from both companies. In the case of carriers with large fleets, you can enjoy some advantages. But from the point of view of operations, if you have aircraft of both plane makers, the disadvantages are so many," he said.
Biman Managing Director and Chief Executive Officer Shafiul Azim said, "The decision to launch several new routes, including to Japan and the US, has already been made. The procurement of Airbus planes is part of our plan."
State Minister for Civil Aviation M Mahbub Ali said Biman using aircraft of Boeing and Airbus will not create any problem as many large carriers use mixed fleet.
Biman has 21 planes -- four Boeing 777-300 ERs, four Boeing 787-8s, two Boeing 787-9s, six Boeing 737-800s, and five short-haul De Havilland Canada Dash-8 Q400s.
Of the 21, Biman owns 18 and the remaining five are on lease.