Biman: A cesspool of corruption
It's high time Biman was overhauled and corporate governance and a stringent code of conduct was introduced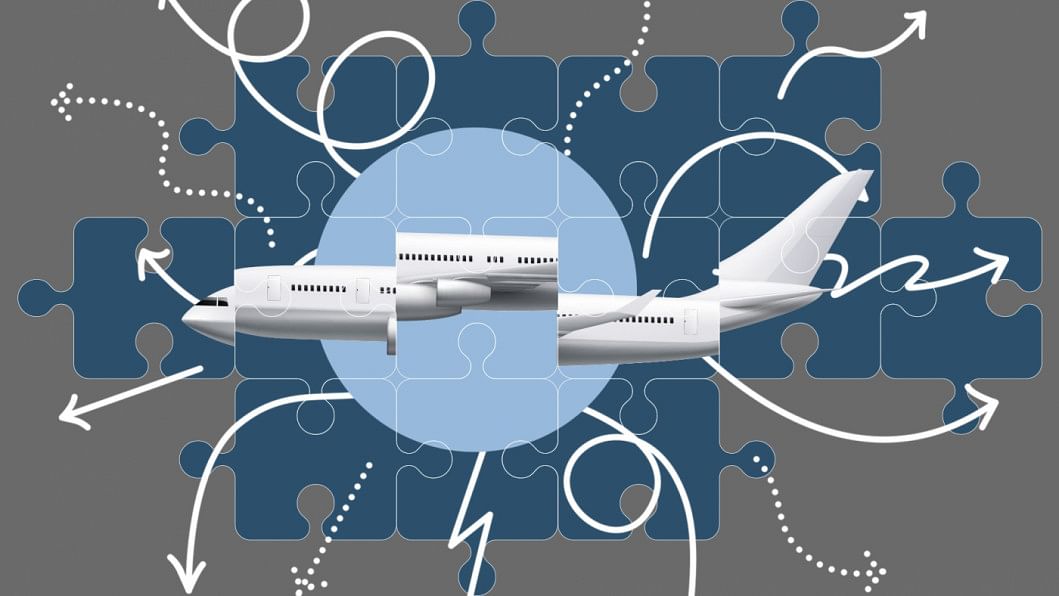 Shady deals, plundering public money, nepotism, flouting rules, risking passenger safety, incompetence, non-compliance – Biman Bangladesh Airlines has its own culture of corruption and dangerously reckless wilfulness. It seems to have a complete disregard for the system under which it ideally should operate, or for the safety of the people that it is supposed to serve.
Unsurprisingly, Biman is constantly in the limelight for one or the other of its misadventures. Most recently, it was the carrier's unprofessional handling of an in-flight medical emergency that led to a fatality in a Boeing 777-300ER flight from Jeddah. The captain on duty was sleeping in the crew rest area – although it was only a six-hour flight, and as per rules captains are only allowed to nap in flights longer that eight hours, when relief crew is on standby – leaving the aircraft to a trainee and his assessor, neither of whom had valid licence to fly the aircraft.
The victim fell ill an hour into the flight, but it was not before the last leg of the six-hour flight (around 30 minutes to landing in Dhaka) that a medical emergency was announced. Even after the flight had landed in Dhaka, it took about 40 minutes to get the victim out of the aircraft due to a lack of awareness and preparedness as no medical emergency had been declared. By the time the victim had been taken to the hospital, he had breathed his last.
Unfortunately, this is not the first time passenger safety has been compromised by Biman. A previous report by this daily revealed that two Biman pilots had knowingly concealed information about serious damage sustained by an aircraft's engine – a Dash 8 – as the captain improperly managed and operated the aircraft mid-air. Concealing the information put the lives of more than 500 passengers at risk as the aircraft continued to fly on seven domestic routes in the damaged condition. One of the captains even got a promotion, which was revoked in the face of media revelations. 
Coming back to the first incident, the trainee pilot in the Boeing 777-300ER flight from Jeddah failed his initial route check (IRC) test, although he was a part of a very expensive recruitment process, through which Biman recruited 14 pilots – who had either been fired from their previous workplaces or not deemed fit for promotion – with hefty salaries and perks last year, citing a shortage of pilots. It was later revealed that the shortage cited to justify the recruitment had been man-made and the recruitment was made without considering the talents in Biman's existing human resource pool for promotion. There were around 30 qualified Biman pilots who were in line for promotion, but had been denied their right to accommodate the new recruitment. 
Of the 14, only five pilots could take to the air. The rest could not qualify – they either submitted forged documents, provided false information, or repeatedly failed tests, despite some of the Biman high-ups going out of their way to give them multiple chances. One of these controversial recruits is the spouse of Biman's training chief Captain Sazid Ahmed, who first of all provided forged documents but failed the IRC test despite multiple attempts due to "difficulty in understanding route training, especially taxi instructions, in a busy airport. She must continue additional six sectors of route training to improve her overall handling and management of the flight." 
Although this issue of irregular and irrational recruitment had been in the news since last year – State Minister for Civil Aviation M Mahbub Ali also told the media in September 2022 that several of the pilots would be dropped – it took several months for the authorities to take action. 
But can Biman alone be blamed for its irregularities and gross mismanagement? Certainly not. It is the entire system that allows Biman to operate at its reckless will, which has empowered the airline authorities to indulge in indiscriminate corruption and irregularities, and drive a culture of nepotism and under-the-table dealings, leading to the gradual degeneration of the national flag carrier. 
From operating an "experimental commercial" flight on the Dhaka-Toronto-Dhaka route – despite advice otherwise from aviation experts and at a high cost – carrying around 40 government officials and two MPs free of cost, to leasing two Boeing 777 aircrafts from Egyptair, for which Biman had to count Tk 1,223 crore in losses, to doing a shoddy job of operating Hajj flights on a regular basis, to its high officials being implicated in underhand dealings – Biman has been mired in controversies since time immemorial. Its misadventures are so many and the details are so dramatic that one could easily write a script for a nail-biting thriller. 
Biman is in need of a thorough business process reengineering. It cannot be allowed to do as it pleases. 
First of all, this highly inefficient organisation is currently running in government-office mode, which is rendering it ineffective in operating against international players, or even create a level playing field for itself in the international marketplace. There is no drive, no vision, no goal and no ambition, and no competent leadership to steer it in the right direction.
Moreover, Biman's ad hoc and corrupt activities, like the irregular recruitment of so many contractual pilots with hefty salaries, is taking a toll on national resources, which cannot be allowed to continue. It is with the taxpayers' money that the incompetent pilots – including the spouse of Biman's training head – have been paid for the service that they have failed to render. 
And Biman is able to pull off all these stunts because it seems to enjoy political protection; its incompetent officials and corrupt board members seem to be above all accountabilities. No one is holding Biman to account for its misdeeds. Who will answer for the death of the passenger on the Boeing 777-300ER flight from Jeddah? 
Every time the media raises these issues and asks relevant government officials or even the responsible ministers for a way forward, the answer is restricted to "looking into the situation." But the outcome is almost always the same: nothing. 
It's high time Biman was overhauled and corporate governance and a stringent code of conduct was introduced and strongly implemented to turn the airline around. If not, it should be privatised so that a competent conglomerate can take over and turn Biman into a professional and profitable venture. 
Tasneem Tayeb is a columnist for The Daily Star. Her Twitter handle is @tasneem_tayeb