Not a flag carrier to be proud of
Biman's latest scandal a reminder of systemic corruption and mismanagement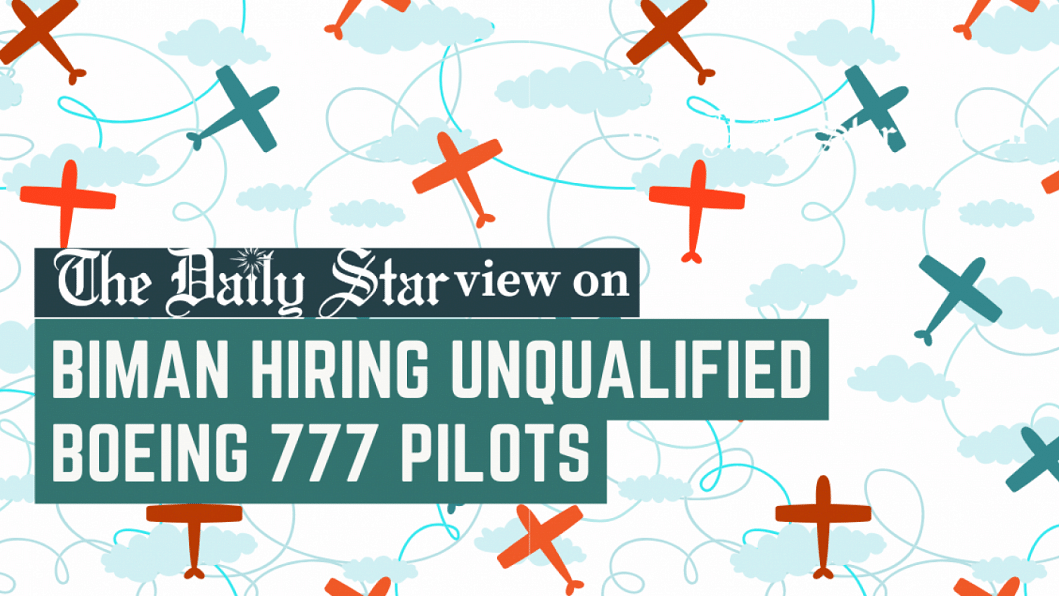 It's alarming to see the massive level of corruption in the national flag carrier that continues to be ignored by the authorities, despite its harmful effect on the economy as well as the country's image abroad. The latest scandal to be exposed by this newspaper involves a move by the airline, in February 2022, to recruit a batch of contractual pilots to fly its Boeing 777-300ER aircraft. Biman rushed through the hiring process claiming it needed pilots urgently. But one year on, only five of the 14 pilots have taken to the air, while the rest have been "lost in a quagmire of forged certificates, incompetence and failed licensing exams", leading to a huge amount of money being lost in training and undeserved salaries.
According to our report, Biman's own operation manual mandates that to fly Boeing 777, all first officers must have at least 300 flight hours under their belt in the preceding two years. But none of the recruits met that criterion, suggesting foul play in the hiring process. One cannot help but ask: Why hire unqualified pilots contractually when qualified pilots can be promoted? Why circumvent standard safety procedures when the risk of doing that is so great? That these misgivings were not unfounded became further clear when out of the 14 recruited, only four captains and a first officer passed the tests to fly the plane.
This is, however, only the half of a story that ends as other Biman recruitment scandals did: in attempted cover-ups. Reportedly, Biman has been flouting rule after rule and going to great lengths to protect the pilots who failed tests. There is, for example, the wife of Biman's chief of training who was recruited using forged educational certificates. She then failed to complete a crucial test within the time set, but was given a second chance against the CAAB's own policy. She is not the only one to have forged documents, however. Some of the recruits also had questionable backgrounds and track records but yet found their way in comfortably. Equally worryingly, Biman continued to pay some of them grossly inflated salaries of up to seven figures, all of which would be money wasted if they fail to become fully-fledged pilots of the Boeing 777.
What all this shows is how unaccountable Biman authorities have become, and how corruption and mismanagement continue to plague this vital institution. One may recall the story of another recruitment scam exposed in November, where a top official was found involved in the leaking of question papers for new hires. A few months before that, Biman was also in the news for hiring "controversial" and "underqualified" people as pilots and co-pilots. Not just in recruitments, Biman has had an equally sordid record in almost all aspects of its operations.
This cannot go on indefinitely. As our national flag carrier, Biman must answer for its actions and decisions because those have a direct bearing on the safety of passengers as well as our image as a nation and our future. The higher authorities must establish accountability in this organisation, and break the chronic cycle of corruption, mismanagement and incompetence.