Biman paying for hiring unqualified Boeing 777 pilots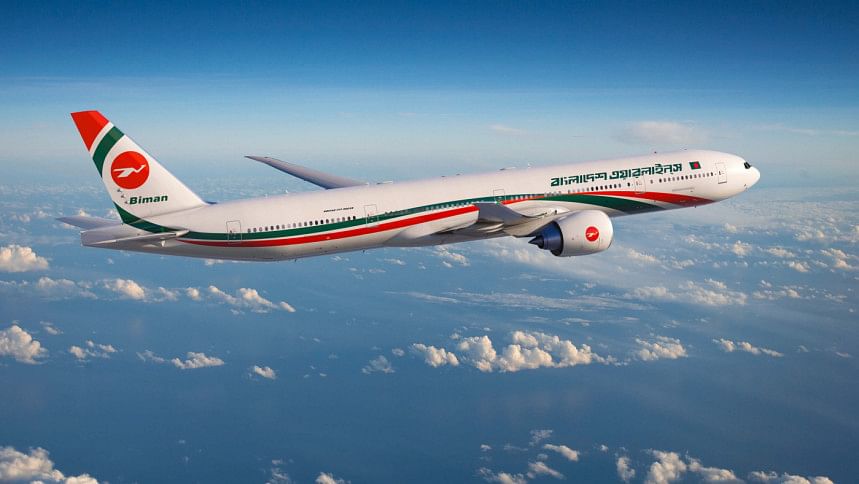 In February last year, Biman recruited a batch of contractual pilots to fly its Boeing 777-300ER aircraft, claiming that it needed pilots immediately due to a shortage.
A year later, only five of the batch of 14 pilots, have taken to the air. The rest are lost in a quagmire of forged certificates, incompetence and failed licensing exams.
Biman spent a huge amount for their inflated salaries and training, all of which are now money gone down the drain.
Its own operation manual mandates that to fly the Boeing 777, the world's largest passenger jet in production, all first officers must have at least 300 flying hours in the preceding two years under their belt.
But none of the recruits met that criterion.
Bangladesh Airlines Pilot's Association alleged corruption and foul play. "Why would unqualified pilots be hired contractually when qualified pilots could be promoted?" they had said last year.
The Civil Aviation Authority of Bangladesh (CAAB) called it a "safety concern" in official correspondence and even the Prime Minister's Office intervened and asked the national flag carrier to investigate.
According to a document of Biman dated February 13 this year, out of the 14 recruited, only four captains and a first officer passed all the tests to fly the plane.
Biman, however, has been flouting rule after rule and going to great lengths to protect the pilots who failed.
Take First Officer Sadia Ahmed as an example. A recent investigation revealed that she submitted a forged educational certificate, claiming that she was a student of the science group during her higher secondary school exams.
Data retrieved from the Dhaka Board of Education, however, shows that she was a student of humanities, passing in second division from Shaheed Anwar Girls' College in Bangla, English, civics, psychology, and home economics.
The CAAB rulebook mandates that all commercial pilots must have an educational qualification of HSC (Science) or equivalent with mandatory physics and mathematics.
Sadia is the wife of Biman Chief of Training Captain Sazid Ahmed.
Sadia is not the only pilot in this batch of recruits to have forged a document.
First officer Al Mehedi Islam had his contract terminated for having forged his Airline Transport Pilot Licence (ATPL), which is required to be a pilot in command.
The licence had a forged signature of Shirin Sultana, former assistant director of flight safety at CAAB.
Sultana refused to comment on the issue but said the matter was being handled by higher authorities.
However, a copy of the results of his tests taken in October 2020 showed that out of 14 exams required for the ATPL licence, Mehedi did not sit for 11, and failed two of the three he sat for.
A Biman document dated February 12, 2023, confirmed that it had ended Mehedi's tenure with the carrier late last year.
FAILING TESTS
To fly a certain aircraft, all pilots have to obtain a type rating for that aircraft.
To get the type rating, pilots need to have route training, which comprises a certain number of flights on that aircraft followed by an exam flight.
This test is called an initial route check (IRC) and this examines if the pilot can handle the cockpit independently.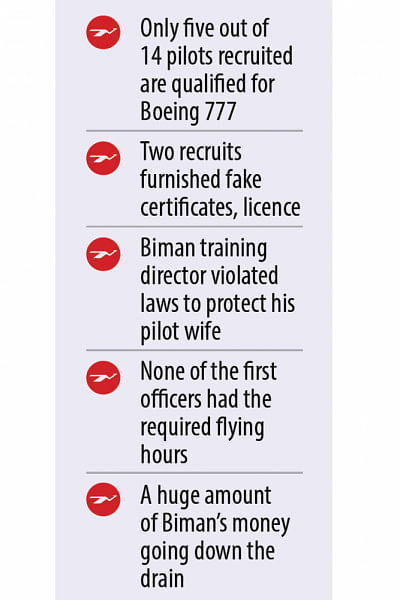 The test records of three of the pilots who failed their IRC show a myriad of alarming irregularities, rules violations and incompetence.
Even if going by the theory that Sadia Ahmed's high-school results ideally should hold little bearing in later life, a forged certificate was only her first strike.
Sadia had been unable to complete the IRC test within the time set by the law. But the law seems to have little effect on Biman's training department, a department led by her husband Captain Sazid.
According to CAAB's Civil Aviation Directive, pilots must clear their IRC within 150 days of beginning their route training.
Should they fail, "the operator shall stop training and notify CAAB for review and disposal" the policy states.
Sadia began her Boeing 777 route training, on May 26, 2022, a letter to CAAB stated. The letter, sent on October 24, 2022, said that Sadia had exceeded her 150-day limit without completing the training and it requested that she gets an extension.
There is no record of CAAB agreeing to this request.
Sadia sat for her IRC test on January 27, 2023, and failed.
Her IRC mark sheet had these comments about her performance: "Difficulty in understanding route training especially taxi instructions in a busy airport. She must continue additional 6 sectors of route training to improve her overall handling and management of the flight."
Biman insiders state that according to the rules, CAAB should have stopped her training immediately after she failed to pass the IRC in 150 days and then decide whether to commence her training.
But on February 7 this year, the training department of Biman, sent an email to the planning and scheduling department instructing them to give Sadia "6 sectors of route training followed by immediate IRC". Her husband, the chief of training, was among those who received the email.
And so Sadia received a second chance to take the IRC which CAAB's policy does not allow.
Asked whether Sadia's husband had any role in this, Biman MD and CEO Shafiul Azim said he would look into the matter.
"Sometimes things are not what we hear from outside on different anomalies," he added.
The training department sent that email in spite of the fact that just two days prior (February 5), Sadia's one-year contract with Biman expired.
According to Sadia's contract, her agreement needs to be renewed every year, and this can only be done, after a "satisfactory evaluation" of her skills, honesty, and integrity by Biman.
Sadia was with Regent Airways from which she was fired, allegedly for a botched landing attempt, said a highly-placed source in the carrier requesting anonymity
An agency report sent to the Prime Minister's Office last year also alleged that because of her "unstable approach" (of the aircraft during landing), the captain had to take over control and land.
Both Sazid and Sadia were phoned multiple times but they did not pick up.
Captain Shah Nasimul Awwal also failed his IRC.
Last year, an agency report said Captain Nasimul was a first officer with Etihad for 13 years and was unable to get promoted to captain even though he sat for required exams multiple times.
However, Nasimul told The Daily Star that he did not fail to become a captain and instead was in the "command upgrade programme" when he was retrenched due to the pandemic.
Biman insiders said a pilot would need on average two and half years to log the flying hours needed to be eligible to become a captain, not 13.
Nasimul was let go by Etihad in 2020 and he, like the rest of his co-recruits, did not have the legally required flying hours in the previous two years.
On December 22, 2022, Nasimul sat for his IRC and failed.
In his assessment, the examiner said he "failed to set up holding in flight management system", and more worryingly "lacked situational awareness".
Holding refers to flying in circles as a plane waits for its turn to land.
When questioned about Sadia's forged certificates, and about hiring Nasimul, the Biman MD said there is a process in Biman for recruitment and the respective department follows it.
Another pilot who failed his IRC is Irfan Ul Haq who was to become a captain.
His assessment sheet claimed, "Candidate is not eligible to fly in command for B777-300ER [Boeing 777-300ER] with multiple issues."
The issues included setting the wrong power settings, setting the wrong speed during turbulence, missing three cautions of the plane's annunciator panel, and missing clearance from the air traffic controller and more.
This correspondent contacted Irfan who refused to comment because he strongly disagreed with the remarks of his instructor.
During his IRC test flight from Jeddah to Dhaka on January 15 when Irfan was at the helm, a passenger had a heart attack.
A doctor onboard the plane, who spoke to this paper, said the cockpit crew took four hours to land the plane and the patient died.
Captain Tufail Ahmed was asleep in the cockpit crew rest area and the instructor monitoring Irfan in the cockpit did not have a valid licence to fly the plane.
CAAB Chairperson Air Vice Marshall Mafidur Rahman said, "We have asked Biman to investigate what happened during the flight when the pilot was reportedly sleeping."
Captain Nasim Ebne Ahmed's training was stopped by higher authorities, according to a Biman document dated February 12, 2023. Highly placed sources said that it was because of security concerns.
Question remains as to why he was not vetted before being hired.
MONEY DOWN THE DRAIN
A Biman invoice shows that it spent Tk 44 lakh on flight simulators for eight of the recruits at Thai Flight Training Centre in Bangkok. This excludes the cost of flying them there and their accommodation.
While pilots faked certificates and failed tests, Biman continued to pay some of them grossly inflated salaries of up to seven figures, all of which would be money wasted if they fail to become fully-fledged pilots of the Boeing 777.
High officials of Biman said since the pilots under training are still not fully-fledged pilots, they are paid a pittance.
Accordingly, Sadia's contract states that she is to get full salaries from the date of her first flight, not her first training flight.
However, Sadia and some of her co-recruits have been getting salaries of fully-fledged pilots from the date of their first training flight, a document from Biman reveals.
The document, signed by former Biman managing director Zahid Hussain and several directors, lists out eight of the pilots from this batch (including Sadia) and states, "Following pilots have done their first training flights as follows. It may be mentioned here that they have huge contributions to our Biman Hajj flight operation and without their participation it would not have been possible. Though they were under training, they have operated flights as regular pilots' strength. Considering their contributions their salary may be considered from the date of their first training flight." [sic]
Sadia's pay slip shows that her total earning in July 2022 was Tk 12.63 lakh.
Not only the contracts of the new recruits were ignored to give them huge salaries, they were also given benefits and perks which pilots hired in 2017, 2019 and 2021 did not get.
All pilots are pledged a minimum number of flying hours for which they are given a basic salary.
However, the 2022 recruits are being given an extra allowance of Tk 3,500 per flying hour, which the other pilots do not get. Biman also pays the 2022 recruits for a minimum of 40 hours even if they are grounded.
These recruits also get a productivity allowance, or overtime, of Tk 4,500 per hour if they fly over 80 hours. This figure is between Tk 2,500 and Tk 3,000 for the pilots recruited earlier.